No single company has dedicated both 5G and AI into a single compute chipset yet, but EdgeQ is working on it. The company is developing a fully software-customizable silicon platform that offers 5G connectivity and AI at the edge. The chip will be available in 2021.

The company, which received $51 million in total funding, hopes to combine connectivity and AI on the device, whether it be the end device or the base station it is connected to, in a frictionless manner.
Replacing multiple chipsets with one single with 5G connectivity and compute means a fraction of the cost and the power.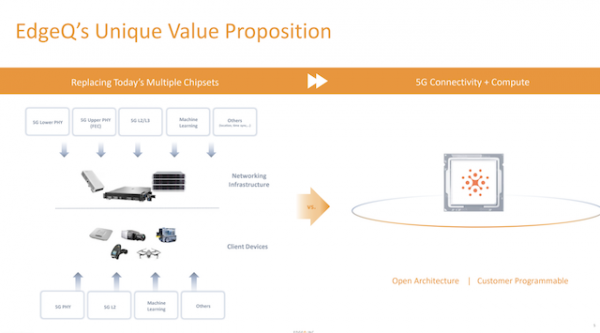 EdgeQ's focus is squarely on the so-far untapped 5G infrastructure market for manufacturing, construction, energy, automotive, warehousing, surveillance, telco, and other verticals. By unifying 5G and AI at the nearest focal point of data at the edge, EdgeQ's chip is designed to allow enterprises to utilize private networking for applications, intelligent services, and new business models.

The Chip
EdgeQ's chip is designed to be used in networking infrastructure and client devices. It can be used in hardware devices such as access points, plus end-clients – i.e., such as scanners, hotspots, cargo monitors, asset gateways, vehicle-mounted computers, and more.
As new sets of devices such as robotics, drones, autonomous vehicles, etc., enter the network, coupling reliable connectivity and AI compute at the edge becomes essential. A modern approach to the chip needs to encompass this.
According to EdgeQ, its converged 5G and AI, silicon platform is open and software programmable for both devices and edge infrastructure. By introducing open programmability to the baseband, EdgeQ is developing a new software-driven development model for OEMs and operators that can support existing cellular protocols, such as 4G, 5G, and beyond.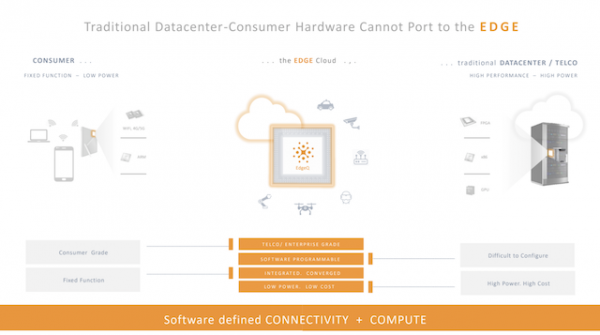 5G connectivity comprises the fundamental backbone that fuels edge intelligence, edge cloud, and associated services. To meet this forecast, the world needs intelligent AI-enabled 5G infrastructure, a market worth approximately $10 billion.
The COVID Revolution

COVID has accelerated the virtual and automated world. The next wave of the modern industrial revolution will see tasks being performed by robots, not people, and perhaps the return of manufacturing to the US's shores.
With robotics, cheap labor will no longer be a necessity for big manufacturers. EdgeQ is hoping to facilitate this revolution with its 5G and AI-enabled chip.