Corporate campus networks are changing at the same speed that IoT deployments are flourishing. With that unfolding, we are coming closer to a reality where IoT readiness is everything. But there are several barriers that stand in the way of building an IoT ready campus. Arista Networks presented their Cognitive Campus Network at the recent Mobility Field Day event that drives towards that goal with an intelligent AI/ML- based approach.
A Change Is Unfolding
The rapid evolution of campus network has presented a series of novel challenges that legacy networking technologies aren't fit to take on. They are encumbered by per-device telemetry collection, slow telemetry streaming, limited state history collection, manual data correlation – all of which are serious disadvantages for a monitoring tool. The criteria have changed. The campus network as we know it today puts renewed emphasis on telemetry and troubleshooting. For a network supporting a huge population of IoT devices and connections, better visibility is through wider telemetry.
Manual tasks like provisioning and configuring cannot be manual anymore if errors are to be avoided. The day-to-day management tasks that used to be shared between NetOps and SecOps need to be streamlined and automated so that maintenance of campus networks is not such a nightmare anymore.
Arista Working toward Building a Self-Healing Network
Arista Networks has a vision. Down the line, Arista plans to build an autonomous self-healing network and for that, Arista believes it has the architecture set up. Arista's definition of a self-driving network begins with observability. Arista follows the journey of client connectivity from start to end, through all the stages of association, authentication, getting IP address and connecting to the applications. Through all of these states, Arista catches issues and flags them in the dashboard in real-time.
"Once the client is connected successfully, we then very rigorously track the key RF KPIs of the client including retail rate, RSSI, data rate and we highlight when the clients have poor performance," says Sriram Venkiteswaran, Director of Product Management for Cognitive Wi-Fi at Arista Networks.
Arista Networks' Cognitive Campus solves the networking challenges of campus with a complete feature set that covers the heterogenous campus ecosystem. Powered with in-house ML models and cloud principles, it ensures 24/7 availability with automatic upgrades and patches, and proactive troubleshooting recommendations. But most importantly, it delivers a broad set of data rich with correlations and analytics that accelerates root cause analysis.
Inside the Architecture of Cognitive Campus
At the Mobility Field Day event, Venkiteswaran gave a peek into the AI/ML architecture of Arista Networks' Cognitive Campus. In a one-hour presentation, he gave a rundown of the key capabilities of the solution. He was remotely joined by his collogue Nadeem Akhtar who wrapped it up with a couple demonstrations showing the platform's capabilities in action.
Venkiteswaran points out the three building blocks of the Arista Cognitive Campus. At the foundation, it has the network data lake. The second piece is the network architecture that spans cloud to edge. The third and final component is the data itself. Like all AI/ML platforms, data fuels the Cognitive Campus solution. Arista gathers data from far and wide in the network, including entities like clients, APs, switches on the campus and in the datacenter to constantly train and refine its ML algorithm.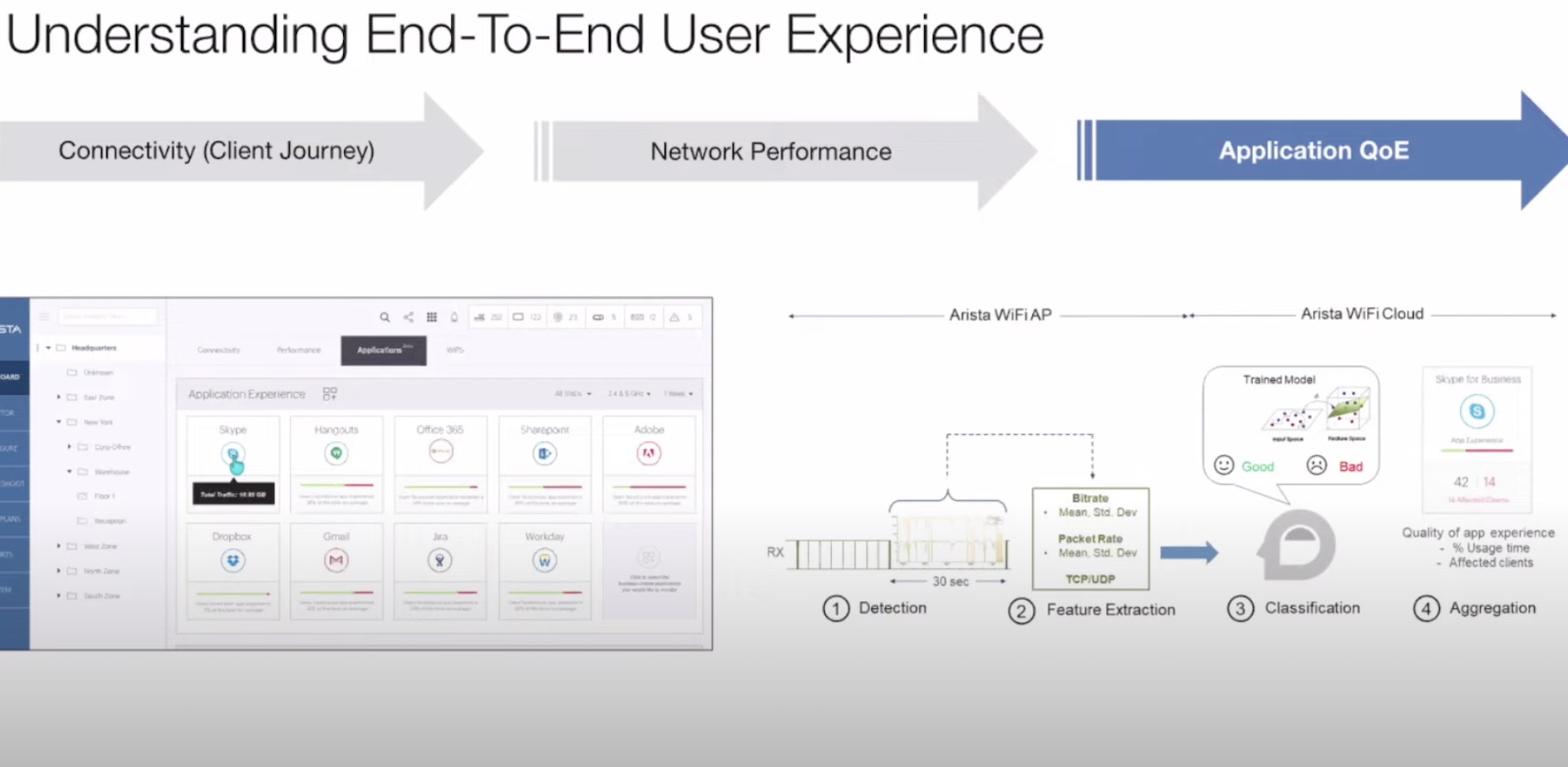 Like a modern networking solution, Arista deals with data of all kinds. It collects states, events, logs, metrics, packet captures, topology and more, leaving out only anonymized data. Arista dynamically employs different ways to treat and transfer these data. Its real-time streaming mechanism allows it to export state changes live and update them instantly in the cloud. For metrics that are not time sensitive, the edge network collects and aggregates them before sending them out in parcels.
Venkiteswaran says, "We treat and transport different types of data and this has allowed us to build a completely optimized transport mechanism from the network edge to the cloud."
Citing examples of collaboration applications like Zoom and Hangout, Venkiteswaran explained how the platform functions on the inside. "Where we really want to get to is to be able to measure the experience of real applications for these clients." But it's not easy to measure the user experience by simply looking at the data. So Arista goes the extra mile to detect application flow extracting parameters like packet rate, jitters and latency every 30 secs. These packets are then sent over to the cloud.
In the cloud, the data is processed by the ML model which then classifies them into good and bad flow. Back in the dashboard, the information shows up telling operators the quality of experience a user had with a concerned application.
Wrapping Up
The hybrid work model is not easy to adapt to, and productivity and QoE are the first things to get compromised in that struggle. Arista Networks' Cognitive Campus is an intuitive and timely solution that provides organizations the opportunity to build that robust and reliable network that can be scaled on demand. It streamlines and automates sundry networking tasks and with the powerful capabilities of machine learning sets the stage for optimized QoE for users.
For more on Cognitive Campus, be sure to watch Artista Networks' other presentations from this month's Mobility Field Day event.