Findings from a 2020 study indicate that in the US, 65000 enterprises suffered data breach that year, where the attackers held their data hostage demanding unfair amounts of money in exchange. The ransomware surge compounded by the work-from-home arrangements has made these events more frequent than ever. Commvault steps up to reimagine data protection in the face of the rising threats.
At September's Cloud Field Day event held in California, Commvault presented Metallic ThreatWise that provides advanced and active data protection against ransomware. But that aside, ThreatWise does something far more important – ThreatWise prevents ransomware attacks which, according to Commvault's finding 16% more enterprises give priority to over preparing to recover from an attack.
Ransomware Horror Stories Are Growing in Number
The ransomware surge in the recent years has brought with it a clear message – data protection strategies need renewing. New imperatives have emerged and the most important of them is active defense. What's shocking is that only 12% of the companies have ransomware tools in their infrastructure that provides data protection at par on-premises and in cloud environments.
Oftentimes, the line between data protection and data security is blurred – it's hard to know where one ends and the other begin. But leveraged together, they can attain a 360-degree ironclad defense against new and unknown threats.
Commvault Has All Bases Covered
Commvault says that recovering data after an attack, even if done quickly and fully is not enough. Defending the data from bad actors is everything, because it means a lot less damage and more importantly, improved business continuity.
Commvault brands itself as a cloud data management company and it does not claim to be anything but. All the same, it's not blindfolded to the growing noise among customers about data security and protection. So, as a data management company dealing with everything data, Commvault does its share of things to protect data.
In the wake of newer and more malignant security attacks, Commvault has doubled down on its security efforts adding newer technologies to its portfolio on top of its built-in security capabilities, and honeypots for studying different strains of threats.
Commvault adopts a Zero-Loss data protection strategy that is founded on its Zero Trust principles. Upon talking to customers, Commvault discovered that the companies that were able to successfully block a ransomware attack in the past have Commvault and some best practice security protocols in common. They all look at the data as a whole and share a common dashboard between security and data protection teams. They are all focus on holistically protecting all of the data, as opposed to securing individual workloads. Last but not the least, the CSO and the CIO teams in these companies work together cohesively, sharing information and driving towards the same goal.
The last practice is what Commvault adds value to with its Zero Loss Strategy. Commvault's Zero Loss strategy stands on three pillars – full visibility, broad workload protection and a quick Time to Respond. With wide visibility, Commvault caters to all personas in an enterprise who look at the data for different reasons. With broad workload protection, Commvault safeguards workloads equally across cloud and on-prem environments. Lastly, Commvault accelerates the steps of incident response, making a response possible in minimum time.
In September, Commvault introduced Metallic ThreatWise, a new and patented early warning ransomware detection technology that surfaces zero-day threats with high accuracy with the signature threat sensing. Built on Commvault's TrapX technology, it is SaaS-delivered solution and can be used across all environments.
Data Protection with Commvault
To give an overview of Commvault's data security capabilities and a sneak-peek into Metallic's ThreatWise, Commvault's CMO, Isabelle Guis gave a presentation early in the program at the recent Cloud Field Day event. Pulling up numbers from research and surveys, she discussed the current threat landscape and detailed the core capabilities of Commvault and ThreatWise.
The Commvault data management platform covers five key areas- data protection, data security, data compliance and governance, data transformation and data insights. With the aim to bring everything under the data umbrella together, it fits these varied functions in one platform.
Data in the modern IT environment is fragmented and siloed. Commvault looks past these divisions to perceive data as a whole and not as different datasets in distributed environments. Commvault's data protection capabilities are fueled by AI/ML at their core.
Commvault has a microservices architecture with built-in data security. A big piece of what Commvault does is data protection and the capabilities include discovery and flagging of malicious activities, protection from bad actors and recovery from ransomware and other kinds of attacks.
Commvault enables data to be moved across environments seamlessly for effective storage and app refactoring. "Different teams need data in a different way. That's what we call data transformation – moving the data where people use it, in the form factor that they need ," says Guis.
With data insights, Commvault offers deep visibility and real-time insights into data and automates related IT processes with advanced AI/ML
Commvault can be consumed as is, as a platform or as a subscription-based client-managed software on-premises, as integrated in an appliance or delivered as a service in the cloud which is Metallic. Metallic is a SaaS-delivered data management service that uses Commvault's core technology to deliver advanced data protection across environments. All of these models are tied together as a single interface.
Metallic's Early Warning Ransomware Detection
The new ThreatWise takes Commvault's data protection to the next level with early warning capabilities. ThreatWise can spot threats before they touch the data and intercept them timely. With a multi-layered approach and light-weight threat sensors, it combs the environment for threats based on a set of advanced indicators to reveal malicious activities and suspicious elements.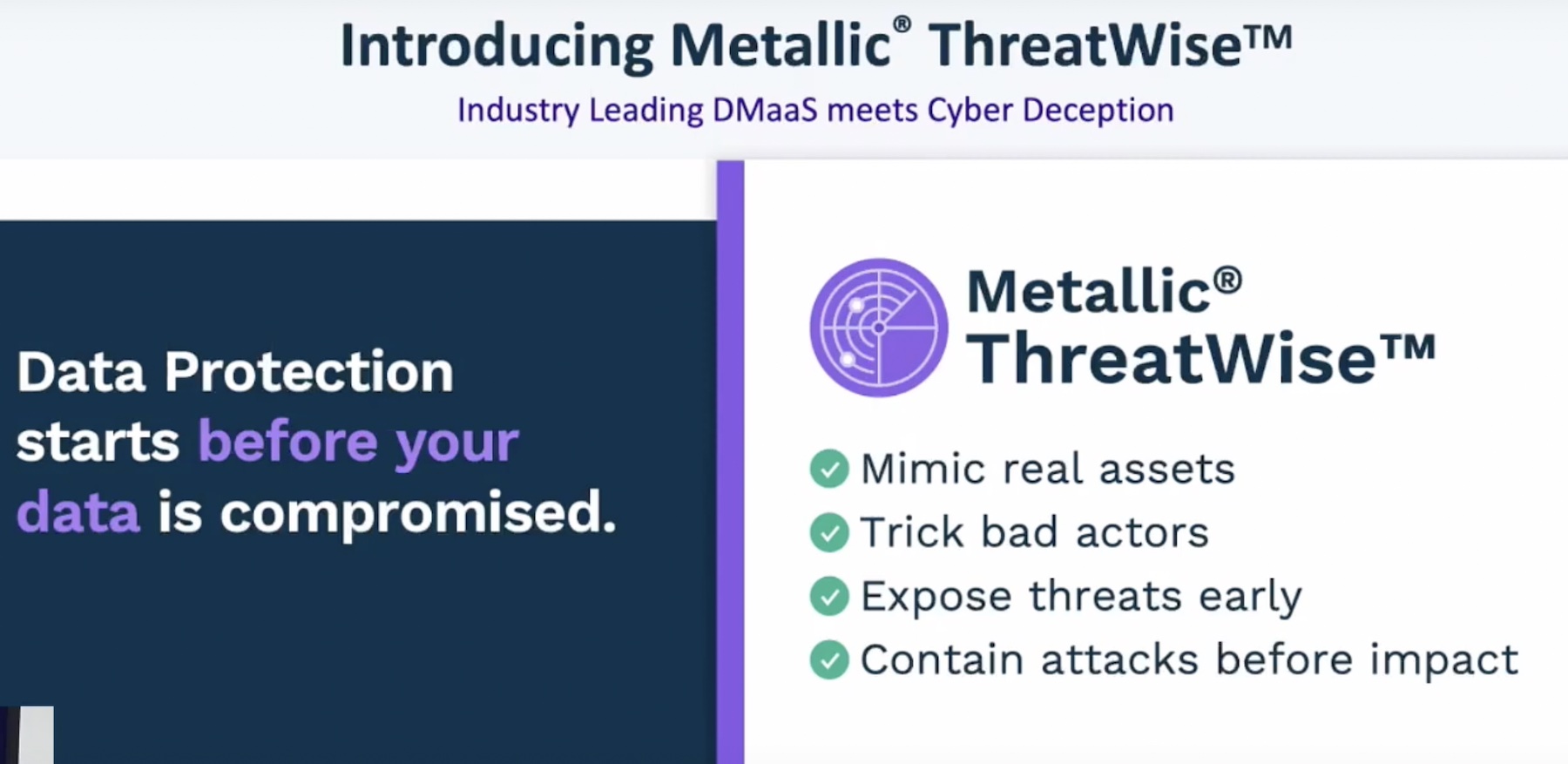 Deployed rapidly in the environment, the sensors fan out across all attack surfaces sending out decoys, tricking attackers into believing that they are real assets. As attackers engage with these decoy assets, it triggers alerts, prompting action.
Wrapping up
Organizations are exposed more than ever now to new kinds of infections, each of which has the potential to cause massive disruptions in business operations. Waiting until an attacker compromises your data to act may be too late. With Metallic ThreatWise covering all the key grounds, it's not only possible to prepare for sophisticated cyberattacks in advance and limit and mitigate damages post-attack, but in fact prevent an attack from unfolding by eliminating security vulnerabilities, long before the attack. That is trailblazing, not to mention the hallmark of good ransomware protection.
For more, be sure to check Commvault's demos and other deep-dive presentations from the recent Cloud Field Day event.