The threat landscape is continually expanding, not just in variety but also in sophistication. It's not enough for organizations to just have security tools at hand and a cyber-aware workforce. A sturdy default security posture that has sweeping coverage end to end is very essential. September last year, Microsoft announced a novel approach to mitigate the growing security concerns in enterprises. Microsoft Security presented this at the Security Field Day in March which took place at the Silicon Valley- the integrated SIEM+XDR solution.
It's Time Cybersecurity Meets AI-Based Automation
Securing a modern-day infrastructure from unknown strains of threat is a job so complex and fraught with challenges that companies drain astronomical sums of money annually adopting multi-vendor security models just to make sure that they have the best security products guarding their assets. And yet, with a small incident, the whole line of defense collapses like a house of cards.
Manually covering the attack surfaces is a technique as redundant as old it is. The extraordinary speed at which attackers execute breaches these days require more than that. With today's infrastructure, it takes an inhuman amount of effort to manually protect the attack vectors. Besides spending a ton of resources that the SecOps team could otherwise use to setup a security system that does not cave in to evolving threats and attack techniques in the first place only add more zeros to the OpEx.
Microsoft Combines XDR and SIEM for Comprehensive Protection
Dedicated to empowering SecOps, Microsoft Security brings together its XDR technologies under Microsoft Defender and its SIEM tool Sentinel to create an integrated solution that has the combined capabilities of SIEM and XDR, all in one solution. With it, Microsoft's vision is to drive up the efficiency of the SecOps teams so that they are always one step ahead of the attackers.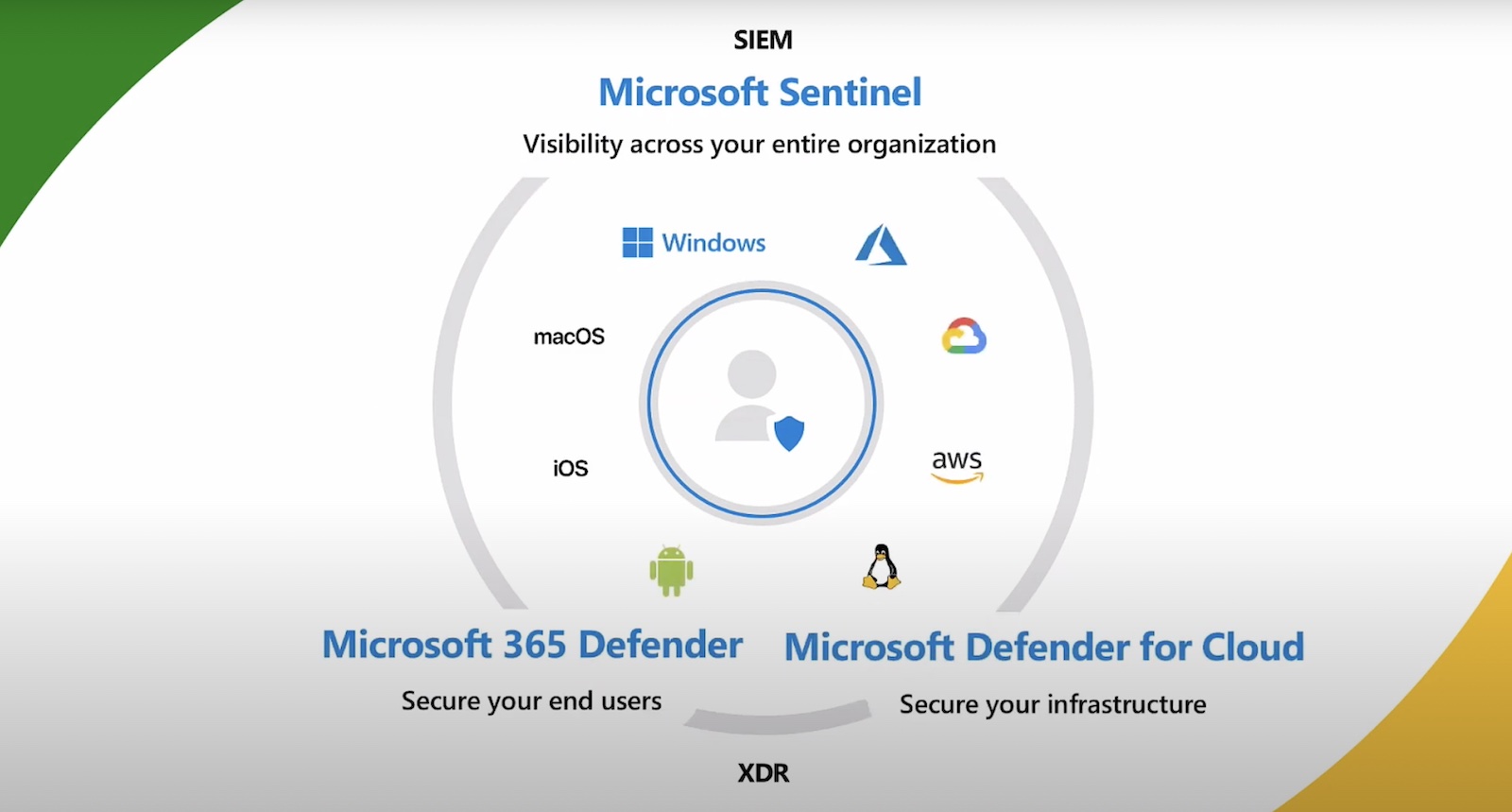 This new technology goes beyond the usual detection and response which is the traditional security approach in organizations. This one takes XDR a step further by helping organizations put up an ultra-strong security posture through recommendations based on inputs. The integration makes it significantly less expensive than legacy SIEM tools.
An Integrated Security Experience with Microsoft's SIEM+XDR Solution
At the recent Security Field Day event, Scott Woodgate, Sr. Director, SCI Marketing at Microsoft showcased their new SIEM+XDR security solution. During the session, Woodgate talked about the technology going into details and also covered the role of integrated solutions in the fight against ransomware attacks.
Microsoft Security's SIEM+XDR technology constitutes three of the most recognized security products in it's portfolio, namely, Microsoft Sentinel, Microsoft 365 Defender and Microsoft Defender for Cloud. The Sentinel, a cloud-native SIEM tool is the commanding control tool that delivers 20/20 visibility of the environment from start to finish. With built-in AI, it can correlate datasets and deliver rich intelligence and prioritized alerts for a deep understanding of the anatomy of an attack. The XDR products- Microsoft 365 Defender and Microsoft Defender for Cloud delivers broad security coverage by securing the end users and the infrastructure, respectively.
A multi-cloud and multi-platform solution, it secures all Microsoft-owned security assets as well those in multi-cloud, regardless of the platform. A protection and prevention solution that is powered with self-healing capabilities, the SIEM+XDR technology from Microsoft provides automated protection in real time
Built on top of Azure, Sentinel eliminates the usual constraints of legacy SIEMs helping users go around the issues of setup and maintenance, letting them spin up storage as they require. Feeding the data of logins and activities through Sentinel, the system analyzes detections through AI to zero down security cases that require attention.
Computing with the help of AI, the integrated solution expedites investigation and response with few false positives. Automatic mapping of related entities and visualization of the path of attack help with better understanding the scope of an attack.
Final Verdict
Microsoft Security's integrated SIEM+XDR technology is a security solution that should be in every organization's shortlist simply for its merits of efficient automation and real-time response. It's high-fidelity detection cuts down alert fatigue and automated remediation makes it a tool that anybody can rely on to do its job when no one is watching. The combination of Microsoft's XDR and SIEM products bring to the users the best of context-rich visibility and rapid response, a perfect product to invest on for organizations looking to get a better understanding of the cyber kill chain and secure all fronts in the process.
If you are excited to know more about this technology or more security products from the Microsoft Security portfolio, please check out their other presentations from the recent Security Field Day event in March.