Pure1, the AIOps platform by Pure Storage that helps manage and monitor all storage arrays from a single interface just got better. At the Storage Field Day event in March, Pure Storage presented Pure1 Edge Service, a new technology for Pure1 that is empowering Pure Fusion.
The Time-Gap between Knowledge and Action Is Vital
Historically, Pure1 supplies users with actionable intelligence and predictive analysis with the help of AI that is required for full-stack monitoring. But it does not let users take actions on it based on the information.
When users have to hop around multiple locations to execute a decision, it causes drags and delays which is not conducive for time-sensitive trouble-shootings. What's missing here is a technology that changes that by enabling users to get information and follow up with necessary actions all in one place.
Introducing Pure1 Edge Service
Working as a link between the cloud and the arrays, Pure1 Edge Service gives users an easy-to-use and secure technology that lets them skip the extra step of going on to another platform to take actions.
Making everything happen from Pure1, Pure1 Edge Service is a solution that uses agents for interaction. With a single click, users can deploy agents to carry out an action. The agents reside in the arrays where they execute all commands run by the users.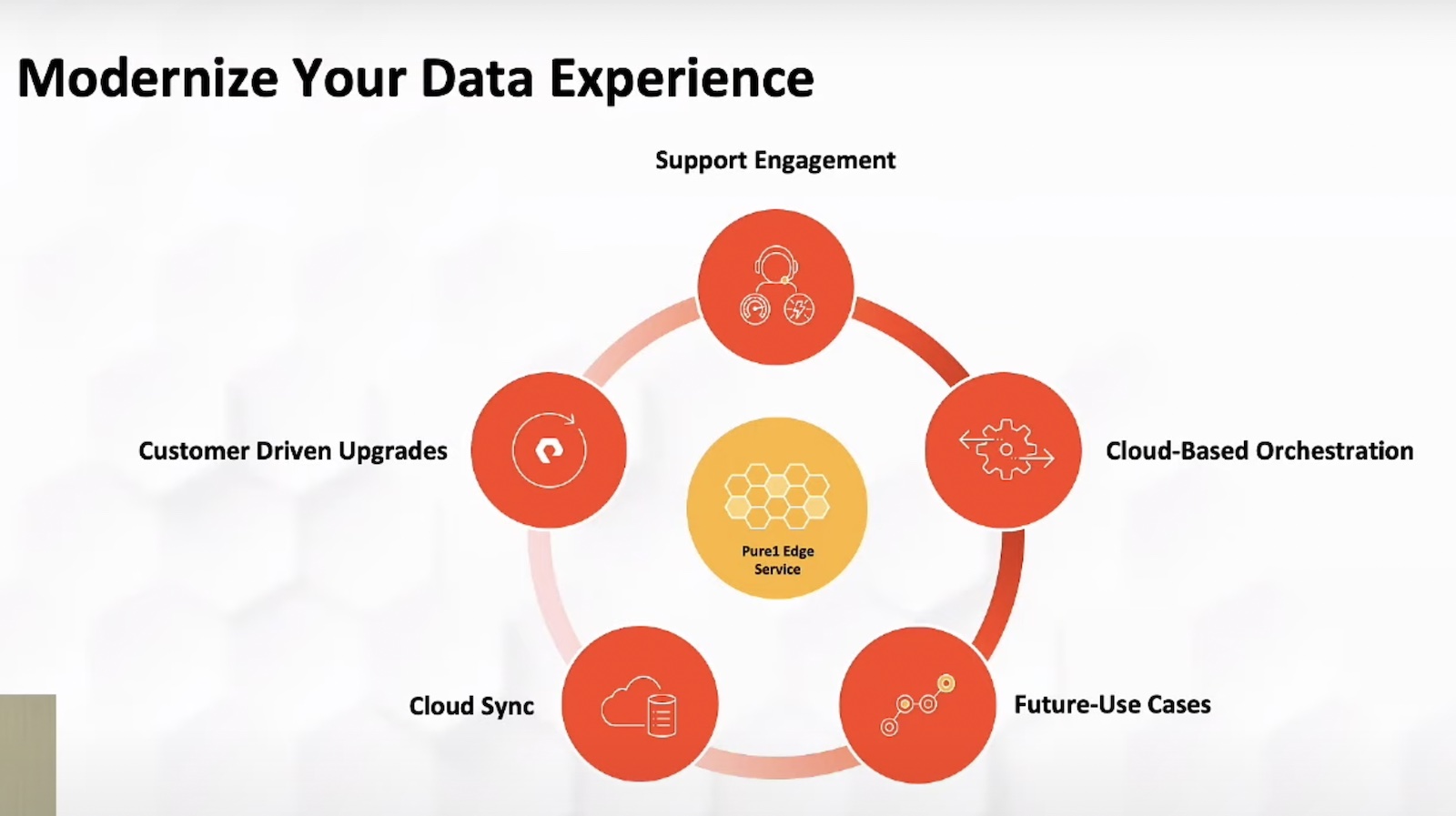 As exciting as it is to connect cloud to the array in the data centers, it is not without its risks. Pure Storage bakes in security with Pure1 Edge Service to mitigate those risks and deliver a secure path for the users. With Pure1 Edge Service, Pure Storage instills security in all the four key components, namely, cloud, the bi-directional communication channel, the array and operations.
Security Features in the New Pure1 Edge Service
At the Storage Field Day event of March, Stan Yanitskiy, Sr Product Manager at Pure Storage, presented Pure1 Edge Service, a new addition to Pure Fusion. During the presentation, he talked about the new capabilities that Pure1 Edge Service brings to Pure Fusion and how that empowers Pure1.
On the cloud, Pure1 Edge Service introduces step-up authentication, a better form of the traditional two-factor authentication, which involves text-based authentication for taking all actions. The Pure1 Edge Service has improved auditing and alerting, with auditing of every command so that there is a clear record of the users and activities.
Pure1 Edge Service allows for fine-grained access provisioning. Access and control to users and admin can be controlled with Pure1 Edge Service based on use cases. With the new RBAC roles and policies, admin people can be restricted from having wholesale access to everything.
Pure1 Edge Service guards the devices with Zero-Trust security so that agents strictly have access to only specified sets of information.
All security features on Pure1 Edge Service are opt-in, and not enabled by default so that users can choose and pick what they require and configure their platform based on what they are looking to achieve.
Final Verdict
With Pure1 Edge Service entering the scene, the one small but vital piece that was missing from Pure Fusion has been returned to the picture. This is great news for Pure Fusion users who leverage its cloud model to get highly scalable enterprise storage. To be able to connect the cloud and arrays safely would be a huge step forward towards better storage administration.
If you are interested to learn more about Pure1 Edge Service, be sure to check out their other presentations from the recent Storage Field Day event.