Since their emergence, IoT devices have evolved rapidly. But by contrast, network understanding practices haven't reached the level of sophistication required to keep up. At the recent Mobility Field Day event in Silicon Valley, NetAlly presented a new product – AirCheck G3, the new generation of their proprietary Wi-Fi tester. Their fourth year at the Mobility Field Day event, NetAlly returned to introduce and demonstrate to the audience how this new gear helps with network monitoring, connectivity and site survey.
Low Visibility Equals Poor Network Management
There has been a prolific growth of IoT devices at the edge in the past few years, and hooked to the network, these everyday devices have caused the number of connections to skyrocket. This new wave of interconnected devices poses new challenges for the Wi-Fi network.
Catering to so many devices, the Wi-Fi speed needs to be consistently high so that all devices deployed on it can enjoy equal performance. Dead zones and interference need to be eliminated and the network needs to be protected from catastrophic cyber-attacks orchestrated by rogue devices in the network.
To keep up, there should be equal to greater sophistication in the way the network is maintained and monitored. Gaining deep visibility and understanding of the network can resolve these challenges in a timely fashion. But the underlying problem of poor visibility is limiting operators' ability to discover the devices connected to the network, and detect and troubleshoot problems.
NetAlly Maximizes Network Visibility
One way to enhance network visibility is to validate the network through regular site surveys. To make that simple, easy and instantaneous, NetAlly is introducing it's new Wi-Fi tester AirCheck G3. No need to go through complex survey software, or use an extra tethered device. The AirCheck G3 is a handheld device that gathers data instantly and helps record, verify and troubleshoot.
The AirCheck G3 retains the one-touch client to cloud auto-test function of its prequel with which network professionals can check the quality of connection and detect issues in the network fast and easy. With the same size and price of the previous AirCheck G2, the AirCheck G3 has a slightly bigger screen and better controls.
It has a link/scan architecture which CTO, James Kahkoska explains can discover a lot about the network when you've two radios and one is linked and the other is scanning. With its discovery and path analysis, professionals can drill deep into the network and monitor its performance by looking at its massive discovery library. Other features include spectrum analysis, an integrated browser and support for USB-Cs and third-party apps.
AirCheck G3 Wireless Network Tester
At the Mobility Field Day event, Kahkoska gave a demo of the new AirCheck G3. He started the session by showing that the AirCheck G3 can run through both cloud and VNC. During the presentation, he demoed the connectivity, monitoring and site survey capabilities of the tester and explained how it provides instant pass-fail indication of a Wi-Fi network and discovers network issues.
A handy device that can be carried to any site easily, the AirCheck G3 runs fast and consistent service tests pulling up information in a fraction of a second. The scope of the test results include information about signal strength, connections, retries and numerous other metrics.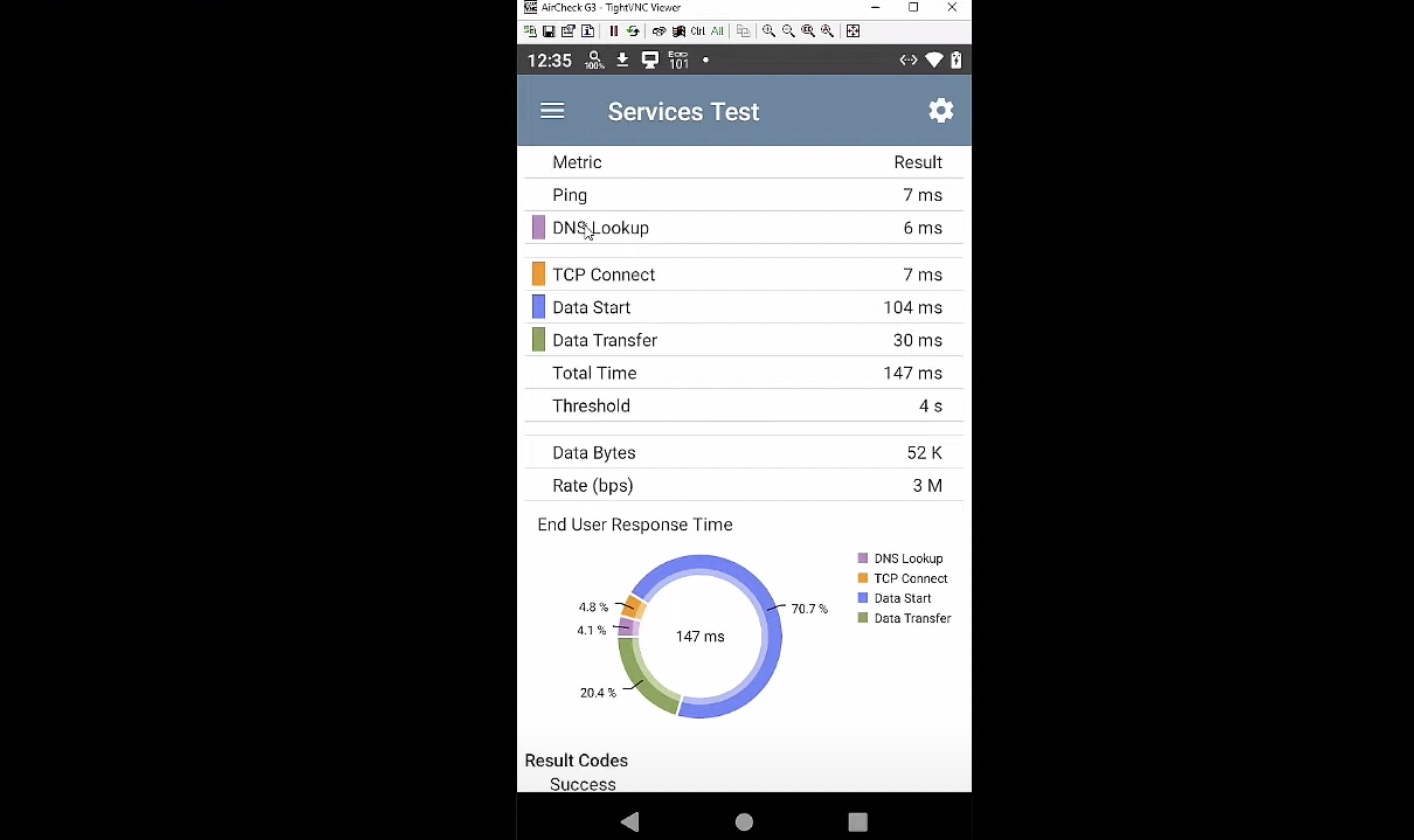 AirCheck G3 offers deep visibility into the network by letting network professionals perform path analysis to the DHCP server, view multiple DNS lookup time and drill into gateway connectivity. If G2 tested widely, G3 goes deeper into the network digging into the nature and tracing the root causes of the problems.
In the Link/Scan architecture, the test radio scan picks up all the APs and clients feeding the information into AirWise, which is an alarm-generating engine. If linked, the AirCheck G3 can perform active discovery. Simultaneous capabilities include passive surveys, BLE/BT survey, Wi-Fi analysis and network discovery.
Powerful visualization options allow users to create topology maps, heat maps and tables to make the information visual and easier to consume.
With remote operation function, AirCheck G3 can connect administrators over in-band, VNC, firewalls and cloud services from remote locations allowing them to run tests and surveys and view results and analytics remotely in real time.
The new G3 has much improved power system. At the same size, NetAlly has been able to cram in an extra cell into this one. This has led to longer 10-hour battery life extendable by external power bricks and shorter charge time (3 hours). It also has built-in passive cooling.
Wrapping Up
The AirCheck G3 is a handy time-efficient tool that network professionals can use to increase visibility into the network and gain tighter control over it. With its controls and functions, operators can run quick one-click tests and pull up information about specific metrics in just seconds. From discovering rouge devices in the network to finding the root cause of problems related to performance and connectivity, the tester can truly accelerate discovery and identification and expedite troubleshooting for both wireless and wired network.
To know more about the new AirCheck G3, be sure to check out the full demo above and other presentations by NetAlly from the recent Mobility Field Day event.