A tool that automates all aspects of IT in a business from configuration to deployment is a dream come true for companies in the hybrid cloud space. A platform that comes close in parts is the very familiar Ansible Automation Platform. After Red Hat's acquisition of Ansible in 2015, in 2021 it combined its cutting-edge IT infrastructure with the Ansible to beef up the features of the automation platform, taking it in a new level. At the Cloud Field Day event in November, Red Hat presented the Red Hat Ansible Automation Platform and its newly enhanced capabilities.
Inside the Chaotic IT Situation of Modern Enterprises
Today, organizations follow a diversity of operational business models which sometimes invite unwarranted complexities. Making things worse is the adoption of a multitude of technologies that though critical to the development leads to internal frictions.
When teams like NetOps, SecOps, DevOps, et. al. try to work together synchronously exploiting these technologies and approaches they find themselves looking at a bigger problem, disagreement between teams. Broken into siloes, processes and people end up not talking to each other and when they do on occasions, the exchange lacks the transparency desired for a seamless operation. That is counterproductive at best.
It helps to have a leveling platform somewhere in the infrastructure that offloads the differences between teams and tools and presents a level playing field for everybody involved. In fact, with the help of the right kind of automation, today it is possible for companies to operate in different geographies and get people of different backgrounds to work together unitedly by making available tooling solutions that are common to all. That is something Red Hat aspires to achieve through its Ansible Automation Platform.
Red Hat Ansible Automation Platform: Bringing Order and Automation into IT
Organization-wide automation is the cornerstone of the Red Hat Ansible Automation
platform. With Ansible, Red Hat seeks to automate simple, but repetitive tasks like writing command lines for small things.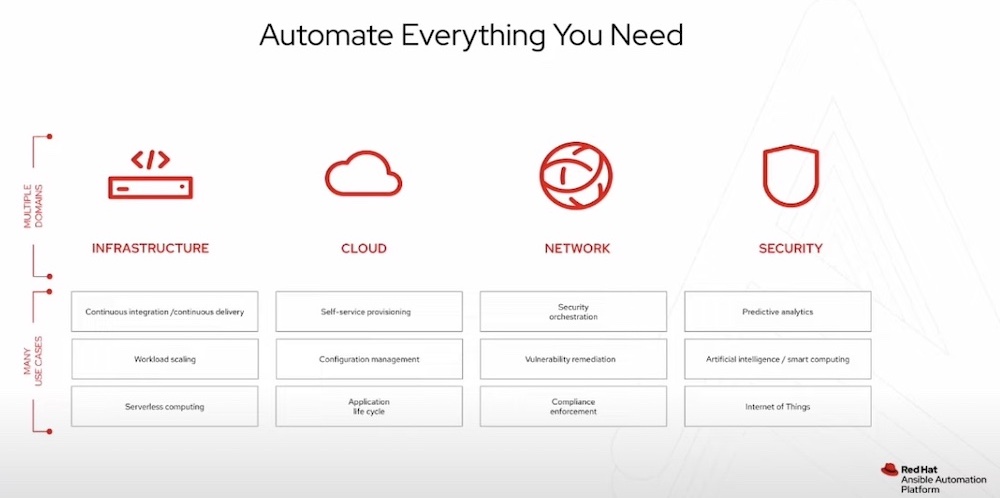 One of the key drivers of this technology for Red Hat is broad-spectrum configuration automation, but also automation of the entire IT infrastructure all the way from cloud to the edge. In that, the Red Hat Ansible platform is a holistic interface which can be used in data centers, in the cloud and at edge based on what your teams require and what their specific capabilities are.
Everything New about the Red Hat Ansible Automation Platform
At Cloud Field Day in November, Richard Henshall, Sr Manager of Ansible Product Management at Red Hat showcased the Red Hat Ansible Automation Platform and its new features. Later Sean Cavanaugh, Principal Product Marketing Manager, Ansible, Red Hat gave a demo of the platform and took questions from the delegates at the event. Watch the full presentation in the video below.
Red Hat presents the enterprise edition of the agentless open-source platform that is Ansible Automation. Taking it to the next level, Red Hat introduces new features to it to automate IT tasks that require manual users. Red Hat's OpenShift already does the job of wide-scale automation across containerized platforms. With Ansible, Red Hat takes it a step further, this time targeting the tasks that OpenShift left out. It is a single platform that offers a centralized management portal for the entire line of business that includes DevOps, NetOps, SecOps and ITOps, who despite their different skillsets are required to work together.
With Red Hat Ansible Automation Platform, Red Hat seeks to offer a ubiquitous interface that facilitates computation for both advanced teams like the DevOps as well as the IT Management teams.
The USP of it is that it is purpose-made to cater to the different personalities that make up these teams. So people who are in support and maintenance can exploit it as well as those who are in development or testing. Overall, it is aimed at improving the users' content experience through easy development, deployment and integration. The platform works on Linux and Windows infrastructure.
The new features are compatible with both OpenShift and Kubernetes as well private cloud infrastructure. Version 2.1 is now available at Ansible.com.
Final Verdict
What truly makes Red Hat Ansible Automation Platform a product of distinction is that its holistic capabilities that enables wholesale automation cut to the enterprise requirements. This saves enterprises valuable resources and optimizes productivity in the long run. So all in all, a great product to have in any organizational IT ecosystem. Try out the trial version of Red Hat Ansible Automation Platform here.
Check out Red Hat's other presentations from the latest Cloud Field Day at the Tech Field Day website.