Seeing the delegates around the table at recent Tech Field Day events, and you may have noticed a shift in computing devices. Usually there's a healthy percentage of Macs around the table, and a smaller selection of PCs. All of course decked out in requisite stickers.
But sometime around 2017, I noticed that tablets were increasingly common at the table, specifically the iPad Pro. I think I first saw Glenn Dekhayser using one around the table at Storage Field Day. Since then it's been an increasingly common site.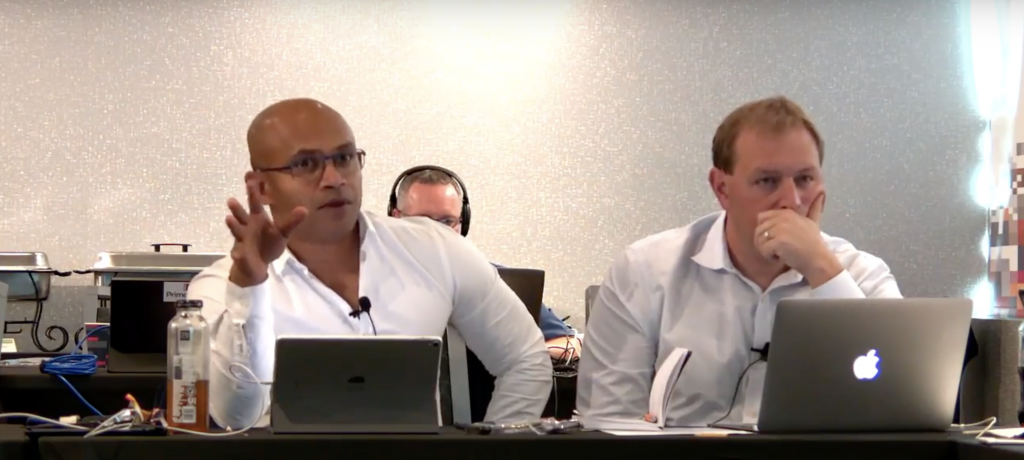 It makes sense as delegates are primarily taking notes, checking email/Slack, or tweeting about the event. With that kind of workload, the small footprint and weight of the iPad Pro makes it a road warrior's dream.
With the new iPad Pro just released, it seems the big story is the hardware. Usually when people talk about Apple hardware, it's about their industrial design, build quality, displays, or trackpads. But this generation, everyone seems a little gobsmacked by the silicon hardware in the iPad Pro. We're seeing Geekbench scores that show it performing better than some Core i7 MacBooks. It has perhaps been an underreported (or under appreciated) story that Apple is annually delivering substantial performance updates on their chips. The 2018 iPad Pro seems like a culmination of that.
In his review, John Gruber is certainly impressed. In other reviews I've seen, the question then becomes of how to harness that power. While the new tablets have USB-C connectivity, there are limits. External storage is not supported, except to strictly import photos to your Camera Roll. It does support external displays, but support beyond mirroring is application dependent. And the first-party physical keyboard still seems leagues away what Microsoft, and now Google, are doing on their pro tablets.
I think we'll continue to see tablets make in-roads at events like Tech Field Day. The portability and power on display in the new iPad Pros all but assures it. But going forward, I think Apple may need to expand what iOS can do (I won't say open it up because that's anathema to Apple). Otherwise, I think a more open platform like Microsoft's Surface, or a more capable browser like a Google Pixel Slate, might start to show up more frequently.
Don't get me wrong, this is Apple's game to lose. They have a huge advantage in hardware, producing powerful ARM chips that sip power. Having competitors that are built on x86 is almost a market concession. Meanwhile Windows on ARM devices seems to be sputtering with poor performance and limited compatibility. But iPad Pro isn't priced to be a limited device. Hopefully we see it become a more full featured platform in 2019.