This week Mirantis announced the launch of Lens Control Center, a solution for big corporations using Lens Pro to centrally manage and operate their deployments.
Kubernetes Complexity Fatigue Is a Real Problem
After Kubernetes became the standard platform for cloud-native computing, the tone shifted markedly as developers and operators hit a wall with the platform's ceaseless complexity.
Most companies are still experimenting with how to use Kubernetes. For those getting started, Kubernetes sets a high bar. It has a highly dynamic architecture which requires keeping a firm grip over the many moving parts. This opens up rooms for oversights and slips, making the development loop lengthy, cumbersome and error-prone.
Operators' opinions of Kubernetes oscillate between good and bad. 4 out 5 people say that they find Kubernetes more difficult than the other technologies they have used in past.
For companies using the orchestrator as a de-facto system, it has brough both gains and losses. Statics show that while on one hand inescapable complexity has slowed down productivity, those with adequate support and resources to spare have made huge gains from the platform's spectrum of services.
As a way out, a lot of companies are resorting to using an assortment of third-party tools to offload portions of the operational overhead.
But using too many software can also stifle productivity and slow down innovation.
Getting Comfortable with Kubernetes
Some years back, Mirantis launched a product called Lens that offers IT teams working with Kubernetes a chance to avoid dealing with its complexity on a daily basis. Lens was designed to enhance developers' experience with Kubernetes and drive up mainstream adoption. Today there are over 1 million Lens users that benefit from the application's low-touch, auto-pilot capabilities.
Lens runs on all major operating systems, namely Linux, Windows and macOS.
Since its launch, Mirantis has pushed out many versions of Lens. With each version, Lens has provided developers a more intuitive experience, and more time to code. Without the repeatable DevOps tasks that no developer loves, Kubernetes has become more and more powerful.
Lens Pro, which released mid-year in 2022, provides users a breadth of advanced capabilities aimed at improving developers' productivity. These accumulate to fuss-free and seamless management, development, deployment, monitoring and troubleshooting of applications. This ease and speed is consistent across all workloads and clusters.
Lens Pro added on-demand live support, vulnerability reporting, built-in local K8s cluster, and easy setup of container image scanning, to the platform's existing capabilities.
The All New Lens Control Central
Once again, Mirantis is flexing its Lens' muscle, this time, with the release of the Lens Control Center. The Lens Control Center provides large corporations the ability to centrally manage their Lens Pro deployments.
The new product comes with a bundle of features designed to improve network control and enable easier management.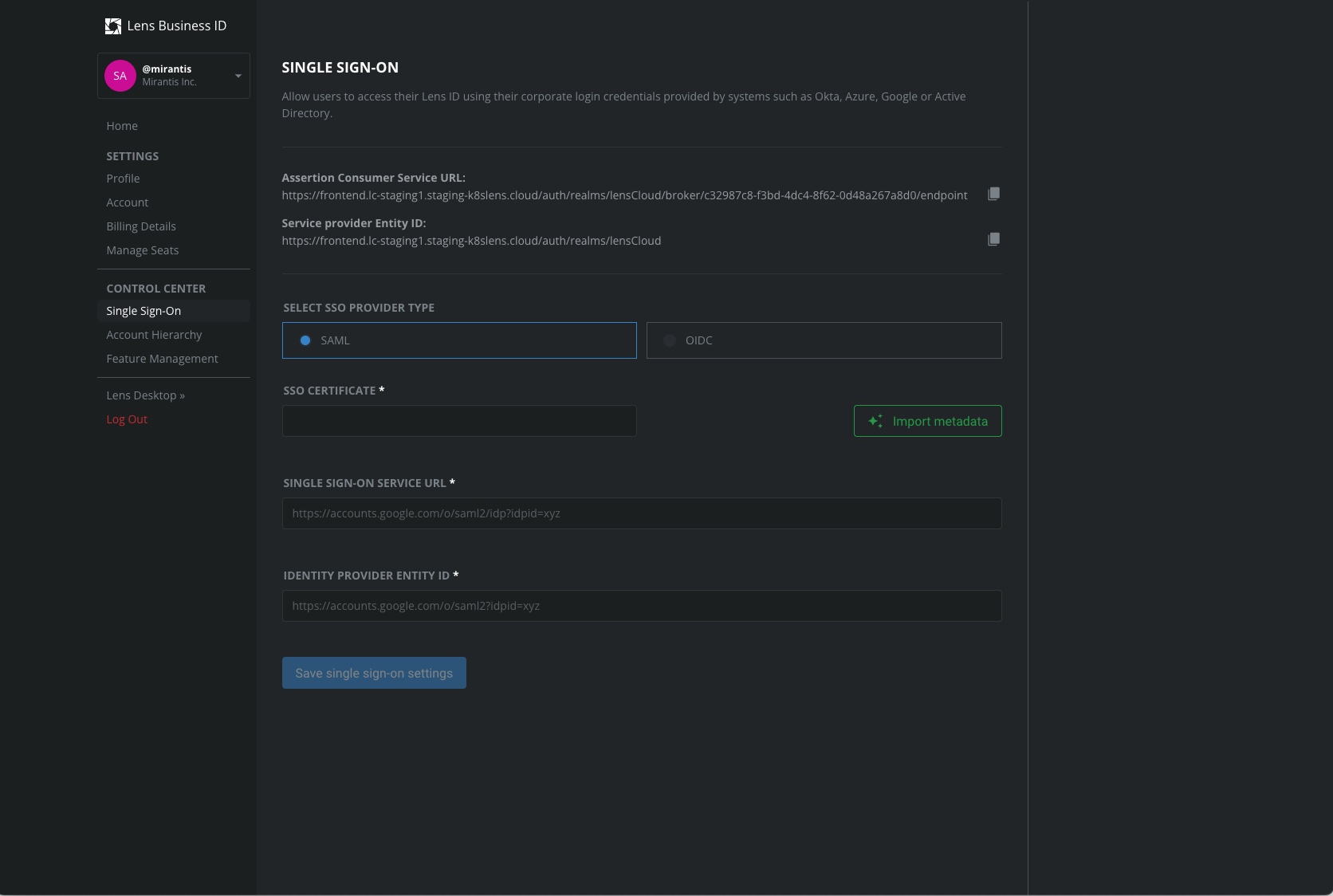 Security gets tighter with Lens Control Center's Single Sign-On (SSO) integration, enabling individuals to sign in securely into Lens using credentials generated by identity management services like Active Directory and Okta.
Where disparate policies create operational issues causing tension and friction between teams, Lens Control Center enables centralized control. This allows teams to manage Lens configurations and Lens Pro features centrally across users. With it, Lens Pro features can be centrally turned on and off making sure that teams enjoy a consistent experience across the board.
Lens Control Center also allows business divisions to consolidate bills. With its a single pane-of-glass view of the customer accounts, teams can control feature configurations, and mange billing centrally in a coherent fashion.
Better enforcement of network security policies is ensured with a new feature that restricts Lens from connecting to the Internet for all outbound traffic where policy forbids it. This is particularly helpful in maintaining air-tight security that highly regulated industries need.
In Conclusion
Despite advances in software management and operations, Kubernetes is still the Achilles heel for many, on account of operational complexity. Lens Pro is designed to undo the barriers to leveraging Kubernetes, and expose the intelligent and useful parts of the platform to the users. Lens Control Center provides bigger teams more firepower. With its advanced controls, users can further eliminate management pains, and get more out of Len Pro.
For more information, check out Mirantis' website. For more stories like this one, keep reading here at Gestalt IT.