Since the pandemic struck two years ago, organizations have transitioned into a hybrid work model. It being a departure from the traditional model of pre-pandemic times, requires greater flexibility and consistency in terms of connectivity, security and the overall experience. Recently, we had the opportunity of sitting down with Matt De Vincentis of Palo Alto Networks to discuss this shift and how Palo Alto Networks is adapting to deliver to these new asks through its SASE solution as the hybrid work model takes shape.
Organizations Using SASE Are Facing Some Major Challenges
When it comes to SASE, some capabilities are key, while others are optional. One such key piece that's been missing from SASE for far too long and that the pandemic has brought to light is consistent user experience. When the team is connecting from scattered addresses, a consistent, location-neutral experience becomes integral to productivity.
Traditionally organizations take a multi-vendor approach with the hope of getting the best-of-breed SASE service. Contrary to their expectation, they end up with what could be best described as a mixed bag. Vendors either have a little bit of everything, which is hardly enough, or lot of one thing but not enough of the other. Moreover, when a company depends on multiple vendors for solutions that are integrated to work together, as one goes down, it affects the entire system. That being the biggest shortfall of a multi-vendor SASE model, achieving consistent user experience is always a step away.
To make this transition to a hybrid workforce smooth and ensure a consistent user experience through the journey, there needs to be a single-vendor solution that combines the best of SD-WAN and security.
Palo Alto Networks Makes SASE Better
Keeping up closely with the changing workforce and its key challenges, Palo Alto Networks saw an opportunity to at last replace the missing consistency in user experience. To make that happen, it focused on making sure that security, visibility and control are consistent on both the user and client side.
One of the most prominent cloud security service providers in the industry, Palo Alto Networks is well-known for its line of security solutions that have users worldwide. It's SASE solution, Prisma SASE is widely used, reviewed and approved for its security and SD-WAN capabilities.
Prisma SASE- A User-Centric Solution That Brings Together Palo Alto Networks' Best-in Class Solutions
With the goal of making the network adaptable to the changes in requirements and to evolve security with it, all the same making sure that changes in the network and security are very minimal, Palo Alto Networks designed Prisma SASE.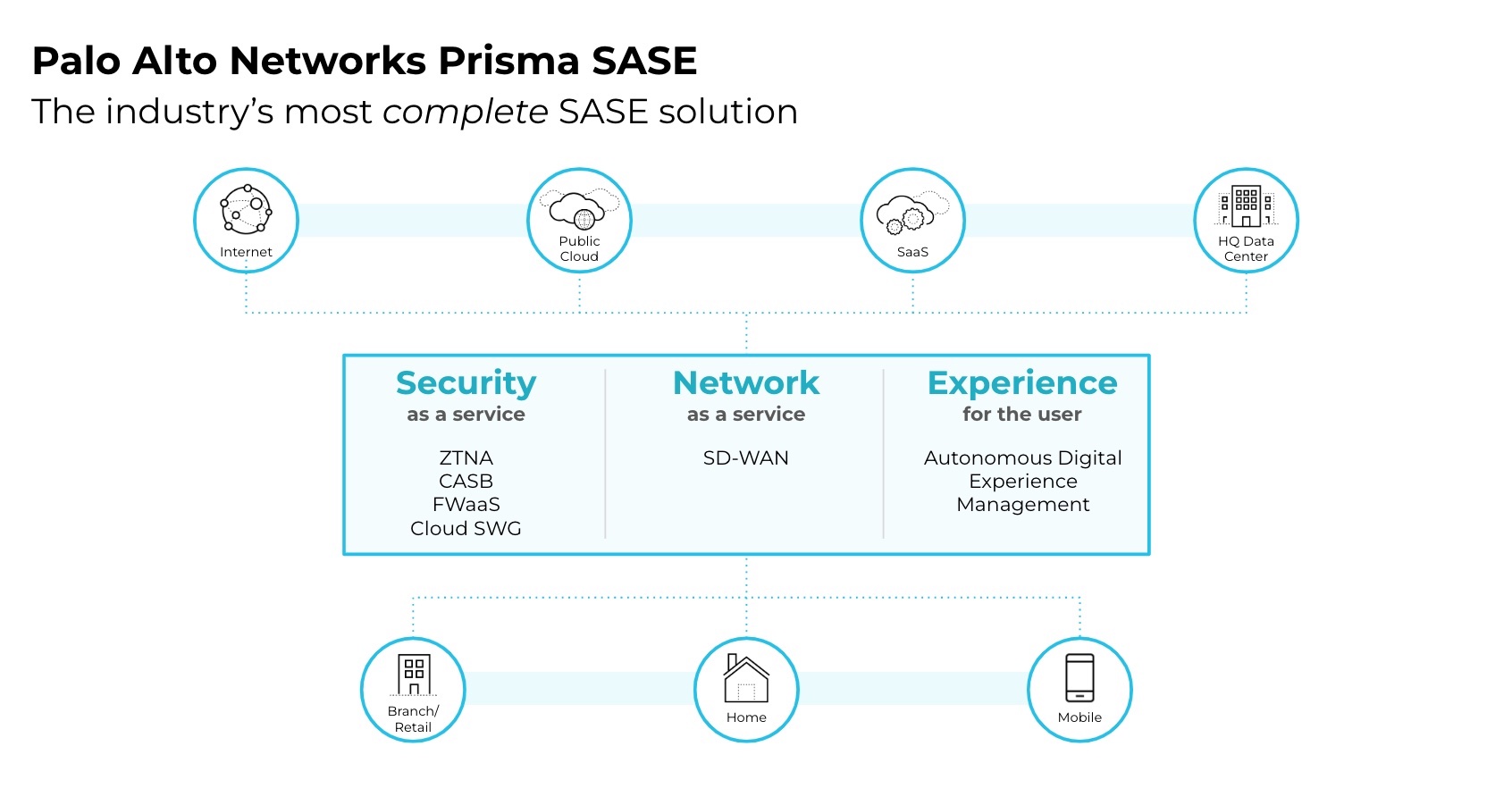 Palo Alto Networks has rebranded what was CloudGenix before into the new Prisma SD-WAN integrating it with its SASE service. Combined with their security solution the Prisma Access, it functions as a single management console that brings with it capabilities like automatically applying security policies to a branch just by tagging it.
Built from ground-up, the Prisma SASE service has a cloud-native architecture that is purposed to provide the same security and capabilities of on-prem appliances when organizations move to a cloud-delivered model.
With security as its strongest suit, Palo Alto Networks brings to offer a combination of security capabilities through its SASE solution. With services like threat prevention and DNS security, it tightens security both in branch and at remote user end.
Palo Alto Networks uses a holistic security model which involves gathering intelligence from its bases across the globe and putting it to use to design protection models for clients. With threat data coming in from every base where its solutions are deployed, the SASE architecture enriches and evolves adding new security capabilities all the time.
With regards to better user experience, Palo Alto Networks' SASE solution delivers seamless connectivity with Prisma SD-WAN, airtight security with Prisma Access and global visibility and control through its Autonomous Digital Experience Management, no matter where the applications are or where the users are connecting from. This way, companies do not have to make compromises on any of the capabilities moving from on-prem to cloud.
In Conclusion
There are many reasons to use Palo Alto Network's Prisma SASE solution, the biggest of which is steady user experience that is most valued in today's hybrid style of work. Palo Alto Networks' SASE solution supports all endpoints and secures users, devices, and applications at access delivering consistent security in a cloud-delivered model. My favorite is their global threat intelligence model with which it delivers strategic insights and manages threats effectively. With Prisma SASE delivering on-premises capabilities in cloud, it is the solution to use to ensure an agile, performant and secure network. Special thanks to Matt De Vincentis for speaking with us and Bobbi Kimble for setting up the meeting.
For more exclusives like this one, keep reading here at Gestalt IT.