In the past two years, news of cyber-attacks on Monday mornings have been routine for enterprises. Hackers have increasingly gained access into protected digital environments during lightly staffed hours, compromised assets and made away with huge payouts. Nearly all big businesses by now have reported one, if not multiple incidents of ransomware attack on their networks.
However, the lesser-known story is that this wave of cybercrime does not stop with the known names. Reports have shown that an alarming number of small businesses have also been hit by ransomware attacks in recent times. These are companies that were believed to be unlikely targets of cyber-attacks.
As the rest of the cybersecurity industry is absorbed in devising ways to immunize the biggest networks from novel threats, one company is helping small businesses recover their paralyzed systems from vicious ransomware attacks. Founded in 2011, Infrascale is a data protection company built to serve small and medium businesses. The Infrascale Cloud Backup (ICB) solution provides high levels of ransomware protection and enables data recovery, all at a very affordable cost.
A Spot of Vulnerability
The surge in ransomware attacks on small and medium-sized businesses reveals the troubling truth about poor cyber hygiene of these organizations. Experts say that a majority of small business owners are not concerned about ransomware attacks. These are low hanging fruits for cybercriminals. They rely on very basic backup solutions to store their data, and security tools that offer little to no advanced protection.
That has left doors open for hackers who are now aggressively targeting backups to seize control. They sneak in through endpoints and head straight for the backups where 80% of the data is.
Backups where data is stored in an immutable state are the hardest to crack. Unfortunately, most low-end backup systems are devoid of this capability, and have wide attack surfaces that are very easy to breach with today's sophisticated attack techniques, allowing hackers to alter and remove files, or infect them at will.
Fighting the Good Fight
Infrascale's goal is to bring to this minority, cyber awareness and vigilance. Their mission statement is to eliminate downtime and data loss.
"Everything that Infrascale does starts with our customers and their data," said Infrascale during a Cloud Field Day appearance back in 2021.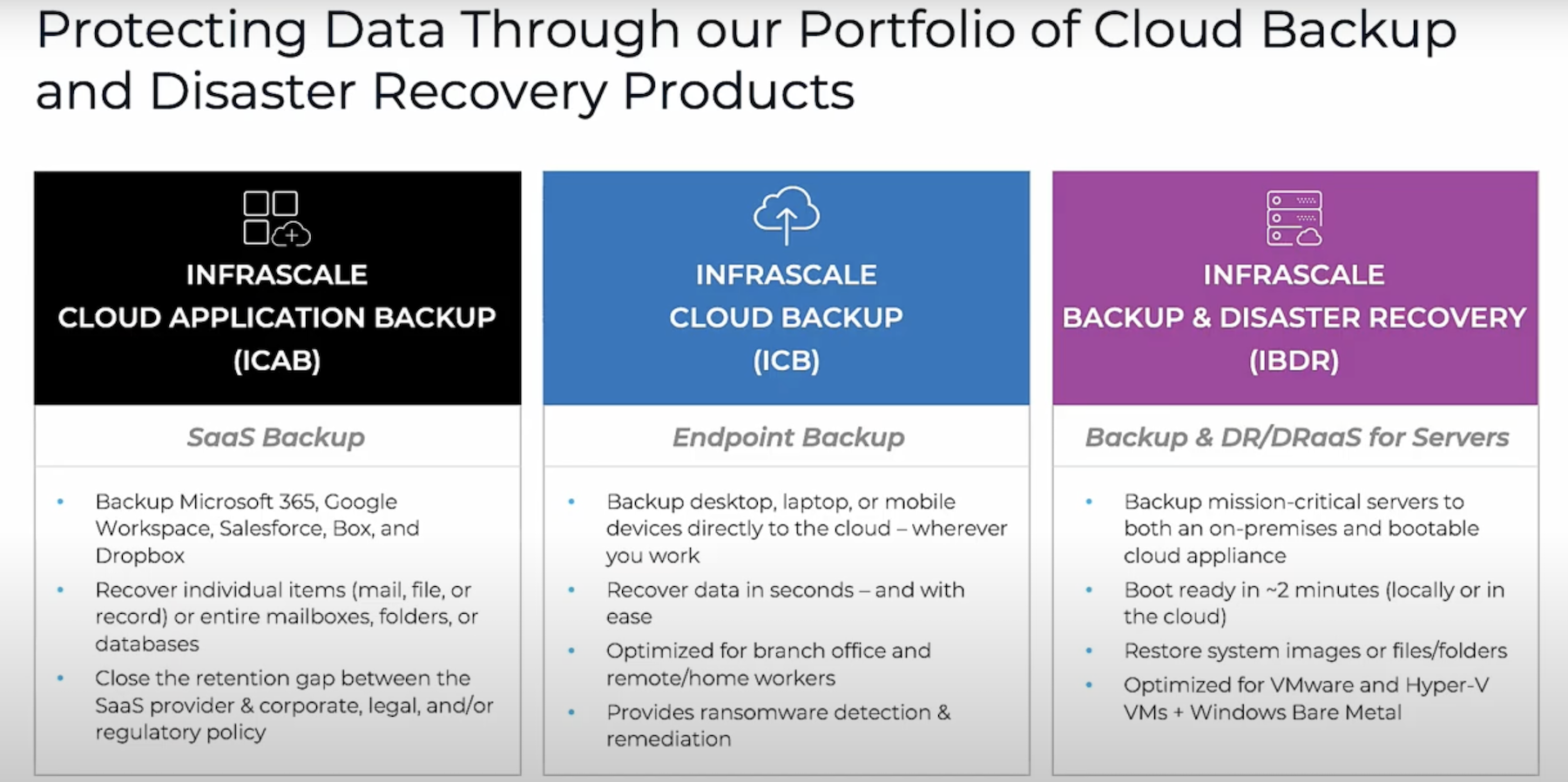 As small businesses face big threats, Infrascale strives to provide timely threat intelligence, and the confidence to operate unafraid in the present-day digital landscape. Their Cloud Backup solution curated specifically for businesses this size, includes a breadth of capabilities geared at making backup push-button simple, and ransomware-safe.
Built with ease-of-use top of mind, their solution not only makes performing backups easy for organizations that do not have a lot of technical expertise at their disposal, but also offers effortless and quick backup restores.
Infrascale Cloud Backup
ICB is a cloud-based solution that is sold as a storage-based subscription. It offers unlimited versioning, and can be used to backup and restore any number of endpoint devices ranging from desktops and laptops to mobile devices.
ICB brings to small businesses the gold standard immutability that renders data unchangeable. Infrascale encrypts data and stores it in the cloud in a protected state making it impossible for bad actors to delete, change or infect it. In case of a ransomware attack, organizations can quickly replace the compromised data with the untouched version in the cloud, thus averting paying a ransom.
ICB comes integrated with anomaly detection capabilities. Users can configure anomaly warnings and get proactively alerted about large and suspicious file modifications. This allows them to isolate an infection early in the chain, before it takes over the entire system and locks them out, and recover the compromised data.
Additionally, ICB offers features like multi-factor authentication (MFA) for access, single sign-on authentication for secure sign-ins, and remote wipe for erasure of data remotely on a device.
The Infrascale Dashboard offers a single-pane-of-glass management of the backup. All data protection needs can be defined and managed granularly from this console. Additionally, users can avail Infrascale's award-winning customer support for any issues encountered while using the solution.
Wrapping Up
In the wildfire of ransomware infections that has gripped small business entities, companies need a silver bullet like the Infrascale Cloud Backup solution that can patch backup vulnerabilities, and keep data safe without requiring high-end technologies. ICB adds multiple layers of defense to the security posture, and guarantees fast and easy recovery of files so that businesses are not forced to pay ransom to cybercriminals.
For more information on ICB, check out Infrascale's website. Also check out their presentations from this past Cloud Field Day event for a deep-dive of the Infrascale Backup & Disaster Recovery (IBDR) solution. For more stories like this one, keep reading here at Gestalt IT.