When one hears the name NVIDIA, one might think of their enigmatic, green eye-shaped logo or the GeForce RTX series and their profound impact on gaming and the graphics industry as a whole. A thought that usually doesn't come to mind, however, is their presence in the enterprise IT scene… that is, until now.
NVIDIA's GPU Tech Conference (GTC) 2021 kicked off Monday, April 12th, and with it came some exciting news. No, I'm not talking about Ampere, Omniverse, or even the groundbreaking announcement of their Grace chip (although you can hear more about Grace in Gestalt IT's recent News Rundown). Among the laundry list of new technologies announced, NVIDIA made an important statement to the market. With the release of their EGX computing platform, NVIDIA is entering the enterprise IT computing space.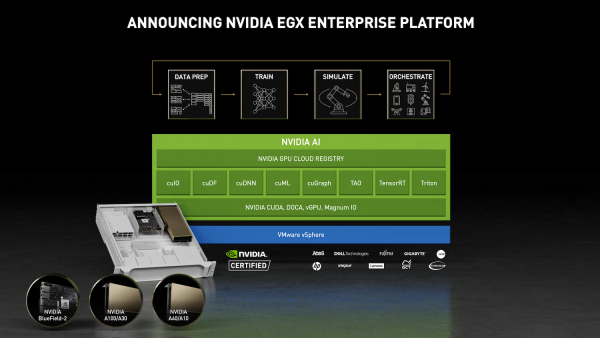 Shifting Focus to the Enterprise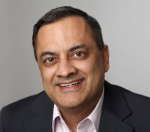 For a company that has long dwelled in the realm of the consumer, this recent "coming out" to the enterprise space has this reviewer wanting more. Thankfully, we had the opportunity to chat with NVIDIA's Head of Enterprise Computing, Manuvir Das, to hear his thoughts about the recent development.
For Das, the announcement of EGX is a declaration of the democratization of NVIDIA's product line, specifically their recent developments in the AI space. To start, NVIDIA will be launching a new line of GPUs that, although built to a somewhat lesser specification than their top-of-the-line consumer offerings, will be considerably more affordable. Doing so allows IT departments to purchase these new GPUs as necessary to scale their operations while still incorporating the high-end processing capabilities NVIDIA made their name on.
Much of this increase in scalability can be attributed to NVIDIA's focus on partnerships with their OEMs and other key players in the industry like Cloudera and NetApp. For example, as noticeable in the graphic above, the EGX platform is built atop VMware's vSphere architecture. vSphere allows for scalable and accessible virtualized AI servers, enabling IT practitioners to stand up EGX and its AI capabilities with ease — all from wherever they work. It's reminiscent of how NVIDIA's proprietary GPUs can be stood up on Linux systems in minutes compared to other graphics cards.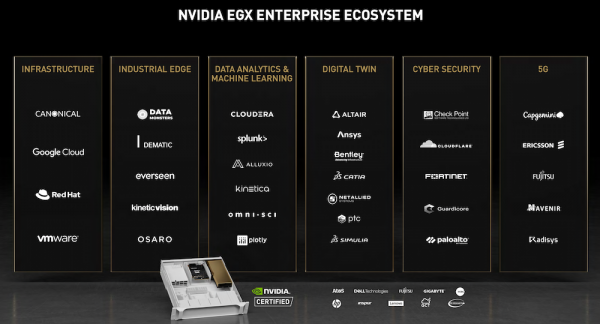 Ultimately, according to Das, the end goal of moves like this is to put NVIDIA technology in the hands of enterprise IT professionals, making their experience as practical as possible. This goal is also noticeable through the introduction of their new Bluefield 2 DPUs, the plug-n-play, backwards-compatible data processors.
Zach's Reaction
The EGX ecosystem announcement by NVIDIA promises a fascinating shift in the way enterprise IT builds its compute stacks moving forward. One can only imagine the ways the GPU giants will introduce more of their technology offering to this space. I, for one, look forward to the ways companies will capitalize on the growing presence of AI in business that companies like NVIDIA and others are working hard to foster.
For more exclusive coverage on NVIDIA's GTC 2021, including our breakdown of the Grace CPU chip announcement, as well as dozens of other breakthroughs in the enterprise IT industry, be sure to check out GestaltIT.com.