Tom Hollingsworth has made a place for himself at Cisco Live each year by having his very own corner in the Social Media Hub. Tom's Corner stands for a community and means a lot to many people. However, we are now living a new normal, and Cisco Live US 2020 will now be virtual. This beloved corner became a place to meet new friends and catch up with old ones. But who says that Tom's Corner can't also be virtual?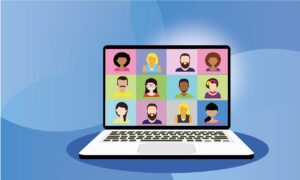 With the power of Zoom and Tech Field Day's patronage, Tom's Corner is now Tom's Virtual Corner at Cisco Live US 2020. Whether you have attended the physical Tom's Corner in the past or are just now hearing about it, all are welcome to participate. DM Tom on Twitter @NetworkingNerd with the email you would like the calendar invitation sent to.
Tom's Virtual Corner will be on Monday, June 1, from 8:00am PT through 1:00pm PT and you can come and go as you please, just as you would if this was in person!
There's no excuse to not keep the spirit of Tom's Corner alive. Everything else in our lives has gone virtual, so it only makes sense for this to become virtual as well! No one has to know you're wearing sweatpants out of frame while catching up with old friends and making new ones.
Tom Hollingsworth comments:
One of the things that I look forward to most during Cisco Live is the opportunity to meet with people. It's been quite a few years since I've been to a session during the conference. My work with Tech Field Day has kept me very busy for the past several Cisco Live events. But at the end of the day I enjoy strolling down to the Social Media hub and talking to anyone I see. Because people make Cisco Live what it is.

The Legend of Tom's Corner has grown over the years. It's more than just a fe…
Read more at The Networking Nerd Tom's Virtual Corner at Cisco Live US 2020