What makes buildings smart? Is it automation-enabled indoors? Is it robust connectivity for an infinite number of IoT devices? Or is it low energy demands, and higher cost-savings? For many, smart buildings tick a lot of boxes, because they are literally driving the revolution of smart technology. But besides being vibrant fields of technological innovation, smart buildings are also green, which makes sustainability a distinct possibility for the planet.
When the pandemic forced a lot of businesses' attention back to workplaces, it became evident that offices need more efficient electrical and mechanical systems, and collaborative workspaces. Most notably, the growing adoption of IoT fueled the drive for green spaces. Spurred by trends like sustainability and convergence of Information Technology (IT) and Operational Technology (OT), the smart building technology was born.
At the recent Tech Field Day Extra at Cisco Live EMEA 2023, we learned about some technologies that are the forces behind several smart buildings around the world. Muhammad Imam, Sr. Director of Product Management, Enterprise Switching at Cisco set the stage by talking about the trends that have taken over in the recent years, and Cisco's areas of focus. Andrew Lu, Product Management Lead, Smart Buildings & Sustainability, gave a walk-through of the technologies on Cisco's portfolio that enable smart buildings in real world.
A Shift in Tone
In the past, the focus in smart building technology has been primarily around energy footprint and environmental impacts. But now it's dawning on companies driving this transformation that it is a partial approach. Contrarily, if they start to centralize data from separate devices into a single intelligent system, buildings start to become even smarter.
"We have a lot of opportunities in how we can optimize energy in our workspaces, our digital buildings, and network is really the catalyst to drive this transformation," noted Mr. Imam.
The tenets of smart building are few – visibility through more data and insights, more energy-efficient technologies, and better indoor environment quality. Good news is that everything from indoor health to power efficiency to visibility can be improved with the use of right technologies. But the challenge with achieving these is the constant expansion of network which has reached a critical mass of devices, and the existing automation that impedes adoption of smart building technologies.
"The ecosystem is expanding, and we are seeing a lot more endpoints getting connected to the network, be it a light, blinds, or HVAC systems," said Mr. Imam.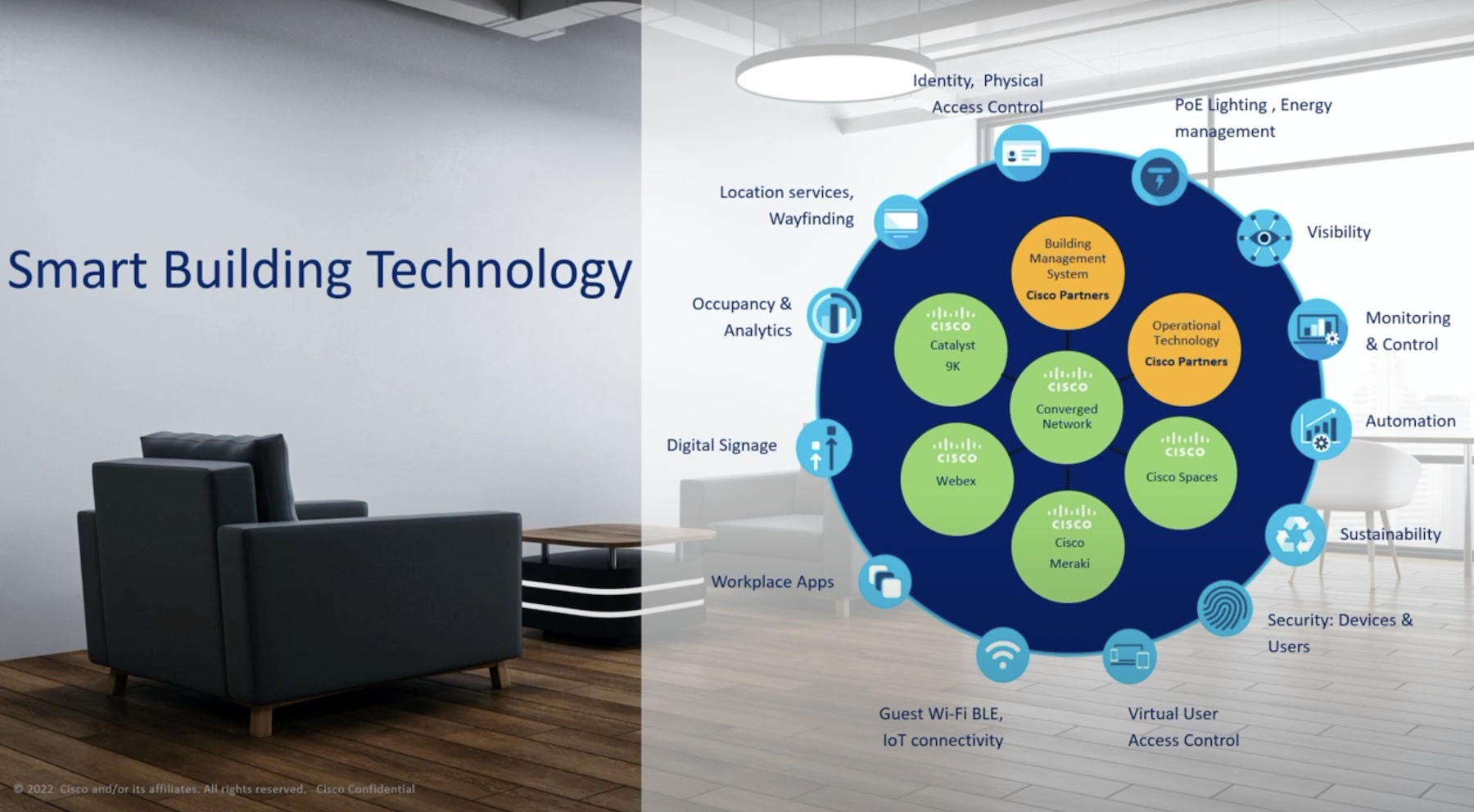 Cisco's Pillars for Smart Buildings
Cisco believes that there is a way that all of these can be translated into intelligent energy savings. Imam says that sustainability for customers can be assured in three areas. In the past few years, the industry has standardized 90W Power Over Ethernet (PoE) which is a big leap from the former 15W PoE. This has enabled a lot of endpoints to be connected to the network, and unlocked substantial power and cost gains. PoE accomplishes the IT/OT convergence, he said.
Second is safe DC power source which inherently provides reduced conversion loss.
Lastly, granular visibility of the environment, in terms of things like occupancy, occupant density, and energy consumption around the building, is key to making smart decisions about utilization.
Cisco Smart Building Technology with Catalyst 9000 Series
Cisco has put together a spectrum of technologies under the Smart Building banner that dramatically reduce energy footprints in offices, hospitals, universities, and such places. Since long, Cisco has been working with a growing ecosystem of partners which includes names like Schneider Electric, IBM, and Honeywell, building sensors that can measure temperature, humidity, airflow, and such things indoors. In the next step, they are stacking them with newer technologies to address a broader set of use cases.
"It's important to realize that smart building is not a very simple solution. It's a full stack of technologies that enables a wide selection of use cases," said Mr.Lu in his opening comments.
At the center of Cisco's stack is the Catalyst 9000 family that leverages PoE for supplying power and data to the endpoints. Cisco's Catalyst 9000 Series has the highest 90W port density in the industry which allows cost to be distributed over all endpoints, delivering breakthrough economics.
Cisco Spaces, a cloud platform provides the aforementioned visibility across the network, enabling organizations to power up and power down endpoints flexibly for optimum utilization. Data comes in through the Cisco firehose API that streams large volumes at once.
This is topped with a host of building management systems designed in collaboration with industry partners that provide smart control of devices, and a wide selection of sensors that fit buildings of all sizes and age.
"The important part is that at the center of this, we have a converged network enabled by Catalyst 9000."
Cisco shared data from one of their flagship Catalyst 9000 enabled smart offices in New York to show how energy efficiency can be optimized by leveraging granular visibility and control delivered by Cisco Spaces. Formerly DNA Spaces, Cisco Spaces offers granular occupancy and environmental data that can be leveraged to improve user experience, and bring down the power consumption of the entire IT infrastructure through waste minimization. Cisco Spaces is compatible with all of Cisco hardware from Catalyst to Meraki and more.
"The second pillar of our benefit of 90w PoE portfolio is safe DC power source. Safety is really important and that's also what actually adds to a lot of the cost of deployment."
Mr. Lu noted that PoE can deliver up to 10% savings in CAPEX compared to AC infrastructures. Leveraging DC power source for its efficiency with renewable resources like solar and wind that are typically on DC infrastructures, Cisco's 90W PoE portfolio promises substantially better cost economics and greater sustainability.
Wrapping Up
Cisco's Smart Building technology is vital to achieving net zero in workplaces. It paves the path towards reduced greenhouse emissions in buildings with greater and granular control over energy consumption. By deploying a full stack of technologies programmed to run on auto-pilot, Cisco ensures less human management and control, and greater automation in buildings, new or old. This, however, does not change the experience of our interaction with physical spaces.
For more information on Cisco Catalyst 9000 Series, be sure to check out the video above and other presentations from the recent Tech Field Day Extra at Cisco Live EMEA 2023 event.