COVID-19 has changed how many of us are living our lives, and this includes our workspaces. We no longer commute to offices to work, but instead, our offices are in our homes.
Working from home has its perks, and I know I've enjoyed wearing sweatpants and having my cats occasionally join me as I work. However, we now have to evaluate our new workspaces, especially since we have been in this predicament for several months. Many of us are in video calls, but do we sound and look appropriate and professional?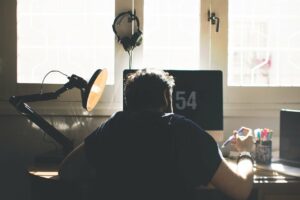 Before living where we work, many, like myself, have never thought twice about what's in the background of our video calls or how we sound, but now this is crucial. There are challenges to working from home, especially if you don't live by yourself, have kids and/or pets, or live in a noisy apartment complex. It's no longer sufficient to have your window light shine in from behind you or to use your computer microphone.
We are living in a new normal, and now our home offices need to improve. Greg Ferro, with the Packet Pushers, has detailed some tips for making living at work better for you, your coworkers, and your clients. In this helpful blog, he gives basic tips, as well as concerns and specific recommendations regarding one's audio, video, appearance, and conferencing apps. Ultimately, you decide how you want to present yourself, but by making these changes and considering these recommendations, you can improve your professional appearance.
Greg comments:
With video conferencing as the common medium of business communication, you're going to be judged on how you look and sound. It may not be fair, but how you present yourself will be taken as a measure of your professionalism. Here's some tips for better audio and video.

The post We Live At Work Now. Get Your Audio And Video Right appeared first on Packet Pushers .
Read more at PacketPushers.net: We Live At Work Now. Get Your Audio And Video Right