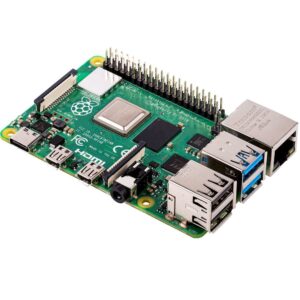 The Raspberry Pi Foundation reported that the plucky little SoC that could, the humble Raspberry Pi, sold 640,000 units in March, its second biggest month of sales ever. For some context, that's about 1.2% of the total PC shipments in all of Q1. All for a $35 ARM computer with soldered RAM, no case, storage, or power supply.
The Raspberry Pi has achieved an iconic status as a hobbyist tool, developing a loyal following for those that need a cheap board to run a server, power an IoT experiment, or just tinker around with. But one thing that seems to be driving sales during COVID-19 is that it can actually be used as a competent Linux PC. While you won't be setting any speed records with it, the Raspberry Pi offers a multi-core CPU and just enough RAM to allow for some light multitasking, and thanks to its on-board GPU and HDMI-out, it can handle media duties surprisingly well.
So it's not surprising to see the Raspberry Pi turned into a makeshift PC and media device for people stuck at home. But the more exciting reason demand might be spiking is due to its potential for COVID-19 relief. Seemingly everyone is trying their hand at producing ventilators to meet expected demand. Some projects are using the extremely versatile Raspberry Pi to power those designs. It's also finding a lot of use by 3D printing hobbyists, who are using the boards to power printers working on personal protective equipment like face shields for medical personnel.
Being a fairly open and unadorned platform, the Raspberry Pi is very much what you make of it. It's nice to see it finding even more uses in this time of need.