Is anyone else ready for live tech conferences to return? I know plenty of folks who feel this way. One of the best parts about working with the Tech Field Day team is that I get a chance to chat and hang out with some of the top minds in the enterprise IT space. Their passion for the industry, combined with their thirst for technical knowledge, makes nearly every conversation interesting.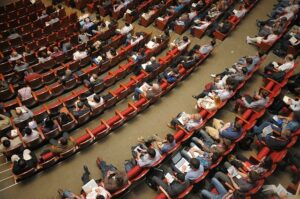 Over the last few months with conferences being canceled and rescheduled, I'm sure many of our friends are itching to get back to a sense of normalcy (with some obvious precautions, of course). Well, a good buddy of ours, Drew Conry-Murray, forecasts a return of those live events that many of us love. In this handy listicle, he uncovers the reasons why live events will come back and how tech vendors might experiment with some of the insights we've gained during the global pandemic.
Drew comments:
Live vendor expos and tech conferences are on indefinite hold. Even as states and municipalities experiment with phased re-openings, no one is proposing that thousands of people gather in convention centers or hotel ballrooms.

As live events get replaced by virtual versions, there's some question about whether anyone will want to gather like we used to. Here's five reasons live events will come back.
Read more at PacketPushers.net: Live Tech Events Will Return. Here's Why