The face of networking is changing rapidly and for good reason. How we consume services has changed dramatically in recent years, and the networks that serve them have to keep pace with those changes.
Gone are the days where enterprise connectivity was just about keeping branch offices connected to the mothership via expensive links. All of the services were concentrated, with an occasional trip to the internet. With SaaS services, VoIP, and video communications making up the bulk of the user traffic today, it doesn't make sense to trombone all that traffic through those expensive connections – both out and in!
Enterprise Solutions Architect, Ather Beg, sits down with VP and CTO for SD-WAN and SASE at VMware, Craig Connors, to discuss Cloud Gateways. 
The Magic of SD-WAN
To address those needs, SD-WANs came along. They provided the ability to add low-cost physical transport links to complement existing connectivity, with the ability to steer traffic based on pre-determined policies. While doing so, they optimized traffic on those multiple links by using deduplication, compression, and error correction.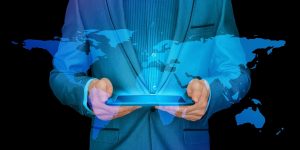 But that wasn't all! SD-WANs also allowed companies to make efficient use of their connectivity as they were 'active' all of the time. In addition, they solved the challenge of providing secure and simple, and reliable connectivity to those remote sites, removing the need to deploy IT staff to manage it effectively.
In short, a world of capabilities became available when the WAN became 'software-defined', and for many companies now, it's a no brainer.
Enter SASE!
VMware SD-WAN (previously VeloCloud) has been the leader in providing these capabilities for a few years now, with over 100 geo-dispersed PoPs (Point-of-Presence) and thousands of gateways deployed between VMware and partners.
That makes VMware SD-WAN best placed to offer another new capability on everyone's minds today: SASE (Secure Access Service Edge). The importance of providing mobile users secure connectivity from wherever in the globe they might be – has never been greater. That is especially true in the age where mobile devices are predominantly the tool of choice to work and communicate.
Having the PoPs with horizontally scalable and managed cloud connectivity dotted worldwide places VMware SD-WAN very nicely to offer high-quality, secure access to current and future SaaS and other application services.
Combining the global presence of SD-WAN with the security services like ZTNA (Zero Trust Network Access), firewalling, and encryption, VMware SASE provides the perfect platform for remote workers to securely access the services they require to perform their day-to-day job functions. With thousands of enterprise applications recognized already, user traffic can be dynamically routed towards the enterprise DC, Cloud PoP, or directly to the internet.
Looking at the Horizon
All this functionality is already available for companies to take advantage of, but surely more can be done to take advantage of this excellent platform.
VMware does have a vision to build more services and capabilities on top of this, such as IDS/IPS and anti-malware services. API integration with more cloud services is being strengthened as well.
In addition, there is a focus on troubleshooting and self-healing capabilities for the connectivity aspect. With VMware vRealize Network Insight and VMware Edge Network Intelligence, the platform can utilize advanced analytics and network modeling to provide better uptime and resilience to the service. This improves the user experience – whether they are collaborating via video conferencing or working on internal applications.
Intelligent, efficient, scalable, dependable, and yet simple, networking is fundamental to any company's success providing the vast array of services a modern business user requires. VMware SD-WAN Gateway provides that today and with more cloud PoPs and services becoming available, it looks ready to provide the future's connectivity platform.