Storage Field Day started this year with a bang, with our panel of independent technical influencers posing interesting questions for the presenters. This was a future-focused event featuring thought-provoking storage solutions from Hammerspace, Intel, NetApp, Pliops, MinIO, Tintri, and Nasuni.
This Storage Field Day event saw the debut of several new storage concepts and defined 2021's storage buzzwords, including 'storageless data', distributed architectures, and a move to 'faster than flash' approaches. A surprise focus was on integration with specific applications such as SQL and SAP.
One of the most exciting aspects of Field Day events for presenting companies is the feedback and thought-provoking questions asked by the delegates. Companies enjoy what is essentially a peer-review process, with the delegates' technical knowledge bringing new insight to the presentations.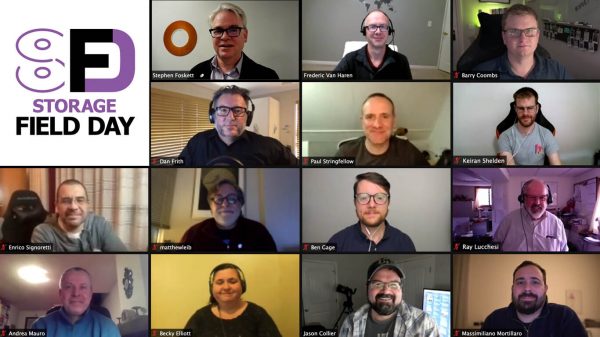 The Value of the Field Day Delegates
Hammerspace is one of those companies that returns year after year. The videos produced at these events act as an ongoing marketing tool for the presenting sponsors, and Hammerspace has seen the results of this.
"We have had wonderful success with the Storage Field Day events of the past with customers who come to us and say, hey, I went and watched your video, and I learned about your product from [a Storage Field Day presentation] we did two, three, and four years ago. So, this has a very long shelf-life of value, and that's awesome," said David Flynn, CEO, Hammerspace. "We love how you are doing it and think it is a great opportunity to address people, especially where there is incredulity or concern. I think this notion of storageless data, the term and the marketing and what it actually means, and then the practicality of actually implementing it and having it work. So I think this is an awesome forum for converting that kind of information, and we plan on using it in the future, like we said, to get real customer success stories here."
These delegates dig into topics, explore the tiny details of products, and keep presenters on their toes. Storage Field Day 21 was no different.
"Storage Field Day is a peer-review process when you bring these experts to validate who we are; if I make up stories, it is not going to sell here," stated AB Periasamy, Founder and CEO, MinIO.
A Technical Deep Dive
First-time presenters are often surprised by just how much the delegates know about their technology.
"There is a high level of technical knowledge, so being sure that we have landed the technical message and given [the delegates] what they wanted. We feel like we did based on the questions we had from folks and the engagement back and forth – it is nice to have that vs. just talking to a quiet Zoom room," Parrish Blaszka, Senior Director, Corporate Marketing, Nasuni.
The Tech Field Day delegates also have the ability to make companies change the way they think about their products and solutions and take a look at angles they had perhaps not thought of before.
"The [delegates] questions were pretty insightful in terms of what makes a specific program successful. I think that's a critical component. They make us think differently with the questions and think perhaps there are things we should have thought of before," explained Sunitha Rao, NetApp Keystone Project Management.
No stone was left unturned by the delegates, with some companies walking away with fresh thoughts on their company's products, solutions, and in some cases, marketing plans.
"There was a question early on when we described the company's foundation and the things we were leveraging; someone said, are these things available today? … We have been delivering these foundations for a decade. That struck me and made me think we could have done a better job over the last ten years in describing what we do," noted Erwin Daria, Field CTO, Tintri.
Returning to Storage Field Day
Overall, Storage Field Day 21 was a hit for all involved, and we cannot wait to welcome these companies and more back for our next event.
"I think because we are a newer company, it was great to get some feedback that was not tainted in any way or someone who is an investor. It was great just to have something where we got different feedback from different people in the industry. It was really helpful for our team to be challenged a little bit. It helps us for future presentations for what we need to hit on based on the questions that the group was asking us, so I think it was enlightening," noted Angela Restani, Vice President of Marketing at Pliops.
Watch For More Tech Field Day Events in 2021
To learn more about how you can participate in our Tech Field Day events, contact us. The next Storage Field Day event is scheduled for August 4-6, 2021! A full list of upcoming Tech Field Day events can be found on our website.