A study published by Global Market Insights Inc. predicts that the NAS (Network Attached Storage) market will overshoot the $100 billion mark before 2032. The forecast is a jolting reminder of the rapidly accelerating demand for data storage.
Through a Clear Lens
Unfettered data growth is a prominent driver for market demand for network attached storage. Businesses need additional space to catch the spillover data in a cost-efficient and access-friendly manner. Further blowing up the market revenue is the rising investment in AI, 5G and infrastructure expansion plans.
Underneath that all, what's inflaming the demand more and most is an elevated awareness. The customers today know what an efficient storage system should look like. Based on that, the business requirements that have rose to the top are centralized storage, simplified data management, and of course, rock-solid data protection, and traditional NAS comes up short.
Nasuni
A major participant in this space is Nasuni Corporation. Amid companies like HPE and NetApp that are rolling out their versions of affordable storage, Nasuni is garnering a lot of attention as a provider that puts mitigating cost, capacity and security challenges above all things.
Its competitive differentiator is that it gives users a way to do more with less. Nasuni's flagship File Data Platform is a comprehensive solution that helps organizations meet the newer business challenges with consistent performance, cost optimization and ease of management. Cost being top of mind, Nasuni offers the solution on flexible and pocket-friendly plans targeted at a cost-conscious market.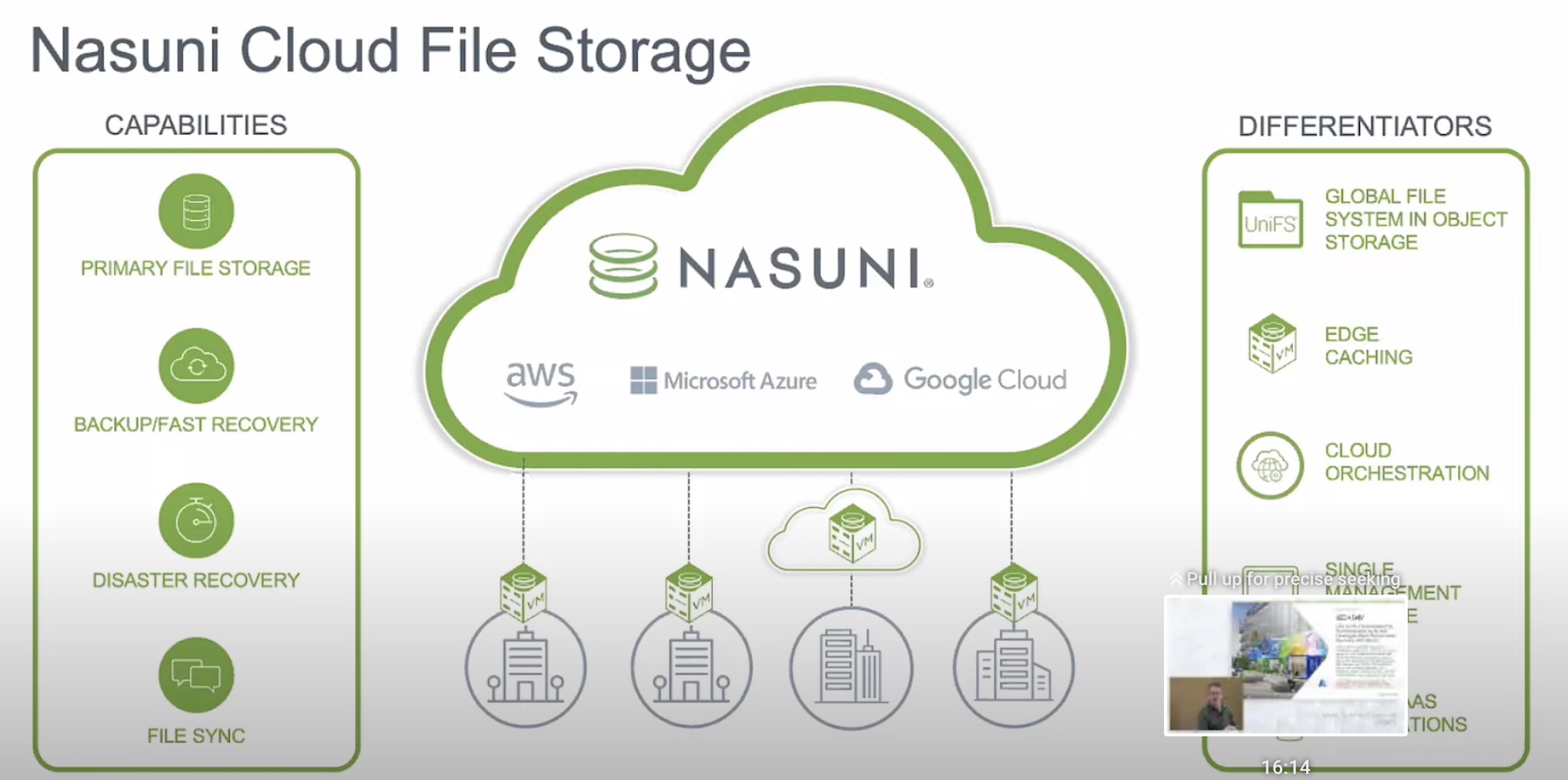 TechTarget named Nasuni the silver winner of the best enterprise cloud storage two years in a row. The judges rated Nasuni based on its File Data Platform's breadth of capabilities. Unlike traditional NAS, Nasuni offers a cloud-centric file data service that connects users to data anywhere, anytime. The solution offers a common namespace where NAS and cloud file storage can be combined and collaborated.
Nasuni is vendor and cloud-agnostic which gives users the additional flexibility to collect and collaborate files, no matter their location. The platform differs from other storage solutions by offering a global file system that can store massive sets of unstructured data, and scale limitlessly.
The Nasuni File Data Platform
When it comes to building a file storage service, Nasuni lets the biggest industry trends guide it. With hybrid work becoming a standard, Nasuni's platform features an add-on Access Anywhere service which allows accessing from any location without any security risk to the data. With its file solution, a widely distributed workforce can collaborate across locations without experiencing any difference in access performance or connectivity.
A big area of focus for Nasuni is data protection. Nasuni's File Data Platform has built-in, always-on ransomware protection that detects threats in real time, and recovers files under minutes. The protection spans cloud to edge, empowering organizations to rapidly recover from attacks across multiple locations, and avert costly shutdowns.
Nasuni steps away from the traditional backup and recovery to avoid its limitations. As an alternative, Nasuni offers a cloud storage file backup and recovery service that is built into the platform. File backup runs in the background without user intervention. What better, Nasuni's file solution scales infinitely, meaning even though backup happens at a higher frequency than on-prem backups, users can never run out of space.
Nasuni leverages object storage which promises higher capacity and lower cost, thus making a perfect fit for volume-heavy unstructured data. Simplicity is assured with a single console management, on-demand capacity and built-in backup and DR. It's flexible architecture allows deploying cloud, on-prem and hybrid applications easily.
Nasuni in 2022
In 2022, Nasuni made two significant acquisitions bolstering its platform's capabilities even more. First, it bought startup company, DBM Cloud Systems, in a 60-million-dollar acquisition in May.
Then in June, it made a second acquisition by absorbing an UK-based, file data management company, Storage Made Easy (SME), for an undisclosed sum. This acquisition was targeted toward improving file accessibility and giving customers high-performance access from home and branch offices, as well as from field locations with limited bandwidth.
Nasuni is a regular presenter at Field Day events. Watch them present their latest solutions at this past Tech Field Day event in Silicon Valley.