Morpheus Data, the hybrid cloud application orchestration specialist, has launched a new concept called Personas. Personas extend the idea of self-service IT from the developers' realm to the less technical user by employing a shopping cart function for application provisioning.
Hola, Persona!
Personas is a fresh approach to controlling who accesses or views the Morpheus user interface (UI). Personas' features and functions focus on SecOps, CloudOps, and DevOps personas and is designed to deliver self-service capabilities specifically relevant to each role within the client company through role permissions.
Many companies want isolated UI. They want this isolation created not by removing usability and access from the UI but by creating a basic virtual machine (VM) without complexities. Personas facilitates this. Morpheus' Personas can provide single-click provisioning of preconfigured and locked-down catalog items.
Because Persona is built within the existing Morpheus role-based access engine and integrates with Okta, Active Directory, and more.
Types of Persona
Currently, there are two Persona types, Standard and Service Catalog. The Standard Persona is the default view, and the Service Catalog Persona is where users can see preconfigured Instance types and Blueprints to choose from – based on their role. Additionally, Catalog item access can be set on the Tenant role to restrict items from everyone in the Tenant. When configuring access, three access levels can be given to users; Full, Custom, or None.
With Personas, dynamic UIs are tailored to a company's specific target audience without all of the unnecessary fluff. Within the Persona UIs, there is a list of top items and inventory, a catalog, and order something (a server, for example), the user adds it to their cart. Very simple! Users can create self-service catalog items for instances, for complex blueprints and operational workflows or tasks.
The UI form is entirely customizable, and the company can build exactly what they need. If it wants to restrict specific access or want scripts that automatically pick the network, that can be done. Persona allows you to inject what you want to build dynamically into the UI and presents the user with a customized view based on actions they are likely to want to accomplish.
Morpheus is planning to expand its Persona offerings soon into a FinOps, financial-based Persona, VDI, or reporting for the next step on the Persona journey.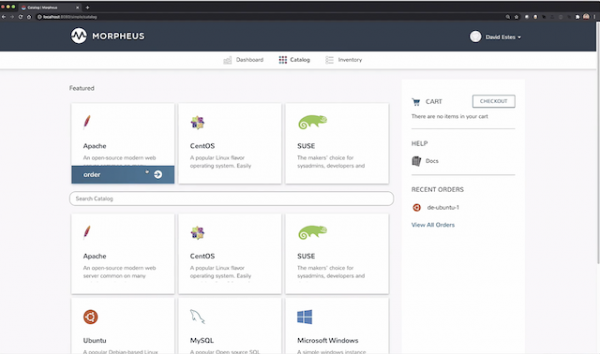 What Else?
What's next with Morpheus 5.0? The company has implemented a full external plugin framework. This means that users can write their integrations for Morpheus. Morpheus Data has had an internal framework for years and have been working hard to expose that to its customers and partners. For example, if a user has a custom IP address manager at DNS and wants to use Morpheus, the user can code that into Morpheus and use it.
This is the same with UI extensions. If a user wants to add custom tabs, instance details, customer ports, task types, approval workflows, or even security backend, Morpheus Data stated that they are adding 'cool features' for that. Later on in the year, Morpheus Data will take that further and announce cloud and backup integrations.
For the cloud integrations, if the cloud makes a change rather than waiting for a Morpheus release, clients will get a push plugin update. Morpheus Data believes that this will rapidly accelerate its development cycles.
Take Away
Corona Virus has meant a surge in hybrid cloud working environments, and self-service IT expectations have moved beyond the realm of developers. Personas is designed to restrict access to the UI and, at the same time, allow less IT savvy users to provision applications using a shopping cart. Ease-of-use and simplification is always a good thing in our books.