Most organizations struggle with data management tasks like backup and recovery. The lack of homogeneity in today's workloads and where they run only compounds this problem. Cloud has the power to simplify and relieve the operational burden that often accompanies backup and recovery.  Commvault showcased its Disaster Recovery solution, part of Commvault's Intelligent Data Management platform. Commvault orchestrates and automates away the complexity of protecting heterogeneous workloads in hybrid multi-cloud times. 
Data Management in the Time of Mixed Workloads and Hybrid Cloud
Long ago, when most workloads existed solely on-premises, organizations struggled with managing their data. Critical data management tasks like backup or disaster recovery have often been time-consuming and cumbersome for IT teams. Fast forward to today and many organizations run a mix of legacy and cloud-native workloads in multi-cloud or hybrid cloud environments. When you factor in the complexity of managing heterogeneous workloads with the explosive growth of unstructured data, it's a recipe for IT to be overwhelmed.
Fortunately, the very thing that added complexity to data management also has the power to transform how organizations manage and protect their data. Cloud, with its nearly limitless resources, seemingly infinite service offerings, and automation options, can change the game for overworked IT teams. Backup and Disaster Recovery is a natural fit for leveraging the cloud. Being able to supplement both missing IT skillsets along with compute and storage is a crucial benefit of cloud. Long gone are the days of having expensive hardware dedicated to recovery that never gets used.
Unifying the Way Organizations Manage Disaster Recovery
At Tech Field Day last December, Commvault showcased its Disaster Recovery solution, part of Commvault's Intelligent Data Management platform. Disaster Recovery can be used as an add-on to Commvault Complete or independently. Commvault Disaster Recovery supports heterogeneous workloads, including virtual machines, databases, files, folders, storage arrays, and physical servers. 
The ability to recover on-premises workloads in the cloud or the inverse is the kind of flexibility that many organizations need to manage mixed workloads. Commvault orchestrates away the complexity of managing replication or any conversions needed for these hybrid multi-cloud times. Additionally, by leveraging application-aware replication, Commvault orchestrates the configuration need to achieve the desired Recovery Point Objectives (RPOs).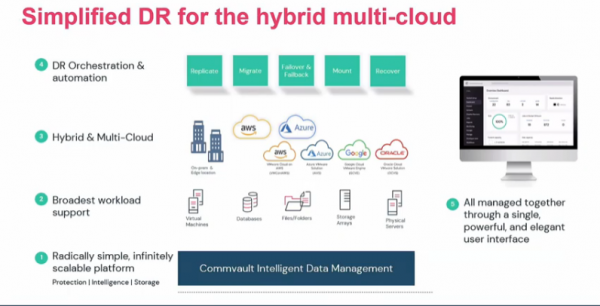 Reducing the Operational Complexity of Ransomware Recovery
In a world where ransomware is a pervasive threat, it's only fitting that a disaster recovery solution or really any data management solution would have offerings built around recovering from attacks. Commvault takes this one step further and has developed Commvault Readiness Solution that leverages the comprehensiveness of Commvault's Portfolio with its Professional Services. Commvault Readiness Solution can help organizations align their recovery plan for ransomware or other recovery threats to technical requirements.  
Even without engaging with Commvault Readiness Solution, Commvault Disaster Recovery helps organizations mitigate some of the risks that ransomware attacks pose to a business' livelihood. One piece of important information in recovering from a ransomware attack is determining when the attack occurred. Without that key piece of information, recovery is near impossible because an organization has no idea which backups were compromised. Commvault Disaster Recovery can detect when large groups of files change. From there, Commvault can generate an alert for a possible ransomware attack and also trigger pre-defined automated actions like extending the retention period.
Conclusion
Commvault started as a data protection company over twenty years, but its portfolio now covers a spectrum of data management solutions and features, including data governance and compliance. The challenges that organizations face with backup and disaster recovery have evolved, but so have the solutions that Commvault offers.
To learn more about Commvault Disaster Recovery and its Intelligent Data Platform, check out Commvault's presentations from Tech Field Day.