It is critical for a business to know what is active on their network and to have accurate records of devices that have been deployed. While it may not be the most flashy or intriguing piece of networking, having a single, self-updating golden record of IP addresses is critical to efficient networking operations. EfficientIP develops software to ease the burden of DNS, DHCP, and IP Address Management (DDI). Kirk Appelman, VP & GM North America, explains that DDI is like a house's plumbing. The business doesn't think about it day-to-day. When there is an issue, it is critical, and it needs to be taken care of immediately. EfficientIP developed SOLIDserver DDI to help businesses manage and maintain their critical network plumbing. They described the software and its benefits in detail at Networking Field Day in February.
Spreadsheets Don't Scale for IP Address Management
IP Address Management (IPAM) is a laborious, often manual, process for many businesses. Many small and medium businesses rely on spreadsheets to be their IP address single source of truth. Aside from being a manual process, a static document is error-prone and can significantly slow the deployment of new services. IPAM software automates the gathering of data through SNMP. However, it requires configuration on the endpoints to work correctly. The technology industry is quickly moving toward an API-Driven approach, and DDI software hasn't traditionally kept up.
EfficientIP Automates DDI Services with SOLIDserver DDI
EfficientIP understands the shortcomings of traditional DDI software. They have developed the SOLIDserver DDI solution to provide the most simple, scalable, and secure connection between users and applications through DDI. SOLIDserver DDI is a reliable suite of core network functions and is compatible with on-premises devices and the cloud. It is built with APIs in mind. SOLIDserver DDI can integrate with AWS, Azure, VMware, and many orchestrator and configuration manager software.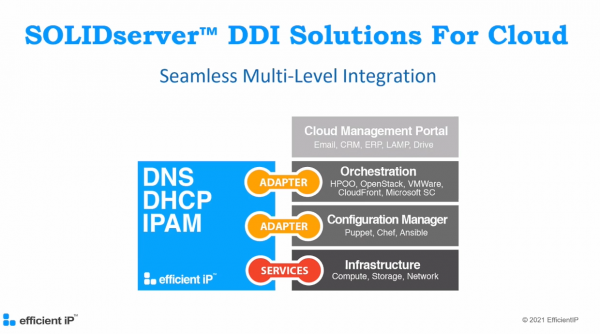 SOLIDserver DDI offers a simple architecture. It is an all-in-one technology that reduces the number of servers required to manage multiple solutions. The GUI integrates IPAM, DNS, Security, and traffic management inside a single, consistent platform. Customers have a single source of truth for all of their network infrastructure plumbing, allowing uniform policy management and configuration.
Seamless Multi-Level Integration
Businesses are moving toward a zero-touch environment. They wish to remove human intervention from the deployment and configuration of their infrastructure, opting for programmatic deployments, also known as infrastructure-as-code. There are multiple requirements for a zero-touch DDI solution. The DDI software must automatically collect the data about the network configurations. The collected data must be stored in a central repository. That repository must be available to the ecosystem so that external solutions can access it. Manual spreadsheets aren't a viable solution in a modern IT environment.
EfficientIP addresses these through an API interface. Their API is available for Orchestration engines like vRealize Automation, OpenStack, and Cloudfront. Adding API calls into a workflow will enable automatic DNS updates and requesting available IP addresses. The API also works with configuration managers like Puppet, Chef, and Ansible. The deep API integration opens up the IPAM and DNS to multiple layers in an infrastructure stack, not just the low-level services. Also, the solution can integrate with cloud DNS services, such as AWS Route53, allowing customers to manage their on-premises and cloud DNS from one centralized location.
DNS, DHCP, and IP Address Management may not be the flashiest segment in networking, though it is critical to any business's success. Even the slightest issue in the DDI stack can cause significant problems with applications, leading to lost revenue and reputation. EfficientIP's SOLIDserver DDI solutions work to provide resilient, scalable, and secure core networking services and integrate with modern IT practices with their API interface. To learn more about EfficientIP, check out their coverage at Networking Field Day.