Smart technologies are supposed to make lives easier, but an errant AP or patchy Internet can very easily ruin the vision. This often happens when a gadget is used for a purpose it was not meant to serve. Imagine switches and wireless products. Reality falls woefully short of the promise when a switch that works dependably, providing great Internet connection throughout the office, does a less than an optimal job outdoor.
This happens because indoor switches are never meant to work in the harsh open environments of outdoor spaces. Outdoor spaces typically require extensive coverage, stronger signal and physically hardened switches and APs that enterprise switches cannot possibly guarantee. For a switch to wash extended spaces with Internet connectivity, it has to combat a myriad of adversarial weather elements.
One example is the Cisco line of Catalyst switches. World-famous for their best-of-breed features and unparallel speed, Cisco Catalyst switches are mostly enterprise models designed to work in closed, temperature-controlled environments. Put them in an exposed, outdoor setting in bad weather conditions, they will still work, but struggle to provide performance at par with indoor environments.
Good news is, Cisco is launching a new batch of outdoor switches extending the Catalyst line. These new industrial ethernet switches under the Catalyst umbrella are designed to meet the needs of outdoor deployments.
The Catalyst IE9300 is a sturdy line featuring rugged outdoor switches that are designed to protect themselves against ultra-high and freezing temperatures, heavy humidity and even vibrations, shocks and surge. Primed to face any outdoor conditions, these switches, unlike the other switches, wield a fine control over their surroundings, however unfriendly or challenging they are.
The Cisco Catalyst IE9300 Rugged Series
At the recent Tech Field Day Extra at Cisco Live US 2023 in Las Vegas, Technical Marketing Engineer, DJ Cole, gave a sneak-peek of the switches and what make them exceptional products.
As a manufacturer of networking equipment, Cisco is no stranger to industrial technologies. With a pedigree of building industrial-strength networking appliances for decades, Cisco has both the mastery and the smarts. Cisco's new switching line live up to that reputation.
Exceptional in their hardiness and ability to function in noisy backgrounds, these Catalysts switches thrive where other outdoor products fear to go. Cole highlighted that the switches are fit to work even in hazardous and explosive environments that have flammable gases and dusts.
As for features, the new Catalyst IE9300 switches combine the speedy performance, and top-of-the-line feature set typical of Cisco switches. On the software level, the appliances bring to the table the same capabilities as their enterprise counterparts, but Cisco has intelligently tinkered with the hardware to harden it for inhospitable environments ranging from mines to oil and gas refineries, factory floors and smart cities.
A Closer Look
At the presentation, Cole detailed the capabilities of five switches from the Cisco Catalyst IE9300 Rugged Series. First up was the IE-9320-22S2C4X. A mouthful to remember, the IE-9320-22S2C4X is an all-fiber rack-mount switch that is designed for deployments that require fiber access or aggregation. It is fit to work in open outdoor settings like roadways, wind and solar farms and substations.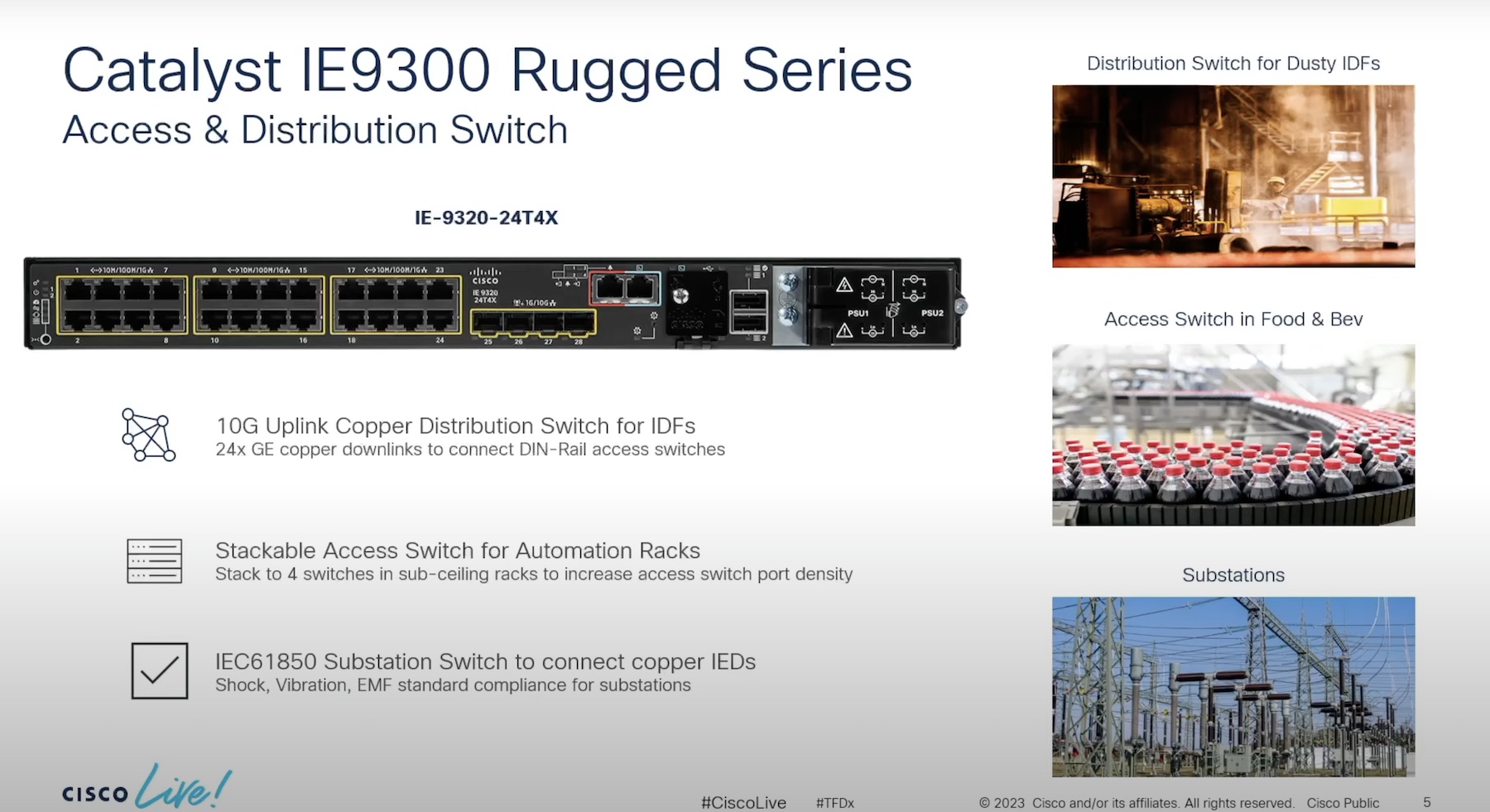 Loaded with advanced feature set, IE-9320-22S2C4X offers robust resiliency and speedy performance over impressive range. Capabilities like 28 ports, and 10 GB ethernet interfaces, combined with advanced security and lossless resiliency protocols, conformal coating for extra protection, and a compact formfactor make it fitting to server a wide range of industrial applications. High-density industrial PoE (Power over Ethernet) ports enable high-power PoE devices like IP phones and Wi-Fi 6 wireless APs to be connected and powered readily.
Models, IE-9320-24T4X, IE-9320-16P8U4X, and IE-9320-24P4S bring high bandwidth and power. Designed for deployment in a myriad of settings including IDFs, hotels and entertainment venues, food and beverage factories, sea and airports, railway stations and warehouses, these come with high-density copper ports, and support traffic aggregation.
The Catalyst IE9300 Rugged switches come in a compact 1RU formfactor with fanless, convection-cooled technology to dissipate heat. Absence of moving parts ensure longer durability, while the slight dimension enables easy setup in smaller spaces.
The switches have zero-touch replacement that allows operators to revive them remotely during middle-of-the-night failures. Integrated redundant power supplies, line-rate low-latency forwarding are other features ensure reliability of performance.
On the software side, the switches run Cisco IOS XE, and can be managed via the Cisco DNA Center.
Wrapping Up
Non-climate controlled industrial environments pose a plethora of challenges making it hard for switches and Wi-Fi technologies to function at optimum speed. Cisco's new Catalyst IE9300 Rugged Series addresses those, delivering excellent coverage and consistent performance, making them ideal for harsh outdoor settings. With their feature set and economics, there is hope on the horizon for industrial users to tackle the usual problems of outdoor deployments in an easy and cost-friendly way.
To learn the technical specifications of the IE9300 Rugged Series switches, be sure to watch Cisco's presentation from the recent Tech Field Day Extra at Cisco Live US 2023 event.