In 2018, Goldman Sachs, a leading investment banking firm ran into rough weather when an internal struggle erupted around change assurance. The company was looking at a long list of problems that had spiraled out of constant network changes typical to banking. Having an outsize network, these dynamics had become too much to handle internally. Although Goldman Sachs was leveraging some in-house automation at the time, they soon realized that in order to stop these problems from engendering a network outage, the automation stack needs to be refreshed with something new, and better. That was the first time, they used a digital twin.
At the recent Cloud Field Day event in California, Forward Networks presented their network digital twin technology, that pulled Goldman Sachs out of the deadlock and brought them into an era of improved network reliability and security.
Mirror Image
It has long been a dream of industries to be able to see something before it is brought into being. To visualize something before it becomes a reality is one thing, but to be able to get an accurate picture beforehand was beyond most of our imaginations, until technological advancement spurted out digital twins.
A digital twin is a virtual model of a real-world object. Digital twin networks allow operators to test real-world environments, to understand ahead of time how the network will behave in the given scenario. They are incredibly beneficial for achieving better network performance through predictive maintenance. But that is only a small fraction of what can be achieved with this technology. Its potential goes far beyond maintenance.
Digital twin became a fascination for millions as the world recognized its power to bridge the distances between digital and physical worlds. With it, network operators are able to enhance network designs, improve visibility, and assess and manage change which it did in case of Goldman Sachs. By harnessing network data, it can answer several categories of questions on any topic sent its way.
Forward Networks' Digital Twin Technology
Co-Founder of Forward Networks, Peyman Kazemian himself showed off the solution to the panel of technology veterans attending the Cloud Field Day event, explaining some of the use cases, and offering a glimpse under the hood.
Forward Networks launched its digital twin technology in 2017 with the mission to recreate the magic of Google Maps, but for IT. Google Maps, what many don't know, is a digital twin of the global transportation system. Mr. Kazemian commented that it's this technology that gave Google Maps "a use case so compelling that there's no going back." Powered with three kinds of data – static, live and peripheral, it provides travelers real-time views and updates about traffic, routes and places.
Forward Networks started its journey in the same vein. With a simple mission: to make networks more reliable, agile and secure, it has built its digital twin technology with "broad and deep data combined with analytics". Static data makes the base, which is then enriched with layers of real-time data.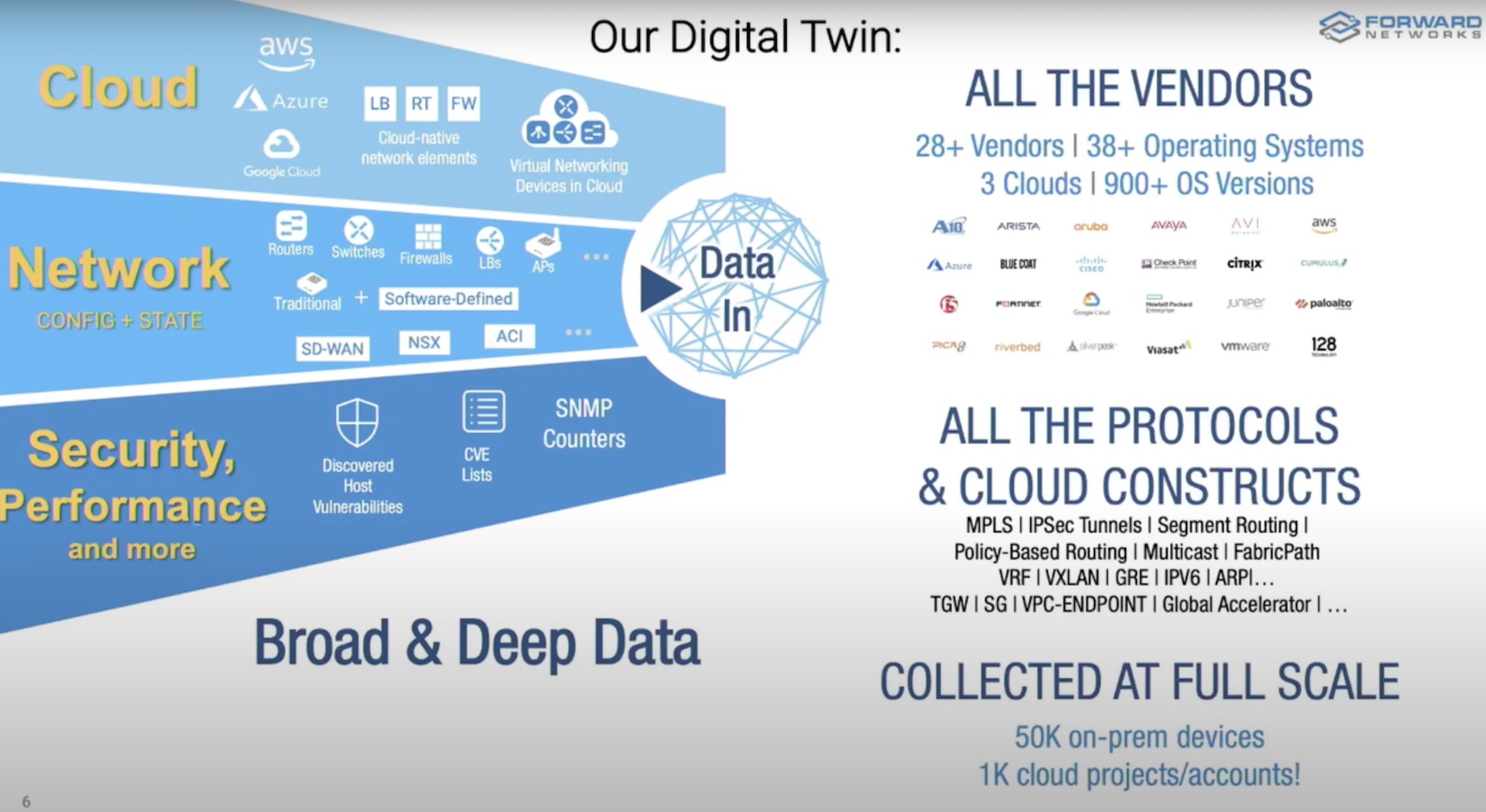 "We started by pulling in data config in a state from all traditional networking devices like switches and routers and firewalls and load balancers. Then we expanded it to SD-WAN and more software-defined elements like NSX and ACI," said Mr. Kazemian.
Seeing that organizations are leaning towards a hybrid setup to have their workloads spread out between on-premises and cloud, Forward Networks followed suit and expanded to cloud. In cloud, it began collecting data from all the three major clouds – AWS, Azure and GCP.
"What I mean by pulling data is grabbing information about all the cloud components and constructs that affect how traffic is being delivered to those end hosts, whether it's subnets and security groups, or transit gateway and VPN gateway, or VPC endpoints and anything that affects delivering of traffic."
To make it more resourceful, they pumped in more information, focusing on peripheral data like performance metrics and security vulnerabilities. This is done to the point where it can provide network and cloud operators the ability to look at the traffic path and see right away where the congestion is, or what in the network has a critical vulnerability that needs to be fixed quickly.
The information is mapped and correlated, to "provide context to other types of information that are not specifically cloud or on-premises."
Forward Networks digital twin is deployed at scale in large enterprise networks with over 50, 000 on-prem devices. It supports over 30 vendors and 40 OSs, and a variety of networking protocols. As of today, it is in all the three major clouds.
The Two Halves
Mr. Kazemian said that the uniqueness of Forwad Networks' digital twin technology lies in the way it exposes the data and analytics to the users. To elaborate, he broke down the anatomy into two key pieces- a Network Query Engine (NQE) and "broad and deep analytics".
The Network Query Engine is a vendor-agnostic query engine that provides "access to raw data that is parsed and normalized." The engine abstracts and normalizes network information like config, links, device state, routing policies and cloud elements, collected from different environments, and present them through an open-config structure. IT teams can query this information like a database. Regardless of the cloud, the data is browsable to all IT teams.
Mr. Kazemian said, "What we spent a lot of time building is computing the path of all possible traffic through the hybrid environment." He continued, "If you think about the network, there are several ingress points – at the edge, usually in the datacenters, or in the cloud. They can pump traffic into this black box that we call the digital IT infrastructure. For all those ingress points, we compute all possible ways that traffic can be pumped there, and we precompute that. We index that and make that searchable to users."
Queries can be made on all endpoint data and network paths with sub-second response times. Forward Networks tops the data with deep analytics, so that teams can have access to complete, accurate and up-to-date models of the infrastructure.
"In order for us to make sure that these models sort of match the reality, we have over 120,000 tests where we configure different cloud elements or on-premise devices into a specific configuration bombarded with packets, to make sure we are generating a perfect model."
Wrapping Up
With AI and machine learning on the rise, it is not hard to explain the massive traction digital twin has gained across industries. It is changing the game in networking by enabling operators to tune up network performance, and prognostically avoid costly outages. Forward Networks' digital twin technology further advances these capabilities. It can replicate infrastructures with mathematical precision, with data collected from far and wide, and bring it to the fingertips of teams who need them. Using that information, operators can make accurate predictions and prevent issues, thus closing the gap between user expectations and reality.
To learn about Forward Networks' digital twin technology in greater detail, be sure to check out their presentations from the recent Cloud Field Day event.