The internet has been in a tizzy since automation landed with fanfare in the market. With all its promise and value, it is set to transform and upend technologies and methodologies before it.
In recent times, a roll of automation solutions has entered the market forging a change in the way professionals do their job. While there is no doubt that the economic value of a vast majority of these solutions come from helping professionals automate back-end tasks and expedite time-to-value, it has also fueled misinformation campaigns – automation could cost jobs for example – resulting in a deep skepticism around the profound change it will likely entail.
Much of the hype and fears is about success and failure. Aside from rare glitches, there is ample evidence suggesting that automation solutions are able to perform tasks successfully to fruition. In many cases, automation exhibits results indistinguishable from those of people whose dominion and specialty it is.
But, with automation products raining down like candies falling out of piñata, users have another problem at hand – picking out the right product.
Automation Sans Scripting
At the Tech Field Day Extra at Cisco Live US 2023 event, we saw a differentiated automation solution in action. The BackBox automation platform captures the best of automation and lends itself to a variety of day-to-day networking use cases.
In the realm of network infrastructure automation, BackBox is a worthy contender, known for its extensive expertise in task automation.
Josh Stephens, Chief Technology and Strategy Officer, expressed his awe at the general unawareness around automation. "Shows like this one, and meeting with customers and prospects, make me realize that there are people to whom solutions like this doesn't exist at all. They're still doing everything by hand, and when I talked to MSPs, they complain that they're spending all their budget on weekends and nights for their engineers doing ordinary upgrades."
BackBox does automation in a click-of-a-button fashion. "When you want to push configuration and update files to multiple devices at the same time, you write a Python script that will do it. What we want is for you to use an automation solution that will do it for you," said Chanoch Marmorstein, Director of Product Management.
Extensible Task Automation
Compared to certain off-the-shelf automation solutions, BackBox is well-developed, and does not require learning the ropes. It comes with hundreds of pre-configured automation blocks for things like device configurations, upgrading OS, and hotfixing, that can be implemented effortlessly.
Its 2300 pre-built scripts are fully extensible, and require no onerous coding or knowledge of Python or YAML, which remains one the biggest obstacles of using automation.
BackBox is able to perform these complex tasks that require the human expertise and supervision, quickly and competently, through a series of pre-checks and post-checks. Checks like verifications, device disk space, current OS version, help it to analyze and gauze the conditions, and finish a task within minutes that take hours of manual work.
The idea behind this kind of smart automation is one – "the goal is a net savings of time," said Stephens.
With a few clicks, operators can do rapid discovery and deployment of devices, do vulnerability patching, check configuration compliance and audit tasks, thus tuning up efficiencies.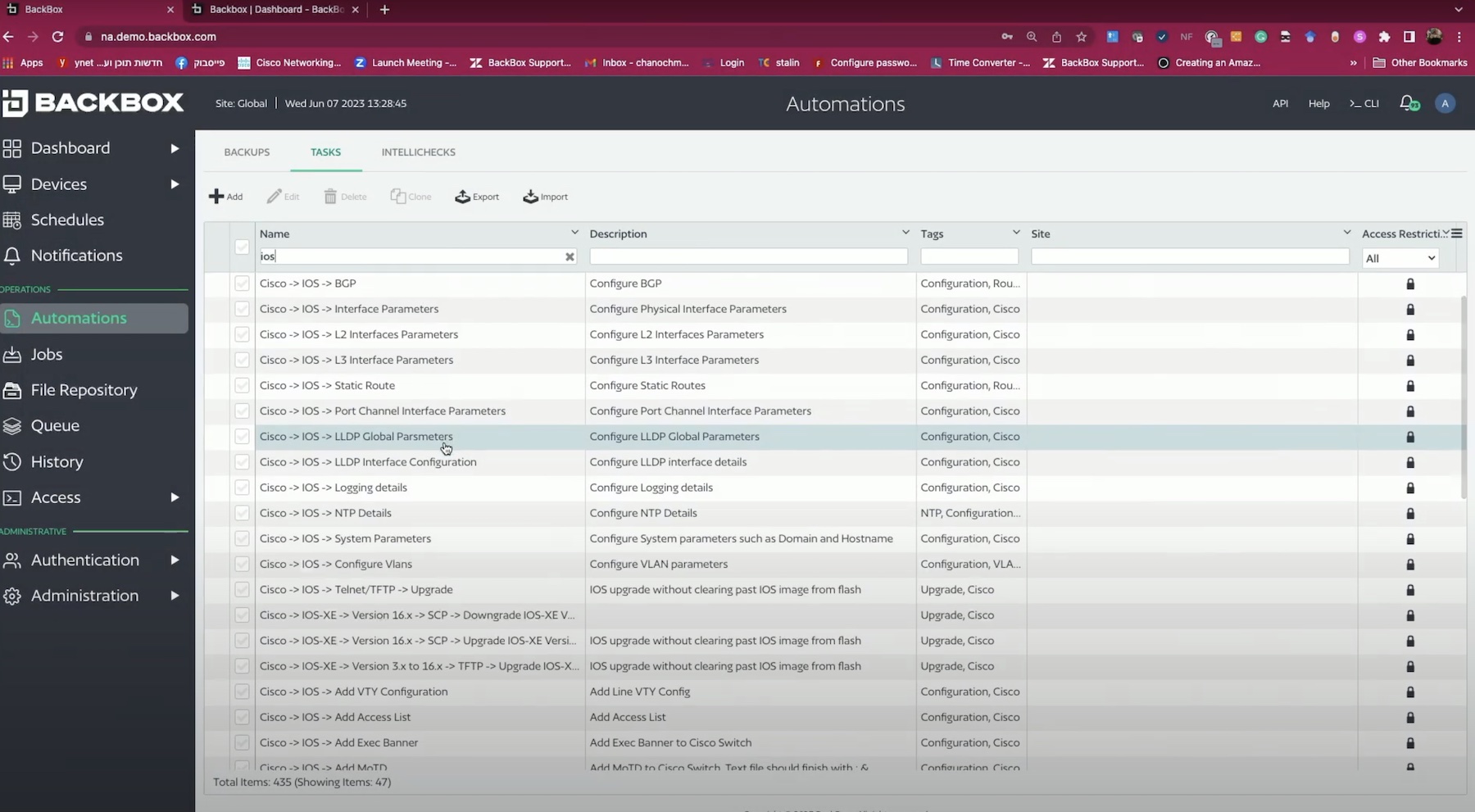 BackBox's is hyperintelligent automation that is capable of making intelligent choices and decisions on its own. It can roll back to a former state when something goes sideways. In an event of update failure for example, the solution is able to revert the configuration back to the older one, generating a report with details of the failure, leaving the system functioning as before.
"BackBox enables you to do customization in a very easy-to-use UI where you just need to know what commands you want to type in, and what results you want to get back," said Marmorstein.
A feature called Quick Task allows operators to automate upgrades for thousands of devices at once with just a couple clicks. The system performs the pre-checks, does the upgrade at the set hour, and following the post-check, generates a report for the operators to review.
Wrapping Up
For those interested in adopting automation, there is no better time than now. With a solution like BackBox, the learning curve is nil, and operators are at the advantage to exploit the technology without having a fair amount of experience with it. It is technically superior, and offers a low-tech version of automation that is highly coveted among IT professionals. By performing sophisticated networking tasks reliably and consistently with low to no involvement from operators, it provides a smart workaround whose benefits far outweigh the manual procedures. In doing so, it achieves the seemingly unachievable feat of establishing confidence in automation solutions.
For more, check out BackBox's demo sessions from the recent Tech Field Day Extra at Cisco Live US 2023.