Modern datacenters are nothing like those before AI. Organizations now run a mix of workloads on-premises as opposed to any one kind. These workloads demand different profiles of performance and endurance, and a consistently reliable storage across the infrastructure. This and the proliferation of AI/ML applications have driven up the demand for QLC SSDs in datacenters in the recent years. At the recent Storage Field Day event in California, Solidigm tapped into this discussion while presenting their upcoming QLC solutions for modern datacenters. Their presentations got a lot of attention from the Tech Field Day audience and our peers, and for good reason.
Customers Shouldn't Have to Choose between Performance and Cost
It is a fact that TLC SSDs are mainstream, and they occupy a majority of the market share by the sheer performance and endurance scores, but customers are gradually steering away towards low-cost alternatives, and for that, QLC presents a value replacement.
When measured against the four corners of performance, endurance, capacity and cost, the biggest difference between TLC and QLC products is random write performance. TLC drives for PCIe Gen 4 platform delivers twice the IOPS as QLC. In every other aspect, QLC and TLC drives deliver equal or near-equal speed and performance. So for workloads that are read-heavy, or don't care about the write perf, QLC has the most cost-efficiency and least perf tradeoffs. For those applications, QLC delivers faster access to data, and that's what most enterprise-grade AI, ML and data analytics applications seem to want these days.
Where QLC has significant advantage is capacity and cost. QLC are high-density SSDs. They can store four bits of data per cell whereas TLC can store only three bits per cell. Mathematically, that is 33% more density and 25% more cost savings.
Solidigm's Offerings in QLC
Solidigm's portfolio comprises both TLC and QLC products. In TLC, Solidigm offers standard endurance products, and in QLC products, which are aimed at the market for lower endurance storage, they have two choices coming – Essential and Value Endurance.
The Value Endurance range is the lowest-cost option in Solidigm's QLC product line. These SSDs offer extra savings on the DRAM and are a good fit for read-heavy workloads. The QLC Essential range is a more cost-friendly replacement of TLC and is the middle tier between HDDs and flash.
When Is One a Better Choice than the Other?
While both the SSDs sound promising, when do you choose one over the other? According to Yuyang Sun, Sr Product Marketing Manager, QLC Products, Solidigm, customers who will lean towards the Value Endurance range of QLC drives are hyperscalers who are looking to get the most bang for their buck, and customers whose applications demand really high-density storage. For organizations whose applications are not write-intensive, and are moving to QLC products for the first time, the Essential Endurance makes a more appropriate choice.
Future 4th Gen QLC SSD Offerings from Solidigm
At the recent Storage Field Day event, Yuyang Sun gave a presentation on Solidigm's future PCIe QLC portfolio. Taking the audience through the two classes of SSDs on the list, she went through the performance numbers and specifications of the drives.
Both the Essential Endurance and Value Endurance SSDs by Solidigm are based on their 4th generation 192-L QLC technology. The Solidigm QLC Essential Endurance has a block size of 4KB and capacities ranging from 3.84TB to 30.72TB. Solidigm calls its Essential Endurance QLC range "a drop-in replacement for any storage solution today." It has a random endurance of 8KB and lets you write up to 32 PB of data per drive. They come in three form factors, namely E1.S, E3.S and U.2.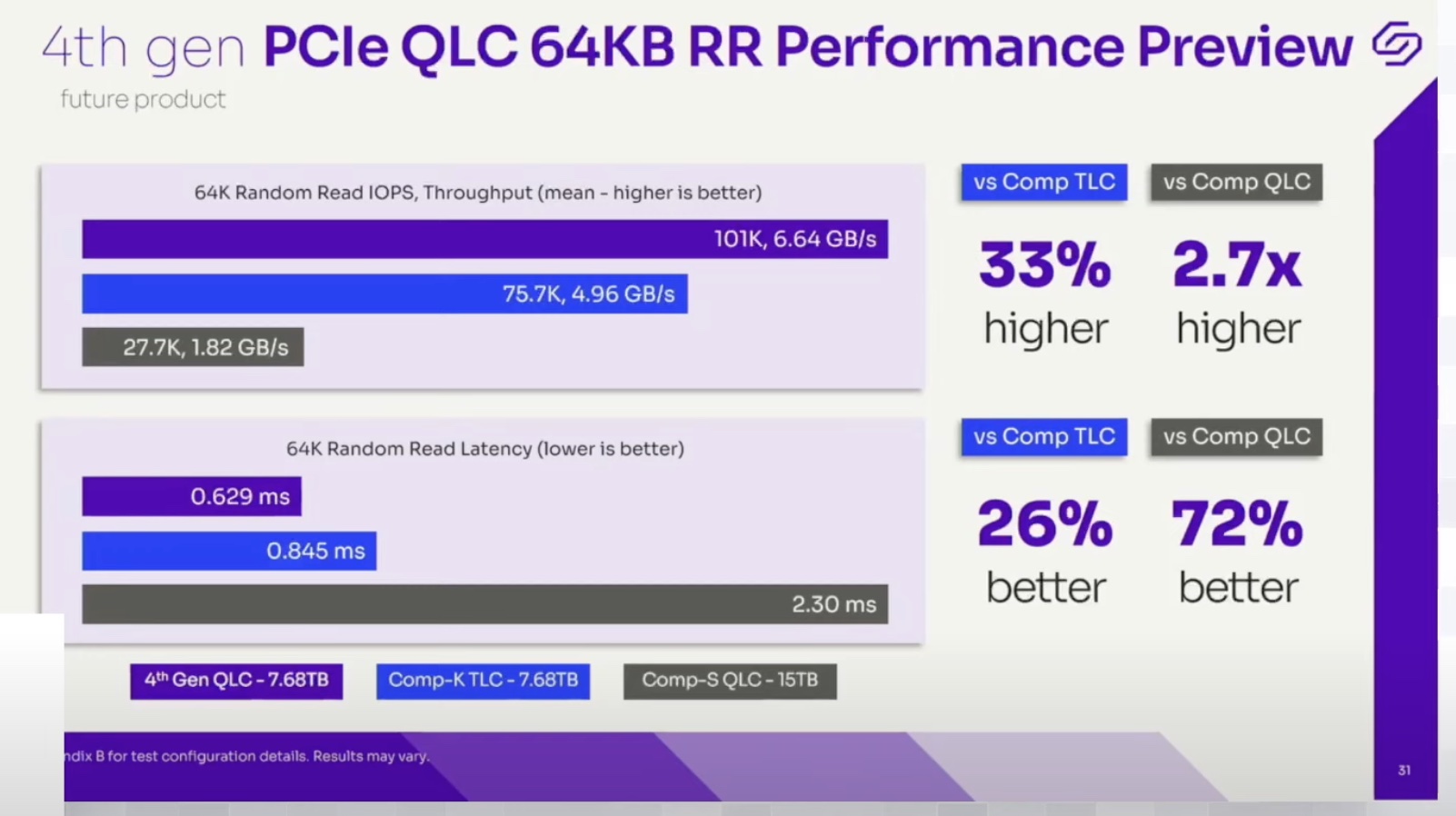 Solidigm's Value Endurance range packs even more power. With a 16KB block size, it has capacities going all the way up to 61.44TB which is twice the maximum capacity of Essential Endurance. Write-optimized, its makers are marketing Value Endurance as the option for "write-intensive and the ultimate cost-saving" use cases. The Value Endurance drives have twice the maximum endurance of the Essential Endurance range, and can write up to 65 PB per drive. The SSDs come in form factors E1.L, E3.S and U.2.
According to Solidigm slides, the Random Write and Read performance of the Essential Endurance SSDs is significantly ahead of other competitor drives with Essential Endurance SSDs providing 24% and 33% higher throughputs and 20% and 26% lower latency when benchmarked with other drives.
Wrapping Up
It looks like Solidigm's upcoming range of QLC SSDs are set to unlock groundbreaking cost-efficiency and performance points with no significant tradeoffs compared to other options available in the market. Tuned for read-heavy applications, the SSDs are both cost and capacity-optimized for the large-scale datacenter needs, and if the numbers are to be believed, these will make an excellent fit for a wide range of read-centric, performance-sensitive AI/ML workloads.
For more information on Solidigm's QLC SSD portfolio, be sure to check out the other presentations from the recent Storage Field Day event. Here is another excellent resource to read on this from Blocks and Files.