When it comes to managing network operations like DNS servers, many organizations rely on their legacy, on-premises implementations. Unfortunately, as more companies move to more hybridized cloud delivery models, they find their traditional DNS approaches aren't cutting it. That's why BlueCat is changing the game through their cloud-delivered DDI solution portfolio, which they detailed in their recent presentation at Tech Field Day in April.
The Challenge of Enterprise Hybrid Clouds
As large organizations continue to adopt cloud-based resources and infrastructure, their IT practitioners face the challenge of incorporating their private and public clouds into an integrated, hybridized approach. One of the biggest portions of this challenge, surprisingly, arises in the form of DDI management.
DDI — or DNS, DHCP, and IPAM (yes, it's an acronym of acronyms) — encompasses a major portion of network management, especially for companies that own and operate internet domains as a portion of their business. Although many companies have required DDI for some time, many of those same companies are still using the traditional DNS server option that came for free with their initial purchase of Windows Server decades ago.
Now, as those companies look to achieve an efficient hybrid cloud approach to operations, their network engineers are finding that their old-school DDI can't keep up with modern network requirements. After all, many of those traditional DNS implementations are manually set up and managed, making them inherently difficult to configure later on, while also making them more insecure. They're also almost entirely stood up in the data center, leaving out any edge or similar use cases.
Moving DDI to the Cloud
In order to help these companies keep their operations across multiple clouds agile, BlueCat offers a solution by way of their cloud DDI portfolio. At the heart of BlueCat's portfolio is their Adaptive DNS, an open API-driven approach to managing domains through automation and scalability.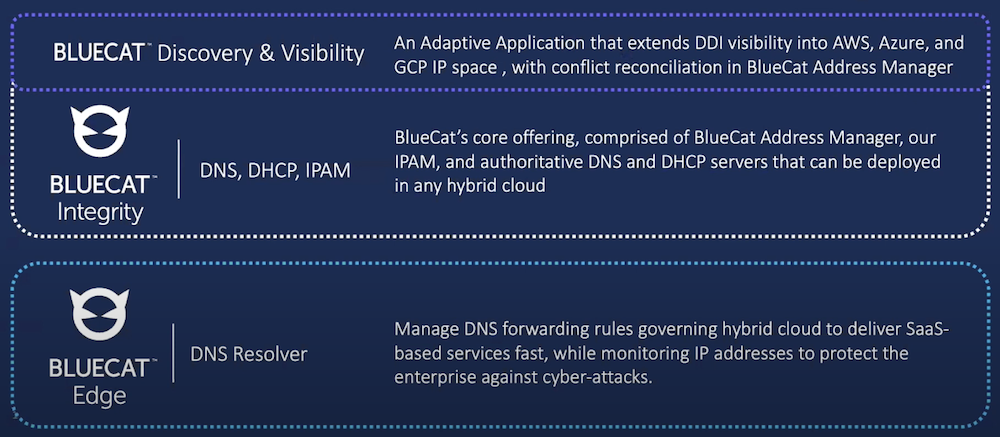 In practice, BlueCat seeks to provide four major benefits to today's network engineers:
High availability: BlueCat Adaptive DNS runs off cloud-based servers, providing more uptime overall than traditional on-premises implementations that can go down without the proper configurations and failover.
Risk-averse: 91% of malware attacks rely on poorly configured DNS servers for success. By removing that potential exploit through well-managed DNS in the cloud, BlueCat keeps your information out of the hands of attackers.
Dynamic: Since BlueCat puts DNS in the cloud, it moves as fast as the cloud does, enabling organizations to make the rapid changes they need to innovate at scale.
Hybridized: Traditional DNS implementations are inherently incompatible with cloud-based infrastructure, making it difficult to adopt cloud technologies. BlueCat's offering eliminates those barriers so organizations can take full advantage of whatever cloud resources they need.
Tackling Cloud Challenges with BlueCat
In their recent appearance at Tech Field Day, BlueCat's VP of Marketing, Jim Williams, detailed some of the core DNS challenges that their customers are facing by adopting cloud infrastructure, and then describes how the four benefits laid out above apply to each of them.
The four challenges described by Williams are as follows:
DDI teams have zero visibility or control into cloud DNS implementations.
DNS implementations are inherently siloed, giving way to threats, errors, and outages.
Traditional DNS implementations cannot be automated or orchestrated, slowing down operations.
The DNS forwarding rules required to manage hybrid resolution creates complexity that consumes resources while also negatively impacting end user experience.
According to Williams, the solution offered by BlueCat aims to tackle these challenges by providing higher levels of control, visibility, speed, and simplicity to DNS operations. What's more, since it is all offered through the same portfolio of products (see above), organizations can use BlueCat in a more cost-effective way than if they had purchased each of the provided tools individually.
Zach's Reaction
Although legacy solutions seem easier since they are cheap and often already in place, it seems like more and more of them are going the way of the dodo, and DNS servers are no different. BlueCat's offering appears to be a more effective way for managing DDI, which ultimately helps save time and money by increasing efficiency and output.
To learn more about what BlueCat's cloud DDI solution stack can offer your organization, check out the demo from their Tech Field Day appearance, or visit their website for additional resources.