With power and physical space at a premium at the edge, how can you apply AI models without having to worry about slowing yourself down? BrainChip offers an answer through their Akida neuromorphic chip, which they presented during their AI Field Day appearance.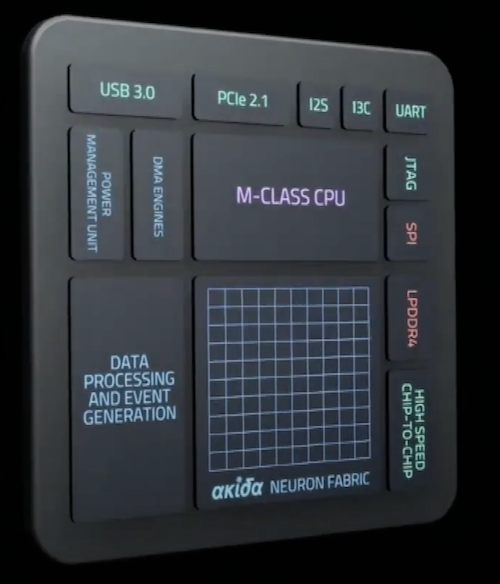 The Need for Edge AI
There's so much data at play in the modern enterprise, and for organizations that leverage Internet of Things (IoT) devices for applications like manufacturing, autonomous vehicles, and others, having a way to process and act upon the data they collect is crucial to streamlining operations. Traditionally, said data would need to be ported back to on-premises data centers so it could be consumed by the powerful processors housed there. However, to keep the pace and agility modern organizations need, passing back and forth of data must be cut down, and data needs to be processed at the edge.
Artificial intelligence offers a way to consume and process large amounts of data that maintains velocity at the edge. Through robust AI models, edge data created by IoT devices can be acted upon practically in the instance it's created, making informed decisions that help keep processes running smoothly. The difficulty behind this approach is the fact that AI technology has been too resource-intensive to feasibly add to IoT systems, at least until now.
Akida: BrainChip's Edge AI Solution
BrainChip, creators of high-grade neuromorphic processors, have delivered a new standard for AI processing power with their new Akida chip. With a modest form factor and small power draw compared to other neuromorphic systems-on-a-chip (NSoCs), Akida delivers high-performance AI processing thanks to its flexible neuron fabric.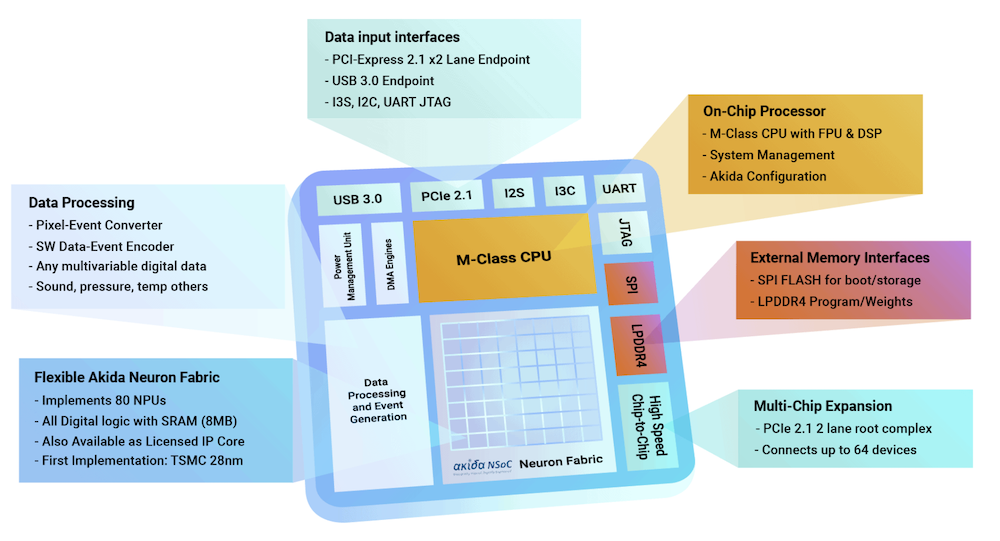 As you can see in the graphic above, Akida abounds with capabilities that make it an ideal addition to any AI-driven operation. And since it provides so much power in such a reasonable form factor, Akida can be applied directly into IoT devices to bring AI capabilities right to the edge.
Expanding Upon Akida's Capabilities
Anil Mankar, Co-Founder and Chief Development Officer at BrainChip, expanded on the edge capabilities and use cases of Akida at May's AI Field Day event. In his presentation, Mankar detailed BrainChip's mission behind the Akida NSoC.
BrainChip's first mission with Akida is to make sensors smarter. IoT sensors naturally intake lots of data that help to make decisions regarding operations. When backed by Akida AI, those sensors can process data much faster than they would if having to pass information back and forth between the edge and the data center. The processing power of Akida also enables sensors to make more decisions in general than they would if not supported by a dedicated NSoC.
Their second mission behind the Akida project is to eliminate complexity. Without an NSoC at play with each IoT sensor, IoT networks need to send their data back to data centers and/or mainframes over the internet, relying on available bandwidth to do so effectively. In cases where many IoT devices are at play, the noise created by all of those sensors can slow down operations immensely. Akida processes all of that data right at the source, eliminating the need to send information back and forth entirely
Ultimately, these two missions culminate in BrainChip's final mission for Akida: saving organizations time, and in the long run, money. That's the power of AI at the edge, and that's the power of BrainChip Akida.
Zach's Reaction
By putting AI at the farthest reaches of the network, BrainChip Akida promises smarter sensors with less complexity, saving organizations time and money while keeping their IoT operations swift and effective. You can learn more about BrainChip Akida by watching the rest of their AI Field Day presentation, or by visiting their website.