While serving the digital-native user base of today, exceptional digital experience is the secret to success. But even though this one singular thing can set enterprises up for success, and a majority of the organizations consider it a top priority, delivering great digital experiences in a dynamic, distributed and complex environment is often a long shot. At the Networking Field Day event in September, Catchpoint presented the Catchpoint Digital Experience Management Platform, a purpose-built solution that helps meet users' high expectations of digital experience with total observability.
Delivering a Consistent User Experience Requires a Change of Strategy
Modern infrastructures are best described as multifarious. They embody layers and layers of technologies – frameworks, APIs, containers, applications and whatnot, that while doing a good job at serving individual purposes, create deep blind spots that normal visibility tools and techniques cannot see, thus compromising visibility. But low visibility is not an option when customer dependency on digital services is as high and tolerance for poor service performance is as low as they are.
The way digital experience has been measured and monitored thus far is fast becoming antiquated with the evolution of technologies. Traditionally user experience gets the least visibility when in reality it needs monitoring the most. In order to achieve that, organizations need to modify their monitoring strategy so that end user experience gets the maximum visibility.
Beyond Visibility
To have eyes on everything, enterprises need to go beyond visibility. Full-stack observability or what is called total observability in marketing terms is the new visibility goal. With an expanded breadth of view, network engineers can see crashes and outages before they happen or impact customer experience. That's the kind of proactive intelligence that Catchpoint seeks to provide its customers through the Catchpoint Digital Experience Management Platform.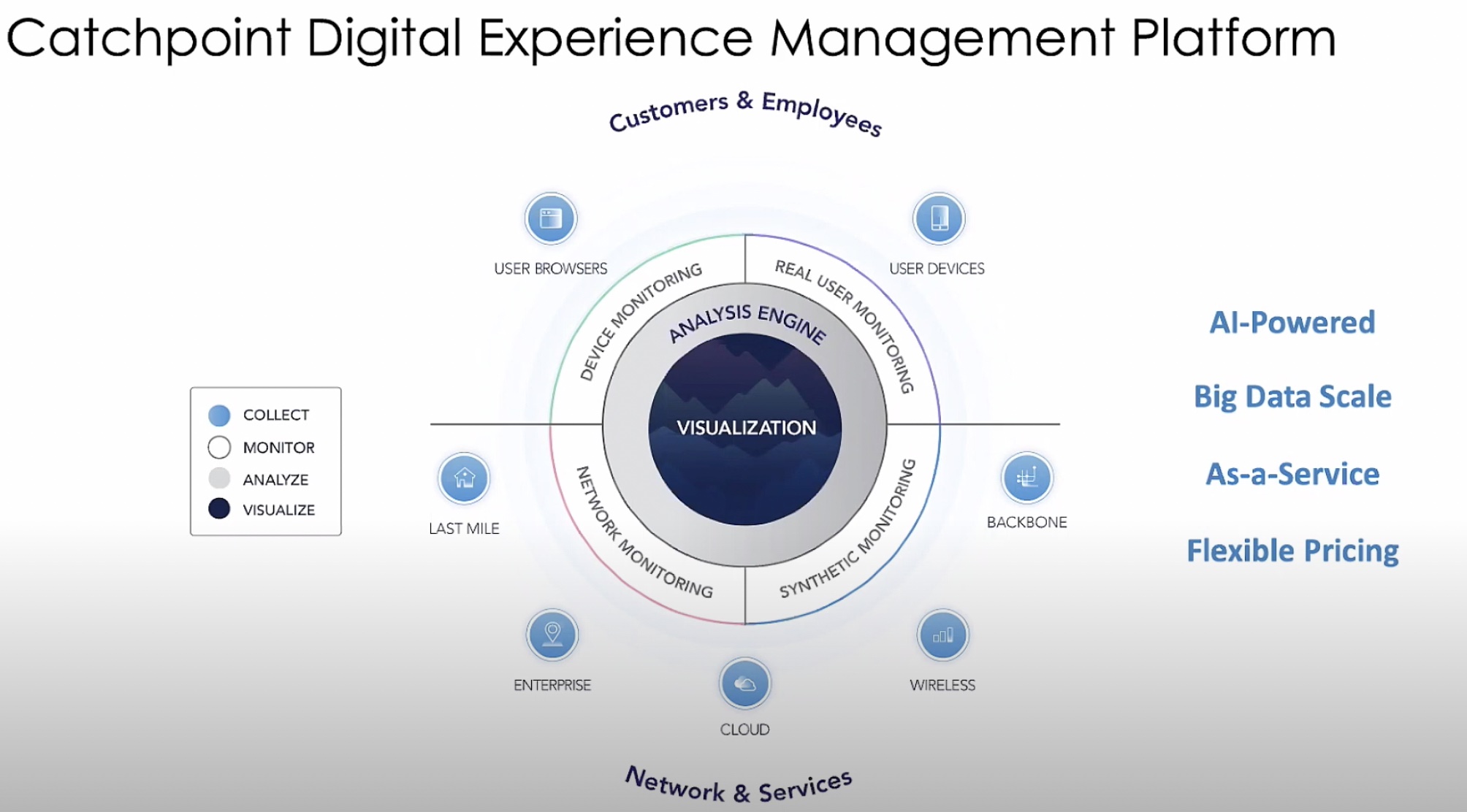 The Catchpoint Digital Experience Management Platform is a unified monitoring solution that measures user experience in four steps- collect, monitor, analyze and visualize. Collecting data from public and private nodes as well as user devices, the platform provides global observability of the deepest to the further parts of the network. The analytics engine inside the platform analyzes and correlates the inputs delivering fast and helpful troubleshooting insights.
The platform addresses visibility in three core areas- customers' and employees' digital experiences and network performance and availability. Catchpoint goes beyond normal testing to monitor the components affecting these.
Perceiving the Complete Picture with Catchpoint
At the recent Networking Field Day event, Tony Ferrelli, VP of Ops, Catchpoint presented the Catchpoint Digital Experience Management Platform. In a short 20 minutes session, Ferrelli talked about the limitations of current observability and monitoring solutions and explained how Catchpoint Digital Experience Management Platform goes beyond the scope of standard tools with its proactive monitoring techniques.
Ferrelli points out, "We want to give you multiple perspectives to be able to look at and analyze a problem." So, it uses multiple kinds of monitoring to deliver deep insights. Its capabilities include active and passive monitoring.
Catchpoint's Digital Experience Management Platform relies on Real User Monitoring (RUM), a passive monitoring technique that involves watching users interacting with the web or applications. With a built-in Chrome browser inside its agent where users can script things like search and shop, the platform picks up transaction data and breaks it down to analyze the transactions based on set metrics.
With eyes far and wide in the network through agentless observers, the platform collects information-rich data from user browsers and devices and gives engineering teams heads up about a problem before it impacts the customers' digital experience.
It also performs synthetic monitoring measuring application performance and reporting deviations. Through round-the-clock network monitoring, it provides visibility into CDN, DNS, logical network paths, BGP, Wi-Fi network and more, all from a single dashboard.
Catchpoint Digital Experience Management Platform integrates frictionlessly with a lot of troubleshooting tools. With its out-of-the-box integrations, users can import data from the platform to anywhere else to expedite troubleshooting and shorten MTTR.
Wrapping Up
The Catchpoint Digital Experience Management Platform is an integral tool to optimize digital experience. It not only brings together siloed data from far and wide in the network into a single location, but also translates that data into actionable insights before the effects of an event is felt at the customer end. With its combined monitoring technique, it truly peels back the layers and watches the network and its assets with hawk eyes. It is the thermometer that enterprises operating in the digital wilderness needs to measure the quality of digital experience at the user end and prevent issues from impacting it adversely.
For more, check out other demo presentations by Catchpoint from the recent Networking Field Day event.