Lately, applications have taken center stage in business. So integral are they to the business outcome that delivering an optimum user experience is an obligation for any company operating in any space today. At the recent Tech Field Day Extra at Cisco Live US 2022, Cisco presented a newly launched cloud-native observability platform called AppDynamics Cloud. Built to enable businesses to deliver a flawless customer experience, the platform continually observes and monitors applications making sure that they are running fast and smooth and that user experience optimization is achieved.
Delivering the Best Digital Experience
A positive user experience is a standard expectation of any user whether they are using a mobile device, a desktop or the web. But delivering blazing fast apps is not always simplistic, especially with a majority of the apps now residing in distributed and hybrid environments. There are a million things that can botch up the user experience. Failed checkout caused by incomplete payment authorization, app stops responding, application crashes – issues like these happen all the time, and as small and momentary as they seem, each of these has a profound impact on the digital experience of the users.
Technically, all of these problems can be remediated with end-to-end observability, through constant monitoring of the states of the apps. But that's easier said than done, because as I said earlier, there are countless factors involved and even if the apps are observable, the tools available to us often don't do a dandy job of reporting errors accurately and instantly. To ensure that the apps are in top condition, teams need to have deeper and instant insights.
Powerful Stack Observability Is the Answer
Cisco has an ambition vision for app monitoring – it's full-stack observability. Sunder Parameswaran, VP of Products, Cisco AppDynamics points out, "If you look at full-stack observability, it goes all the way from the end user experience, but you need to be able to deep dive into the actual business context and be able to correlate issues, areas and performance from applications, infrastructure and security all the way down into the data layer." And this has to happen across public cloud and on-prem data centers where the apps live. Cisco believes that that kind of deep observability will translate into user experience optimization.
Cisco views full-stack observability as not just one but three things- performance monitoring, cost and performance optimization and app security. Cisco brings these elements into cloud-native and hybrid app monitoring. In doing that, it also aims to resolve some of the long-standing challenges in app observability, namely, incomplete visibility, disconnected data siloes and biased points of view, and bring disparate teams together to a shared understanding.
Cisco's AppDynamics Cloud
During the presentation at the recent Tech Field Day Extra at Cisco Live US 2022, Sunder Parameswaran showcased Cisco AppDynamics Cloud. In the video below, Parameswaran walked the audience through the platform's key capabilities and its initial feature set and later gave a demo to make it visual.
Launched mid-July, the AppDynamics Cloud is not just another crash reporting tool. Cisco calls it an "observability platform" for good reason. AppDynamics Cloud is a data platform that comes with 360 degree observability and advanced monitoring capabilities. Optimized for cloud-native applications, it translates Cisco's vision of full-stack app observability into reality. Pulling up inputs from across the stack, it converts them into actionable insights making them available to teams based on relevancy.
A built-in OpenTelemetry platform allows it to receive data from not just proprietary agents but also lets it pick up information from open telemetry applications. Cross-domain insights keep the teams constantly updated on the performance status of applications, help understand the contextual relations and dependencies between data sets and group entities and assets based on their criticalness.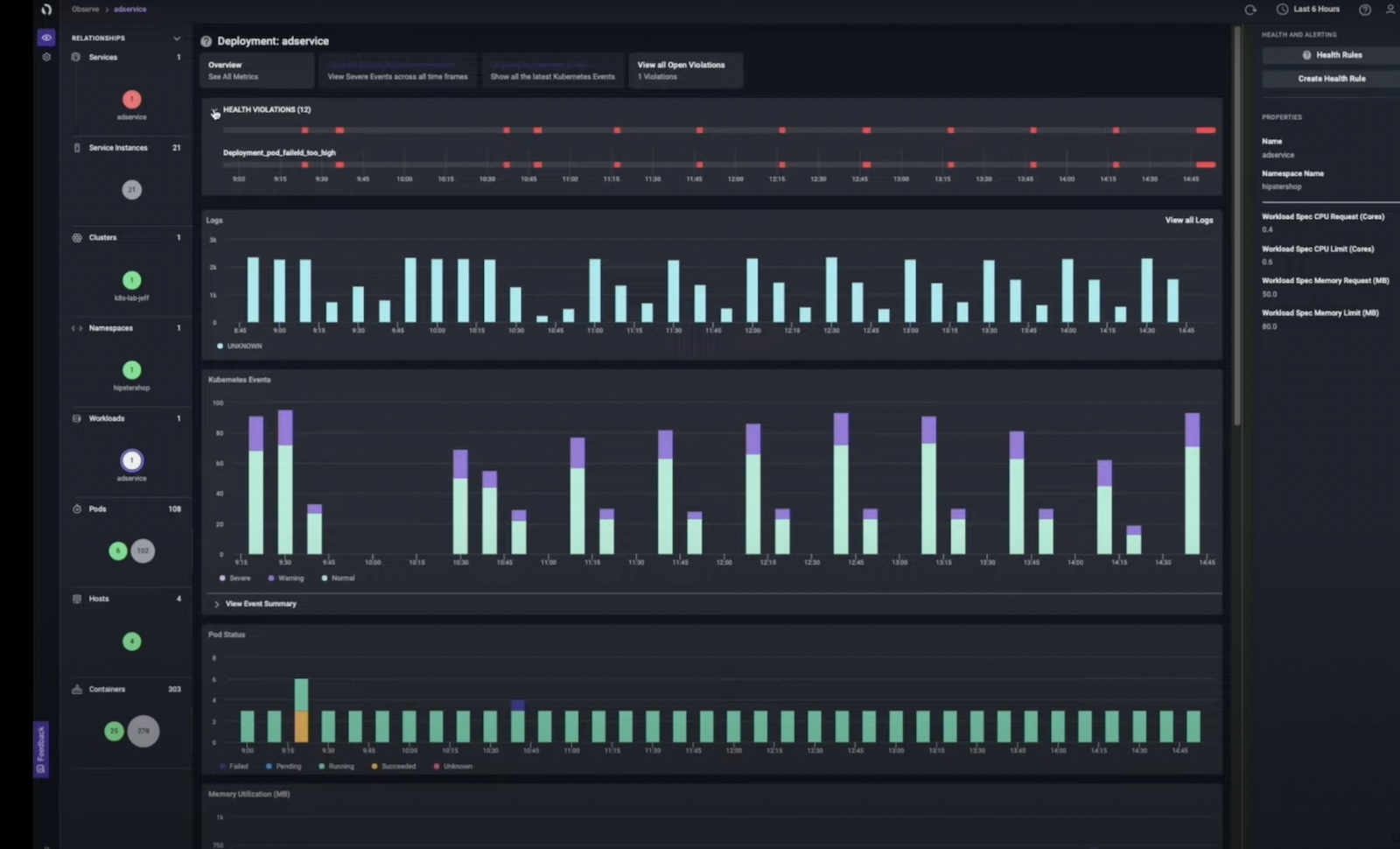 Cross-M.E.L.T troubleshooting is another key capability that tells teams exactly what and where a problem is and what's causing it. Engineered to expedite root-cause analysis and troubleshooting, the Cross-M.E.L.T troubleshooting feature significantly shrinks MTTD (Mean Time to Detect) and MTTR (Mean Time to Respond) by enabling team to explore the data easily and get to the root cause fast.
It is worth noting that instead of mechanically sending out alerts, AppDynamics Cloud can intelligently pick and choose them in a content-based fashion. This tells team members which ones need immediate addressing and which ones can wait based on the impact they have on the business.
The last and one of key pieces is AIOps. AIOps automates discovery and diagnosis of issues with ML algorithms. From detection of anomalies to correlating alerts for reduced noise, the platform can do it all with the help of embedded AI. The ML algorithms working behind the scene are capable of deep code analysis resulting in faster and deeper insights. The steps to root cause analysis that otherwise takes navigating through multiple layers of data happens automatically with the guided navigation feature of the AIOps.
Cisco AppDynamics Cloud is fully extensible, so not only Cisco or AppDynamics, but citizen developers too can build solutions on top of it.
Wrapping Up
Apps today are way more complex and distributed than they were even up until a few years. The population size of end users too has grown infinitely bigger, and these pose serious challenges for companies building apps and web services. An observability platform such as the AppDynamics Cloud is indispensable to not only have that powerful layer by layer visibility, but also to understand the real users' point of view so that companies have the information to constantly optimize the endpoint experience.
If you want to learn more about AppDynamics Cloud, go to AppDynamics' website, or check out Cisco's other presentations from the recent Tech Field Day Extra at Cisco Live US 2022.