Storage architectures have forever hosted an outrageously high number of vulnerabilities making them easily exploitable for threat agents. Even in a time when attacks are orchestrated arbitrarily every day, why is security still an afterthought in storage? RackTop Systems seeks to change this harrowing reality with a cybersecurity solution which embeds security into storage. The BrickStor SP was presented at March's Storage Field Day event.
The Problem of Security in Storage
Today, those in security faces a rapid emergence of novel threats, the most menacing of which is ransomware. In response, businesses have gone to great lengths to secure their infrastructures and the data within. As a result of this, we are seeing an increasing adoption of the multi-vendor security model. Yes, it pays to have proactive measures, more than just one or two but does security really have to be so painfully costly or complex?
To fight threats coming from outside and those happening from inside, the industry needs solutions that deliver round the clock comprehensive protection through full visibility of the storage infrastructure. Threat data and analytics are paramount in security. Top that with automation, and we have the perfect recipe for a holistically secure storage that has significantly reduced risk of security breaches resulting from human error, inherent vulnerabilities and gaps that are the hallmark of a complex security architecture.
RackTop Systems Delivers Active Defense with an Unorthodox Approach to Storage Security
RackTop Systems seeks to protect the totality of a storage architecture to deliver end to end security. Checking all the boxes of the CISA Zero Trust Maturity model, it designed a data security platform that can function both independently and as part of a larger security system.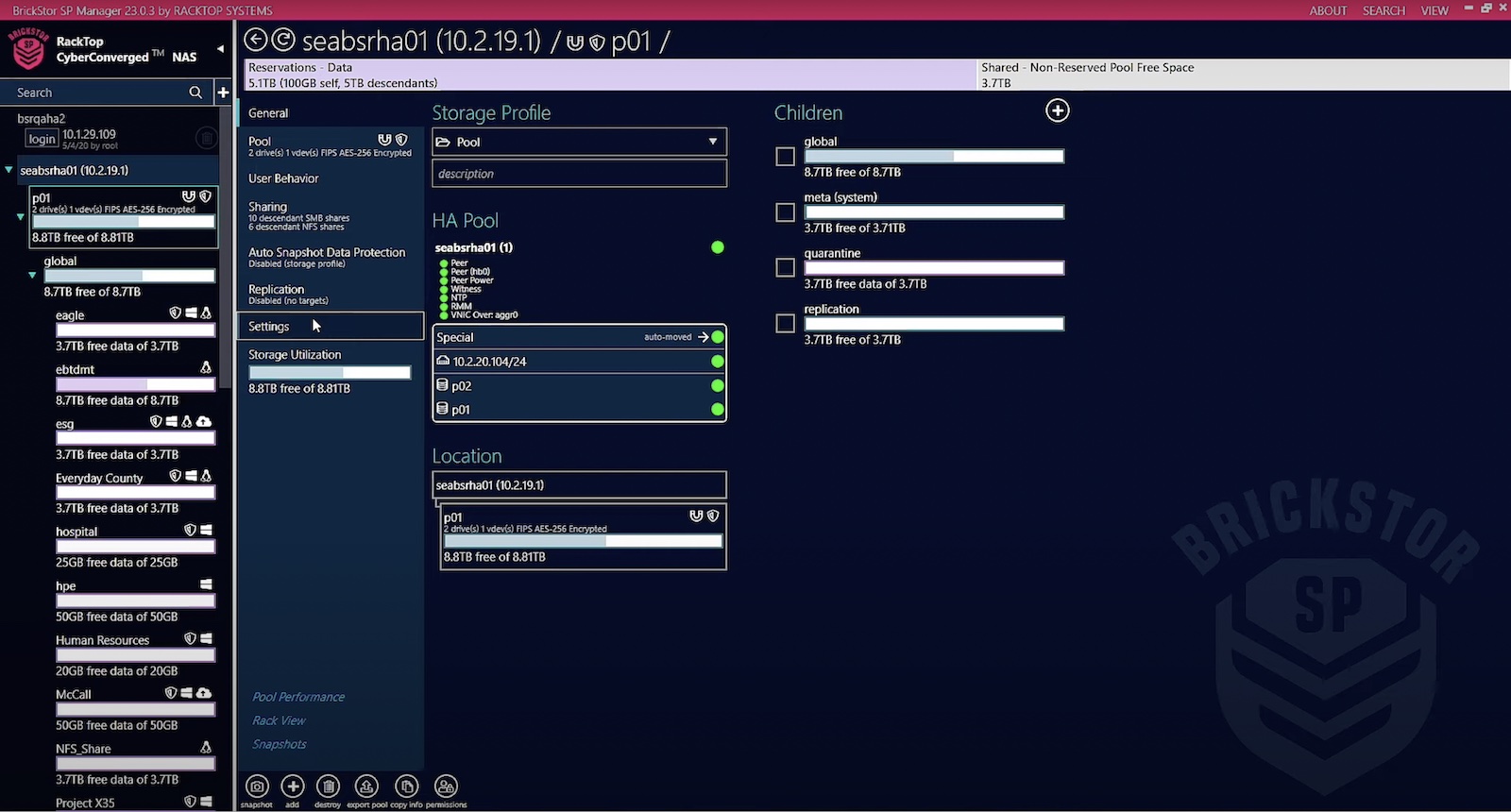 The BrickStor SP is a solution engineered with the Zero Trust approach. The technology works by observing, recording and analyzing file operations based on set parameters to understand the intent of the user and block potential threats. When a suspicious action is attempted, the platform simply denies the request, fires an alert or block it as it sees fit, thus stopping a breach in time from happening.
RackTop BrickStor Security Platform
At the recent Security Field Day event in Silicon Valley, RackTop Systems presented their cyberstorage platform, BrickStor SP. In the presentation below, RackTop System's CTO and Co-founder, Jonathan Halstuch details the advantages BrickStor SP brings in terms of security and later gave a demo of the platform explaining its features and functions.
RackTop's BrickStor SP, a software-defined NAS solution is engineered to detect insider threats and potentially stop an attack through real-time detection. In an event of attack, it informs the administrators about the affected files for prompt restoration that it can do on its own or let the administrators take over. A self-contained security solution that is independent of any external solutions, it's quick time to insight enables customers to take actions in real time.
BrickStor SP boasts of a simple UI that has compliance reports built into it. Enabling granular access control, it's an agentless solution that delivers complete visibility through auditing of client user behavior from start to finish. With audits and analytics available in real time, administrators on BrickStor SP can have full visibility over user operations in the present and past. BrickStor SP can trigger actions based on the detections or can pass on the information to a central security system which then can perform that action.
BrickStor SP makes provisioning easy, thereby eliminating the need to train or hire experts for operation. Thanks to a simplified UI design, provisioning does not take expert knowledge nor deep understanding of the complexities of storage architecture. Built for everybody, it is easily operable by anyone in the IT team. Out of the box, it can be deployed in more than one way.
Final Verdict
BrickStor SP brings the storage industry a combination of security features that are not only helpful to protect unstructured data, but are also essential to manage and mitigate storage's inherent weakness without costing companies top dollar. It'll likely change the way storage is secured and help organizations better their security operations and strengthen their overall security posture. Get a free ride with the BrickStor SP 90 day trial.
For more interesting presentations from RackTop Systems from the recent Security Field Day event, please check out the Tech Field Day website.