As connectivity of environments has evolved over the years, cyber threats have proliferated making proactive security fundamental to good cyber health. The secret to averting security crisis lies in organizations' ability to anticipate potential situations and adopt preventive measures ahead of time.
Recently, I took part in a Tech Field Day Showcase with RackTop Systems where proactive security measures was a key theme. RackTop Systems is changing cyber protection with BrickStor SP, a cyberstorage solution that has the ability to defend data assets against ransomware and other malicious threats.
Zero Trust at the Foundation
RackTop Systems takes a transformative approach to storage security. It leverages a zero-trust architecture that is built on the core principles of authenticate, authorize, and validate. The model works by eliminating implicit trust and replacing it with continuous validation before granting access to entities.
Designed with a data-centric zero-trust principle, BrickStor observes every interaction that's happening in the environment, whether or not it involves suspicious users. So even if an authorized user attempts to make an unauthorized move, it flags the transaction as a security alert.
BrickStor SP provides active defense against security breach, data exfiltration and insider threats through real-time detection and diagnosis and quick response and recovery. The solution is light and agentless, and can be installed under 15 minutes. Ransomware mitigation starts almost immediately after it is deployed.
Key Capabilities
BrickStor is a software data storage solution that stores, manages and protects data. Designed with advanced security and compliance features, it is a one of a kind storage solution that focuses on the most burning cyber issues like ransomware attacks and insider theft.
Key capabilities include real-time monitoring and detection, alerting against unusual and suspicious activities, and user and entity behavior analysis (UEBA). RackTop uses high-level encryption to protect data at rest and in flight. Inside the storage, data is encrypted at both physical and logical layers. Built-in policy-based key rotation and auditing eliminate the need to use secrets manager.
BrickStor SP has an intelligent UI that displays details of the breach, including where the issue began and at what stage it was contained and quarantined. RackTop's demo highlighted these areas and illustrated policy-based data protection. This includes WAN-optimized replication at the cloud level, or with a physical NAS solution. Among the key features demonstrated were compliance-based reporting and active defense that enables tracking of suspicious behavior at different levels. Administrators can assign policies and watch who's accessing data and at what time.
Automation & Orchestration
One of the key features of BrickStor SP is its ability to leverage automation. As the threat landscape changes, not every organization will have the resource or bandwidth to fully dedicate a security and incident response team. RackTop's solution with its simplistic deployment and automation capabilities is a life-saver for them.
The automation piece allows it to be scaled to any level within the organization. Storage performance is unaffected by the dual encryption. IT professionals can define policies and automate, letting the solution work on auto-pilot.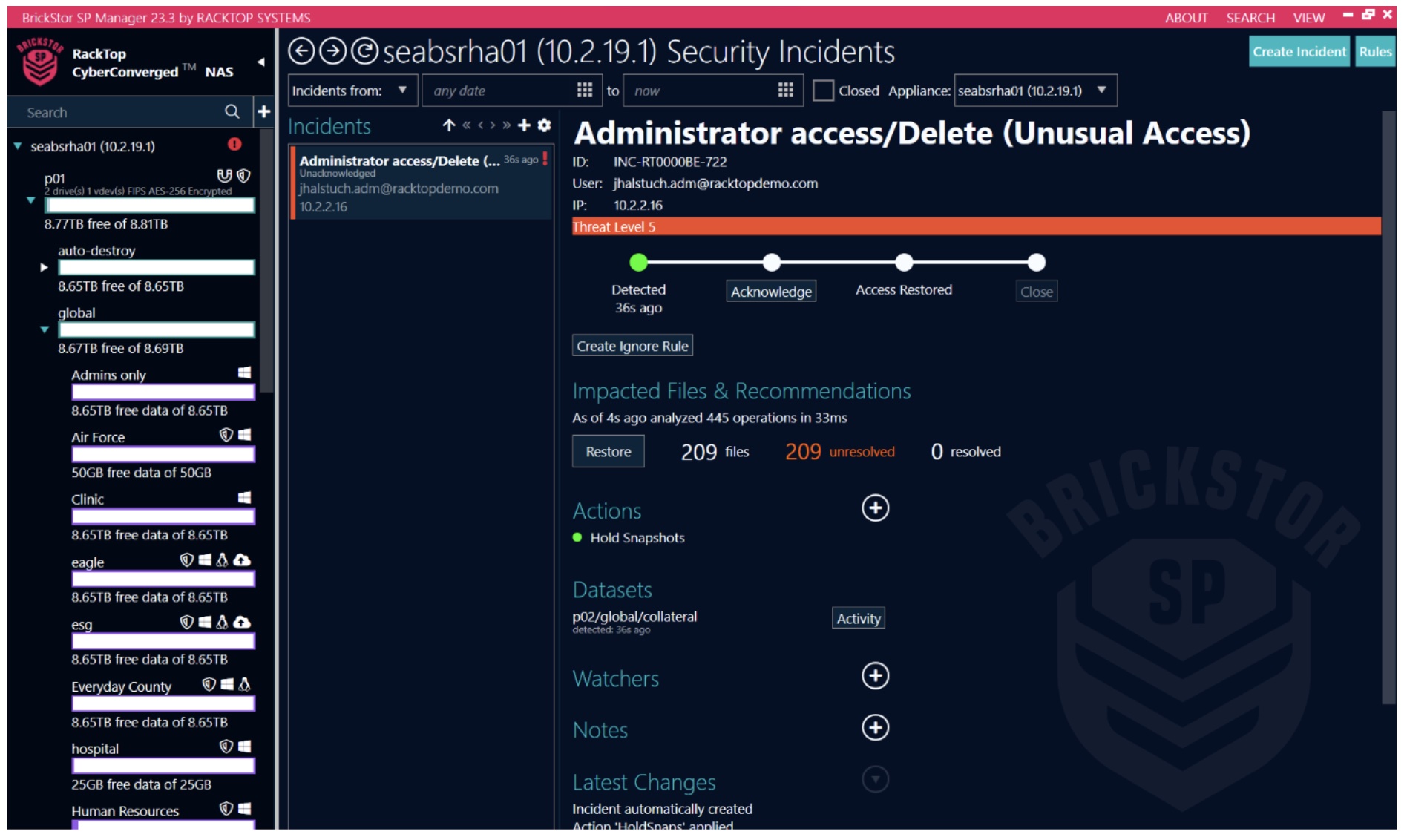 Real World Uses
RackTop has been instrumental in mitigating ransomware and other cyber threats since the early years. With data provided in real-time, post-attack forensics enable users to dive into the processes and events correlating to the attack, making incident response at file-level quick and effortless.
Many different industries from state and local governments, public sector, to legal entities have leveraged BrickStor SP. It is deployed in healthcare facilities where it automates data protection. Flexible retention policies ensure that data is protected at all levels, and backed up and replicated in compliance with HIPPA and PCI measures.
Conclusion
It's safe to say that RackTop sets a new standard of data protection with BrickStor SP. Its zero trust architecture ensures that data remains confidential at source, while capabilities like auditing and real-time monitoring of file access and high-level encryption guarantee the highest level of protection against data breach.
Watch the full RackTop Showcase on the Tech Field Day website or YouTube Channel. Read more about RackTop's CyberStorage for Active Defense on their website.