As has become thematic in today's Containers and Virtual Machine world, cloud or hyperscaler to hyperscaler migration has proven to be both the greatest challenge and the greatest success. When pursuing cloud as an option for your enterprise data center today, a fully researched project cannot simply stop at a hybrid solution. Hybrid dictates that a cloud provider and on-prem data center should exist as a single entity. However, a fully fleshed out strategy would mandate that the research include a multi-cloud approach.
This brings with it a series of unforeseen challenges. For example, the promise of site-to-site/region-to-region migration over a number of hyperscaler providers (today known as multi-cloud) entails a much higher degree of complexity, most notably, the consistency of storage connected, the nuance of networking, and orchestration.
The ability to migrate applications, servers, workloads, and clusters from one site to the next while keeping the level of complexity to a minimum really enables multi-cloud to function at its optimum. What has changed? Well, many vendors are recognizing the difficulties of incorporating a multi-cloud approach to do this, and have formulated a number of interesting tactics towards handling these challenges.
Two Main Roadblocks to Effective Multi-Cloud Migration
The multi-cloud picture is complex. To be able to approach a solution that works for enterprises today requires careful consideration of the uncomfortable realities and questions surrounding networking and storage as they become a larger part of business. When a hybrid cloud environment exists, migrations to and back from provider to provider require secure networking to be established, with the abilities to migrate applications with reliable and replicable networking parameters. Additionally, the storage side requires the application to be movable, but the real challenge here is that the data related to the applications must also be movable. In the storage mobility side, there are issues regarding bandwidth and cache-coherency that make for a particularly challenging problem to overcome.
AppCapsule from MemVerge Addresses the Storage Side of the Equation
It seems that while MemVerge has handled the big memory issues in the on-premises approach, their leveraging of Intel's Optane Persistent Memory approach (PMEM) deals with the challenge of building systems that give applications far greater reach and capacities. The concept can be extended out to snapshotting images into memory, then leveraging the memory (read: fast) layer of the storage side of the equation, and used for the migration from cloud locale to cloud locale.
At Cloud Field Day in November, MemVerge CEO and co-founder Dr. Charles Fan introduced the company's AppCapsule, which can manage cache-coherency and address perceived "Big Memory Cloud Fault Tolerance" issues. Built into this is a service MemVerge calls SpotOn, which identifies Spot terminations, and mitigates the ramifications with the insight to how this can affect migrations. Being the big issue surrounding the cache coherency of the migration process, it signifies a massive step in the rapid migration process from provider to provider and region to region.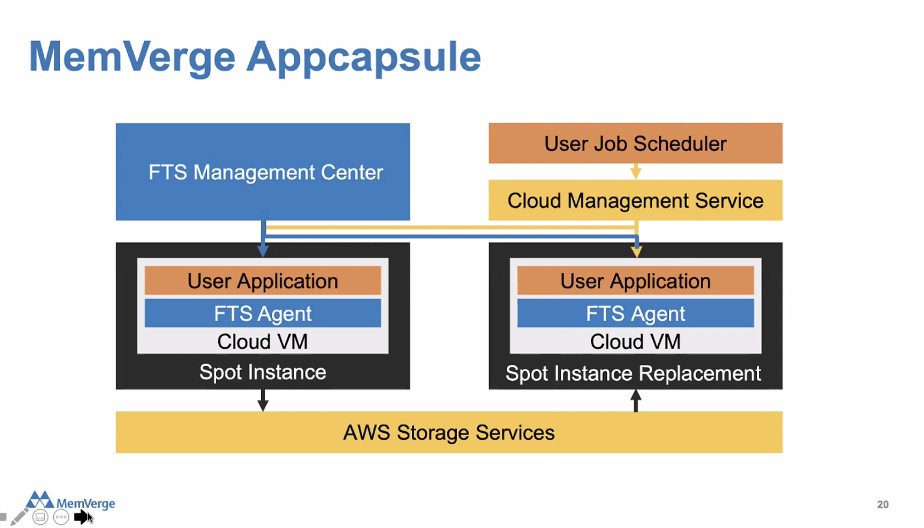 Why is This So Valuable?
MemVerge has presented some intriguing and innovative solutions since they came up with the most significant initial use-case for Intel's Optane Persistent Memory Module. Consistently, since then, MemVerge has expanded the solutions while solving problems and building those into the product set. These solutions have been both evolutionary and revolutionary. In their attempt to exploit emerging technologies and arrive at solutions that have seemed to be peerless, they've created uses that both technologically enable the use of the tech and provide solutions that bring a level of viability to it. Bringing a wonderful solution to the storage problems in multi-cloud and resolving the problems storage present in that environment indicates key progress in that space.
I find these solutions to be significant, and find myself once again impressed by the forward-facing technology and crew that Charles Fan, CEO of MemVerge, consistently present.
Find out more by viewing the rest of MemVerge's presentation at Cloud Field Day.