Today enterprise networks are bigger, and as a result endlessly more complicated than they used to be. Further complicated by hybrid infrastructures entering the picture, network management today is a hard and costly affair. ZeroTier presented their networking solution at January's Networking Field Day event which help build network in a way that seem to make even the nebulous infrastructures simple and easy.
Building a Network Isn't Straightforward
The overarching problem today in networking is managing everything everywhere. With network spanning from on-prem to cloud to edge, it's hard to get everything together on a single plane from where the entire network can be viewed, managed and maintained easily.
With decentralized computing becoming the trend in IT, networks are becoming more and more dense and dynamic. In order to keep the network flexible, simple and of course secure, there needs to be a solution that enables organizations to easily handle it remotely across multiple geographies and environments.
ZeroTier Working Out the Kinks
ZeroTier brings to offer a solution which unifies cloud, on-prem and edge bringing the network together. ZeroTier is a network virtualization technology that effectively connects everything to everything, bringing them together in a mesh where connectivity is constant, irrespective of mobility and location.
ZeroTier is unique, in that it's not a VPN which it is often mistaken for, but it can work like a VPN. According to Ierymenko, ZeroTier is a "network hypervisor" that can be thought of as an SDN that works everywhere.
A Bit More about ZeroTier and Its Features
During the presentation, Adam Ierymenko, Founder of ZeroTier Inc. gave us a briefing of ZeroTier as a networking solution and explained to us how it reduces networking complexities on the technical level.
ZeroTier is a software that can be deployed in all networks and in most cases, it does not require changes to be made to the current infrastructure. Simple and flexible, it even works on air-gapped networks. Deployment can be done automatically and requires no hardware devices.
In terms of security, ZeroTier is a solid platform with end-to-end encryption. Everything on it is authenticated everywhere. On it, functions like key distribution and agreement are fully automated. Working in a synchronous fashion, the VL1 provides the cryptographic foundation which the VL2 uses to perform tasks like authenticating credentials, certificates and nodes.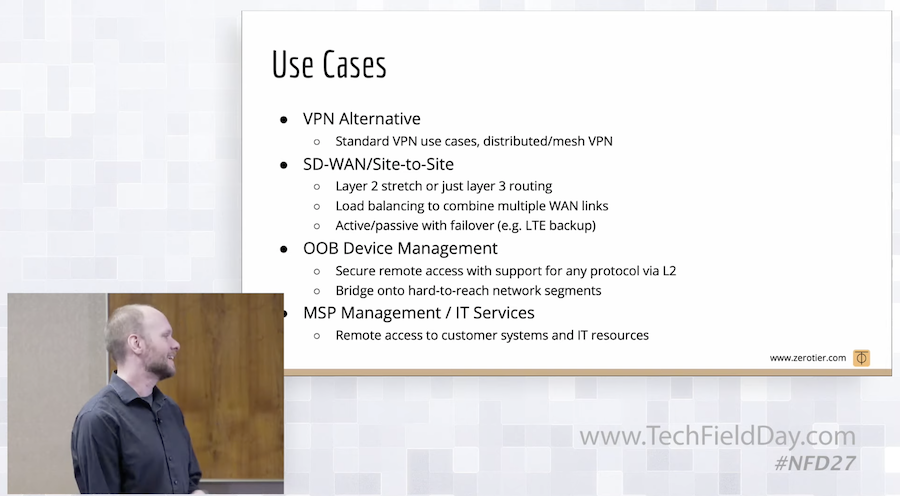 ZeroTier allows for a lot of customization. On it, users can set rules for both Ethernet and IPv4 or IPv6. The global rules determine the general behavior of the network. The defined rules work on both the sending and receiving ends. All changes made take effect inside of a minute.
Final Verdict
ZeroTier sounds like a great networking solution to have in a heterogenous network. It combines SD-WAN, VPNs and VLANs making network stacks simplistic and straightforward. It's a great way to securely connect remote teams from across geographies. ZeroTier v1.8.4 is available to download on their website.
Check out the rest of their presentations from the recent Networking Field Day event at the Tech Field Day website to learn more about ZeroTier.