Between the years of 2010 and 2015, a record number of companies had moved to cloud making the cloud transition real. Cloud was nirvana for a moment, but it was not the answer to all problems that many had thought it to be. At the bottom of the bag, companies realized that cloud was costly. SLAs are variable and aren't always met and companies in regulatory industries have no place in public cloud. But in a hyperconnected world, enterprises need cheaper and better ways to store their data, scale on demand and cloud-like automation in their infrastructures.
As this need was felt across industries, the inevitable migration to edge started. With AI now thrown into the mix, businesses quickly realized the potential of edge, and without wasting any time, they started tapping into it. Caught in the winds of this change, edge computing technology and AI arrived into the mainstream.
Understanding the Edge
Now as the market pivots towards its next destination, it begs the question – would it be possible to retain cloud's simplicity, speed and familiar ecosystem at the edge, and if so, how are we going to achieve that?
Only thing is, the edge is not one but many things. At the recent Tech Field Day Extra at Cisco Live US 2022, Cisco addressed this question. In his presentation, Frank Brockners, Distinguished Engineer at Cisco talked about the challenges that encumber the journey from cloud-native to edge-native, and the simple solution that no one seems to be noticing.
The edge today is not one place, one type of computer or one model. It fans out across regions, involves disparate architectures and heterogenous use cases and therefore have not one but several constraints. So, the simplistic approach of treating edge as just an extension of cloud is no longer viable for the user edge.
Revisiting the Twelve Factor App
Cloud-native even today is largely based on the principles laid down in the Twelve Factor App from 2011, but in the age of edge adoption, these tenets are in desperate need of adjustment. Cisco tweaked this list to fit edge in, adding in factors to address the problems faced at the edge.
According to Cisco, the factors that need to evolve to truly bring the cloud-native experience in development and operations to the edge are dependencies and policies, backing services, concurrency or scale, disposability and logs. At the Tech Field Day Extra at Cisco Live US 2022, Brockners goes through each of these factors in his presentation explaining why and how they need to evolve. He later followed it up with a demo of the solution that Cisco is building based on these factors.
Introducing the Great Bear
Now that the list is up-to-date, it's time to put it to use. Cisco is building a SaaS-based solution called Great Bear focusing on these tenets. It's function is to simplify deployment and operations at the edge making it easier to develop, manage and operate next-gen applications across numerous sites. Kubernetes being the very face of cloud-native, for this project, Cisco chooses Kubernetes. The goal is to preserve the development and deployment experience of K8s and the ecosystems surrounding it at edge. With that, Cisco takes a stab at optimizing Kubernetes for the edge.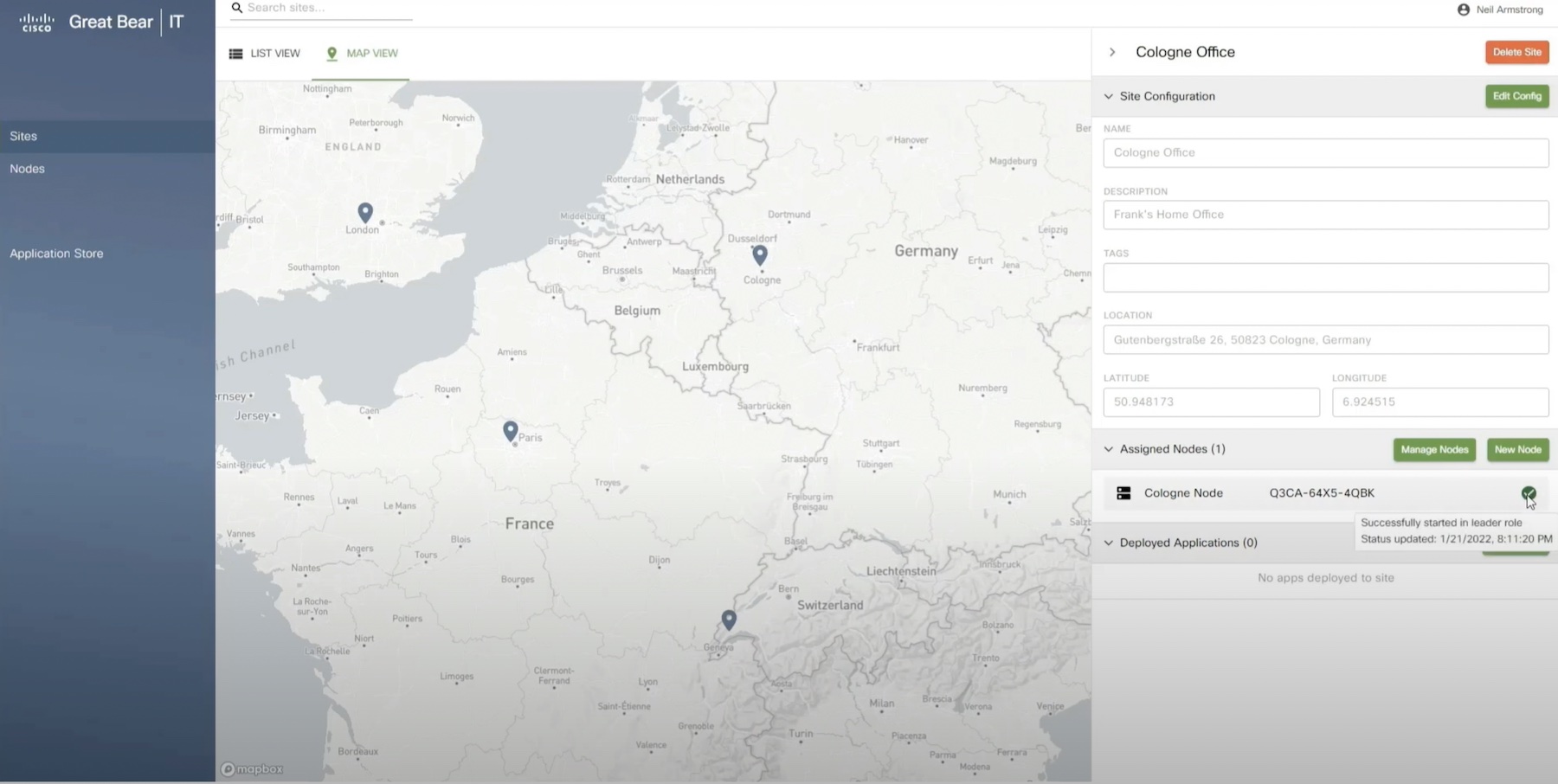 Individual nodes fail all the time. Cisco decides to circumvent that problem by deploying applications to entire sites that are groups of nodes, instead of individual nodes so that they are available across thousands of locations, even through sporadic node failures.
The Great Bear will have a universal cloud-hosted control panel through which intent inputs can be entered and stored in the database. Instead of an API for every node, it will use one global API for the entire system which alone will feed intent into the entire system, all of which will be saved in the database.
Sites will communicate directly with the control panel which will have their states and intents. Fetching intent from the plane, the sites will realize them locally at the edge. With this approach, horizontal scaling can be done across locations anywhere in the world. Inside the edge clusters, Cisco will be doing process-level scaling.
Final Verdict
If the latest predictions are to be believed, by the end of 2025, one-third of the applications no matter where they are in the world, will be running at the edge. With that in the horizon, solutions like Cisco's Great Bear are critical to make this paradigm shift happen smoothly. By optimizing Kubernetes and associated tools for edge, it will make a soft landing possible for companies that are coming into edge-native. Cisco is spot-on in choosing this time to build a solution that addresses the foremost concerns of businesses because as data gravity leads companies towards the edge, they will need a cloud waiting for them there.
If you are interested in an early adoption program, you can request it here at Cisco's website. Check out Cisco's other presentations from the recent Tech Field Day Extra at Cisco Live US 2022 for more updates on Cisco's new projects.