Public cloud without a doubt provides more agility, cost-efficiency and everybody's favorite, infrastructure-as-a-code automation, but moving from on-prem to cloud is a nightmare. Just on the network side of things, transitioning on-prem network deployments to cloud is hours of work. But things are about to change for Cisco users. The Meraki cloud network management dashboard now supports transitioning of Cisco Catalyst hardware infrastructures into cloud-managed ones. At the recent Tech Field Day Extra at Cisco Live US 2022, Cisco presented Cloud Management and Cloud Monitoring for Catalyst on Meraki Dashboard where presenters showed the audience of Tech Field Day how the Meraki Dashboard makes managing networks in the cloud easy and stress-free.
Transitioning an On-Prem Network to Cloud Is Gratuitously Complex
Moving an on-prem network over to cloud is a long and bumpy journey that can drag on much longer than anticipated. Formerly not an option, transitioning an on-prem network into a cloud-managed one is something enterprises are now considering more seriously as more companies are migrating to cloud.
Migrating network hardware stack is problematic no matter how you choose to go about it. It is a very complex process, but a necessary step to start the transition to cloud. So instead of going all in, it helps to get things moving in that direction one thing at a time, starting with upgrading the network hardware to cloud-managed. A small step, but it can set the stage right for the eventual and bigger transition into cloud.
Cisco Makes Migrating On-Prem Networks to Cloud a Straight Shot
Cisco makes moving network hardware on-prem to cloud incredibly easy. After its recent announcement, with certain models of Catalyst switches, it is now possible to manage and monitor the network on cloud. These devices, compatible with the Meraki dashboard can be onboarded in an instant and at no extra cost. Through a Brownfield migration process, it enables network administrators to easily add Catalyst switches to the cloud. Like any Meraki devices, these would show up in the dashboard, ready to access.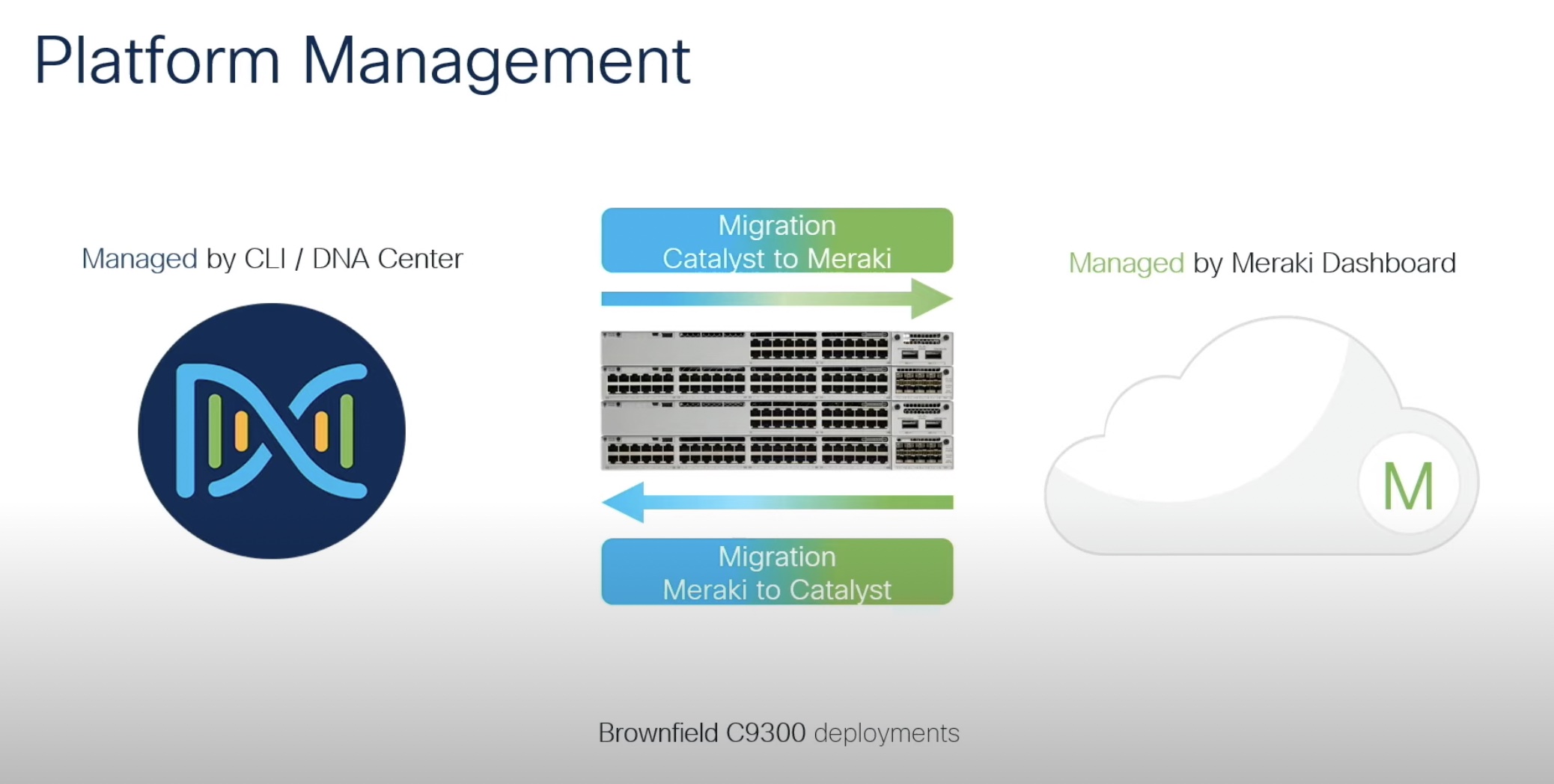 Cisco already has an impressive lineup of networking hardware and software solutions that make for smart and agile networking platforms. Cisco announced Cloud Management and Cloud Monitoring for Meraki mid-June by which select Catalyst switches can be effectively converted into Meraki switches and managed and monitored through the Meraki Dashboard. In the beginning, the Meraki Dashboard will only support C9300 models as well as the 3850-4X 10GE and MS 390 modules, but down the line, Cisco has plans to expand the list.
Converting Catalyst Switches into Meraki Switches with the Meraki Dashboard
At the Tech Field Day Extra at Cisco Live US 2022 event in June, Cisco showcased several interesting solutions from its product line, one of which was the new Cloud Management and Cloud Monitoring for Catalyst on Meraki Dashboard, announced that same day. Stephen Orr, Distinguished Architect and Alex Burger, Sr Technical Marketing Engineer at Cisco detailed the monitoring and management capabilities of the platform to the audience respectively and explained how it helps companies move to cloud-managed networking.
Migration to cloud using the Meraki Dashboard is pretty simple. After the software upgrade, users need to run a compatibility check to make sure that all devices in the stack are up-to-date and supported. Members can be registered one by one or the whole stack all at once. With the serial numbers provided, users can claim and start the Meraki service. Following this, switches can be added and configured as required.
In the cloud, Catalyst switches of the mentioned models can enjoy Meraki Dashboard's enhanced cloud monitoring capabilities. All the telemetry data collected from the devices are streamed directly into the dashboard. Under Historical Device Data, users can view data per port from back in time, check the connectivity, check configurations, and run small troubleshoots with the click of a button.
Meraki's instant dashboard environment provides a detailed view of the health of the environment, with information on both the status of the devices in specific and the network in general. Real-time alerts shorten the process of searching anomalies and resolving them, resulting in an even network user experience for all.
Looking up any network is real easy too with the Meraki Dashboard. Just select a network or any part of it or just a device from the hardware stack with the dropdown menu and the dashboard instantly reveals all the information.
The read-only network topology page is where the network can be viewed as a whole in the form of a logical map that features the network, its connections and the uplink information between devices.
From the monitoring standpoint, the dashboard provides full sets of information about clients connected to the network, the devices they are using, the connection status and other vital details at the fingertips of network administrators. With advanced licensing, users can avail NetFlow and encrypted traffic analytics for deeper insights.
Final Verdict
Managing network in the cloud with the Cisco Meraki Dashboard is point-and-click simple. With its host of capabilities, day-to-day networking operations become simpler and faster, but most importantly the big move to cloud becomes unreally simple and short. Cisco has intuitively left the door open for users to migrate back to the on-prem DNA mode should they decide to do it, and the transition is equally simplistic. Moreover, with broad compatibility with other monitoring platforms, the Meraki Dashboard is a great control plane for monitoring and managing networks in the cloud and overall enjoying the Meraki experience consistently across the stack.
Don't forget to check out other interesting presentations by Cisco from the Tech Field Day Extra at Cisco Live US 2022.