Lately businesses have been dealt a bad hand overall. COVID-time disruptions, knowledge worker shortage and a slew of cyberattacks have piled up novel and unforeseen challenges at their feet. Research shows that organizations that are flailing are the ones that resisted automation. That should come as no surprise as we witness most of the industry graduating to hyperautomation.
The week of the Tech Field Day event, ZPE Systems officially unveiled Network Automation Blueprint, a playbook to building a complete end-to-end automation pipeline in a failsafe fashion. At the Tech Field Day event, they introduced it to the audience.
A Recipe for Disaster
Despite all odds, organizations are still uniquely vulnerable to cyberattacks. Case-in-point, the recent Uber breach. This begs the question, why our best security practices continue to fail us? The answer is as clear as day. The most insidious cyber breaches can be traced back to very benign, and seemingly unrelated root causes – skill gaps and an excess of security tools, and falling out of that, human error.
Automation can evidently resolve a lot of those problems, except there's a lot of skepticism around it, the first of which is the fear of losing control of the network – and it's not for nothing. The problem with automation is that it's too perfect, and that is its bane. It's an exacting job where one small error can have catastrophic outcomes. So, even though automation can take operators' hands off of the routine volume-heavy tasks like configuration, provisioning, patches and upgrades, and enable holistic security and bring everybody peace of mind, it can also be ruinous in certain circumstances. Without a rock-solid plan of action that covers these blind spots, automation is messy.
But what if there was a way to build automation such that even if there were human mistakes, there'd be an easy way to recover from them? That in itself would alleviate a lot of the anxiety.
A Plan That Works
ZPE Systems may have worked out that kink. Headquartered in Fremont, California, ZPE Systems has been in the industry since 2013. One of its core missions is to revert the perpetual skill shortage in IT and to execute that, it has built an out-of-band infrastructure that paves the road to hyperautomation, a word that's ubiquitous in IT right now.
"Automation without a proper automation infrastructure is not the right thing to do. It works but it's actually what leads to the anxiety. The best practice is to have an automation infrastructure in place," says ZPE Systems' VP of Product Management, Koroush Saraf.
ZPE Systems' offerings cater to use cases across datacenter, campus, colo, branch and edge. Their portfolio includes hardware like serial consoles and routers as well as accompanying software management solutions.
And now, ZPE Systems is bringing hyperautomation within the reach of organizations with its Network Automation Blueprint. Its use? ZPE Systems sees it as the true enabler of network security and reliability.
ZPE Systems' Network Automation Blueprint
At the recent Tech Field Day event, ZPE Systems gave a sneak-peek of what's inside Network Automation Blueprint. In a 30 min session, Koroush Saraf talked about ZPE Systems' out-of-band infrastructure and how the blueprint helps setup the most fail-safe automation pipeline. They wrapped it up with a demo in the next presentation where Director of Solution Engineer, Rene Neumann demoed the automation infrastructure.
Network Automation Blueprint is a 36-page document that Saraf and Neumann jointly drafted with an ONUG (Open Networking User Group) team. It talks about the building blocks of network automation and provides a one-size reference automation architecture with implementation plans.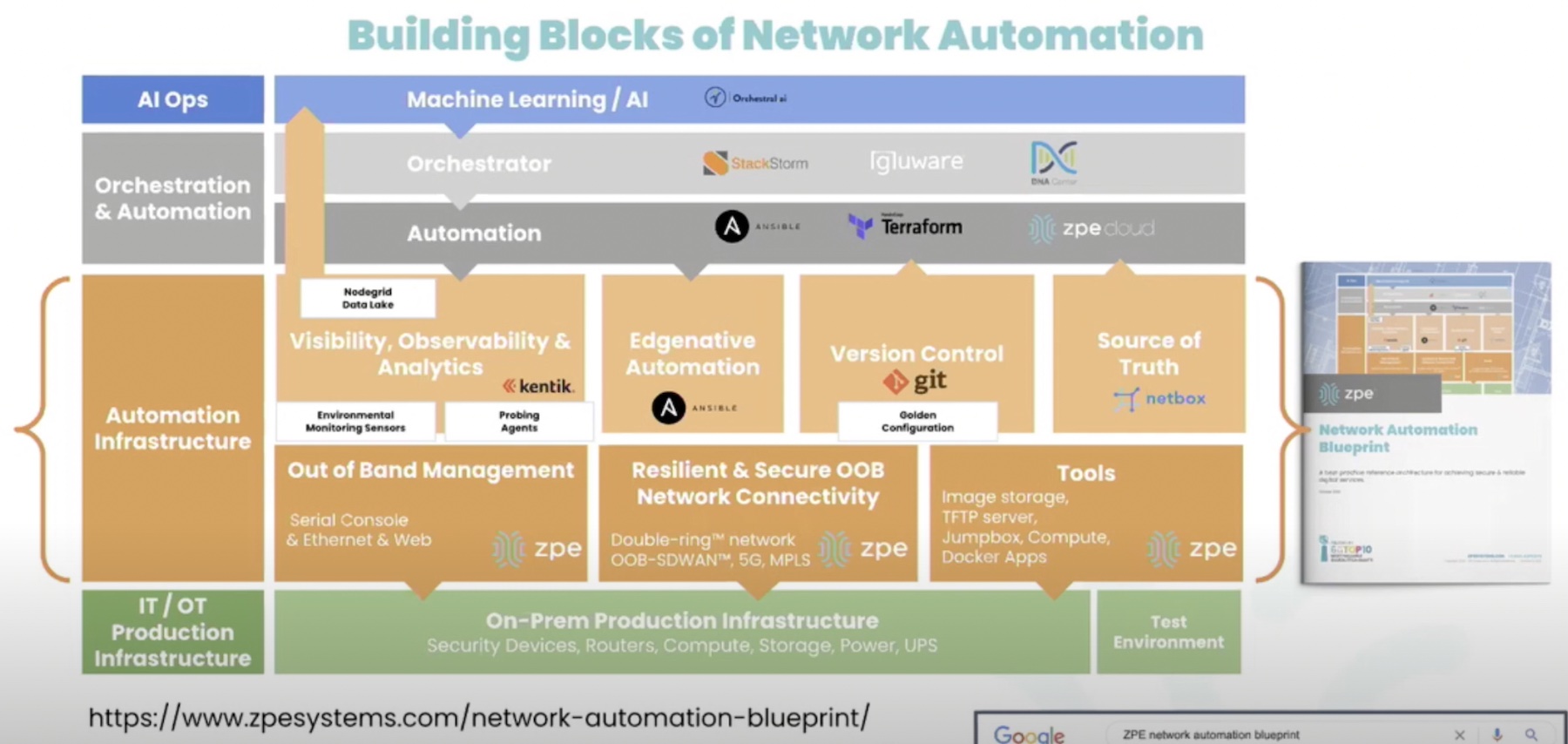 The architecture proposed in the blueprint has predominantly four sections- AIOps at the top, orchestration and automation, automation infrastructure and IT/OT production infrastructure. According to ZPE Systems, this architecture works for organizations of any size for two reasons- first it encloses the network strategies of some of the biggest tech companies, and second, it has that fabled "undo" button that can turn things around in a heartbeat.
So, besides a ready architecture design, the blueprint also has a fallback plan for when things don't go to plan. Following its set of instructions, companies can recover from human errors in minimum time. The document expands on the architecture, layer by layer, revealing all the constituent parts, discussing them in details with the help of diagrams.
Saraf drew special attention to the automation infrastructure part which is the load-bearing element of network automation. ZPE Systems' out of band infrastructure fills this piece giving the architecture a solid core to build on.
Wrapping Up
ZPE Systems' Network Automation Blueprint has all the answers for anybody looking to learn about building a foolproof automation pipeline from scratch. Loaded with information as it is, it could be the automation bible for enterprises getting hands-on with automation. At the very least, it presents a tried and true design that has set many industry players up for success. As for those already on the journey, it is a great instructional essay to keep in the back pocket for perfecting their automation architectures. For any interested reader, it has all the vital information they need to know to prevent catastrophic security incidents and unplanned outages through automation. Network Automation Blueprint is free to download and can be requested at ZPE Systems' website today.
If you want to know more about the blueprint and ZPE systems' automation infrastructure, be sure to check out their presentation and demo from the recent Tech Field Day event. Another great resource to check out related to this is the Edge Computing Past and Future Tech Field Day 26 Roundtable discussion available on the Tech Field Day website.