There's a common consensus over what make a great technology in IT. It consists of things like consistent performance, low-friction operation, cost-effectiveness, and quick ROI. At the recent networking Field Day event, Cisco presented one such solution. The Cisco Crosswork Network Controller (CNC) lets enterprises exchange operational complexity and cost for Quality of Experience (QoE) and cost advantage.
Room for Error
The dynamics of modern networks is complex. Things are changing all the time, making it harder to find and resolve problems systematically. Over time, organizations wind up with arsenals of tools to make sure they have eyes on everything, but instead, end up with islands of visibility with no unifying feature.
Management of the environments is painfully complex as well. It entails endless chores, some of which have themselves emerged as sources of risk. Tasks like provisioning, configuration, deployment, monitoring, and troubleshooting are exacting. They take prolonged periods of time, and have very small margin for error. Even the smallest of human errors can become the number one cause of a catastrophic outage.
Human errors aside, there is an insane number of things that can go wrong in the network just on their own. For example, bandwidth swings can lead to network congestions, negatively affecting QoE.
"On the infrastructure, we have many different services that are running. Some of them are more latency sensitive, some are bandwidth intensive. Of course, we do expect fluctuations in the traffic, but that fluctuation could always cause congestions," said Deepak Bhargava, Senior Product Line Manager at Cisco.
Enterprises resort to over-provisioning to cope with congestions, but it's not the answer they need, he said. Over-provisioning inflates the cost, and that extra capacity isn't always utilized.
In a time when achieving time-to-value is more critical than ever in IT, these are major stumbling blocks.
Cisco Crosswork Network Automation
CNC is a part of the bigger Cisco Crosswork Automation portfolio that constitutes "a breadth of capabilities that helps address functions across a typical operational lifecycle, right from planning and design."
The idea behind Cisco Crosswork Network Automation is to simplify service lifecycle functions to push-button actions. It leverages closed-loop automation, the strength of which is continuous monitoring and assessment.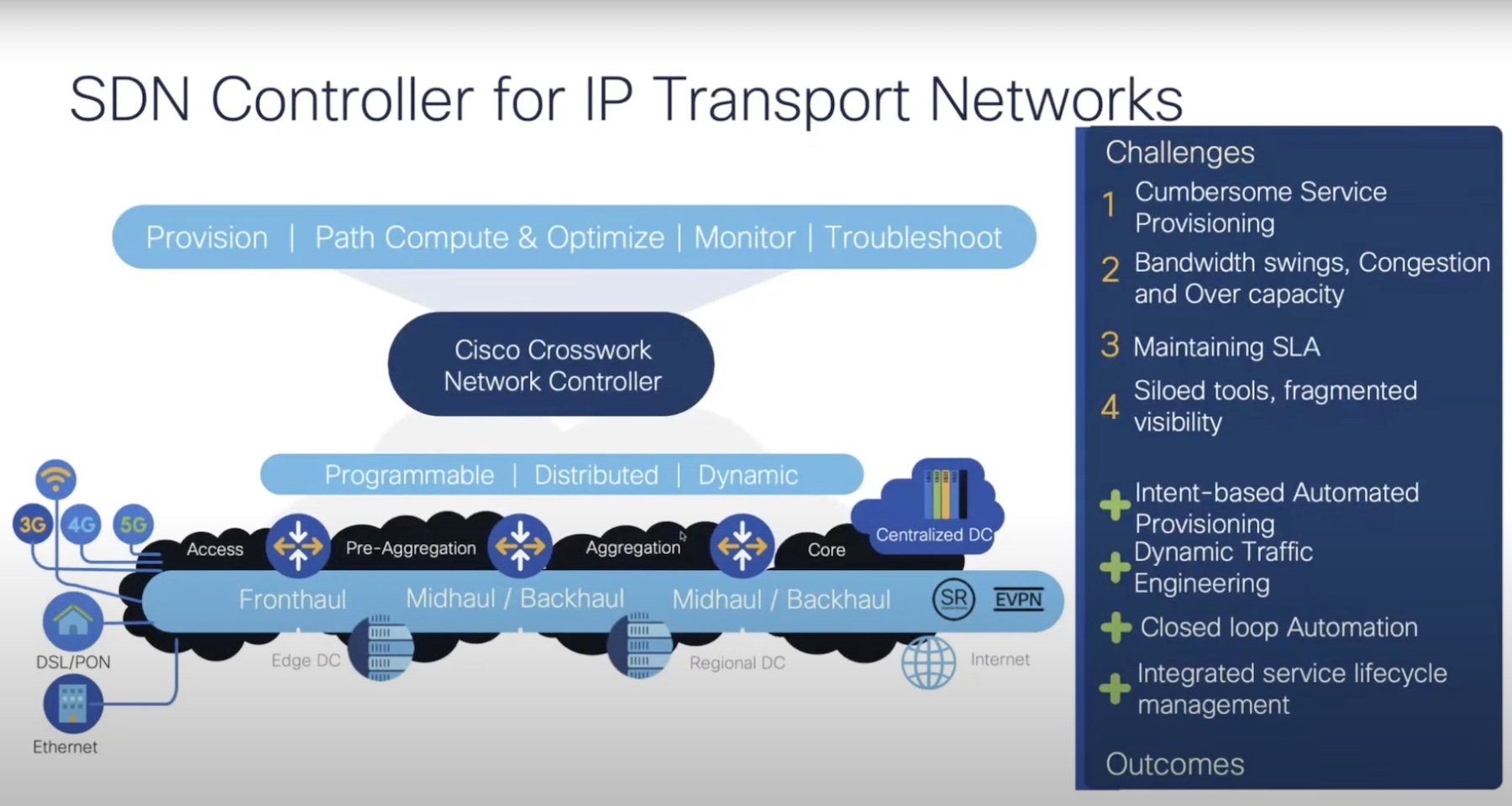 Bhargava laid out the three cornerstones of Crosswork Network Automation that form the foundation of all of Cisco's offerings in that portfolio. They are – visibility, insights and action.
"Visibility is really about understanding the state of the network, how the services are performing. Are they at a risk of failing to meet the SLAs? How are the devices performing? Are there any topology changes, any alarms?" said Bhargava.
Crosswork Network Automation seeks to provide answers to all these questions with data collected from the network over, and offer a comprehensive org-wide view of things.
But visibility by itself is a stressor, if it's not accompanied by insights. One of the key functions of Crosswork Network Automation is to reduce that data to crisp, accurate and actionable insights. CNC transforms network data into knowledge. Using automation to extrapolate from the data, it predicts issues and identifies patterns where possible, making the segue into action quick and organic.
Crosswork Network Automation can automate certain processes preemptively, preventing warning signs from manifesting into real issues that could impact network performance and availability.
Capabilities of Cisco Crosswork Network Controller at a Glance
The Cisco Crosswork Network Controller is built for modern networks. It draws its power from two sources – automation and intent-based networking. Leveraging these, CNC undercuts operational and cost overheads, unlocking maximum ROI.
Bhargava explained, "Crosswork Network Controller is an SDN (Software-Defined Network) controller for the IP transport network. It's really a turnkey automation solution that helps to manage a breadth of service lifecycle functions, right from provisioning, visualization, monitoring, optimization to troubleshooting."
The goal is to achieve faster deployment and effective remediation at a fraction of the typical cost of operation. CNC realizes these goals by condensing time-intensive provisioning tasks with intent-based provisioning.
"It can be done in an intent-based, automated fashion, where you can express the intent in a service model, and it gets orchestrated across multiple domains."
Integrated monitoring of service health, and quick mitigation of network congestion ensure optimum QoE for customers. CNC employs a series of optimization techniques to tactically optimize bandwidth during congestions.
"It can quickly react to network fluctuations through its real time monitoring and optimization capabilities, so that you can always be on top of things," said Bhargava.
The Cisco Crosswork Network Controller streamlines and automates maintenance and troubleshooting tasks, ensuring quick and effective remediation without human intervention.
Furthermore, CNC closes the gaps between data silos with unified visibility. Through a single dashboard that offers a detailed, unified and real-time view of the network topology and services, and integrated maintenance workflows, it improves operational agility.
Wrapping Up
Cisco Crosswork Network Controller brings with it a host of capabilities that alleviates the pressure of routine maintenance tasks. It shows modern enterprises how operational overheads can be tackled and outages can be limited, while ensuring operational agility with strategic use of automation. With it, a higher QoE can be assured through elimination of manual approaches to provisioning and monitoring. The value it provides is on-brand with Cisco.
Watch Krishnan Thirukonda make the Cisco Crosswork Network Controller visual with a demo in the above session. For more interesting presentations by Cisco, be sure to check out the recordings from the recent Networking Field Day event.