Today organizations are grappling with an overwhelming amount of data. That makes storage that has power, capacity and most importantly great cost economics a basic need for all enterprises. That's just what VAST Data aims to deliver through Disaggregated Shared Everything (DASE) that is its Universal Storage architecture which it presented at the recent Storage Field Day event.
The Share Nothing Architecture Has Some Steep Disadvantages
Shared-nothing architectures are supposed to be purpose-built for data hungry applications, but that's are not without its challenges. In reality, some of these challenges outweigh the benefits they were originally built for. For instance, high-performance is supposed to be the greatest strength of the shared-nothing architecture but constant communication between the nodes in the clusters tends to choke practical performance making performance variable and uneven.
Also in terms of capacity scaling, there are significant challenges. Adding capacity to the storage is not as simple as adding more nodes. The aggregated design of the architecture gives rise to pools and tiers that cannot be scaled all at once. Additionally, the multiplicity of nodes makes the architecture less than simple that it was designed to be.
VAST Data Pioneers Disaggregated and Shared-Everything Storage
VAST Data was founded with the mission to close these gaps that have existed in legacy systems architecture a long time. Spurred by the 2003 whitepaper by Google on shared-nothing architecture, they set out to identify the biggest challenges in storage and find strategic ways to overcome them. VAST Data's DASE architecture is critical to this mission.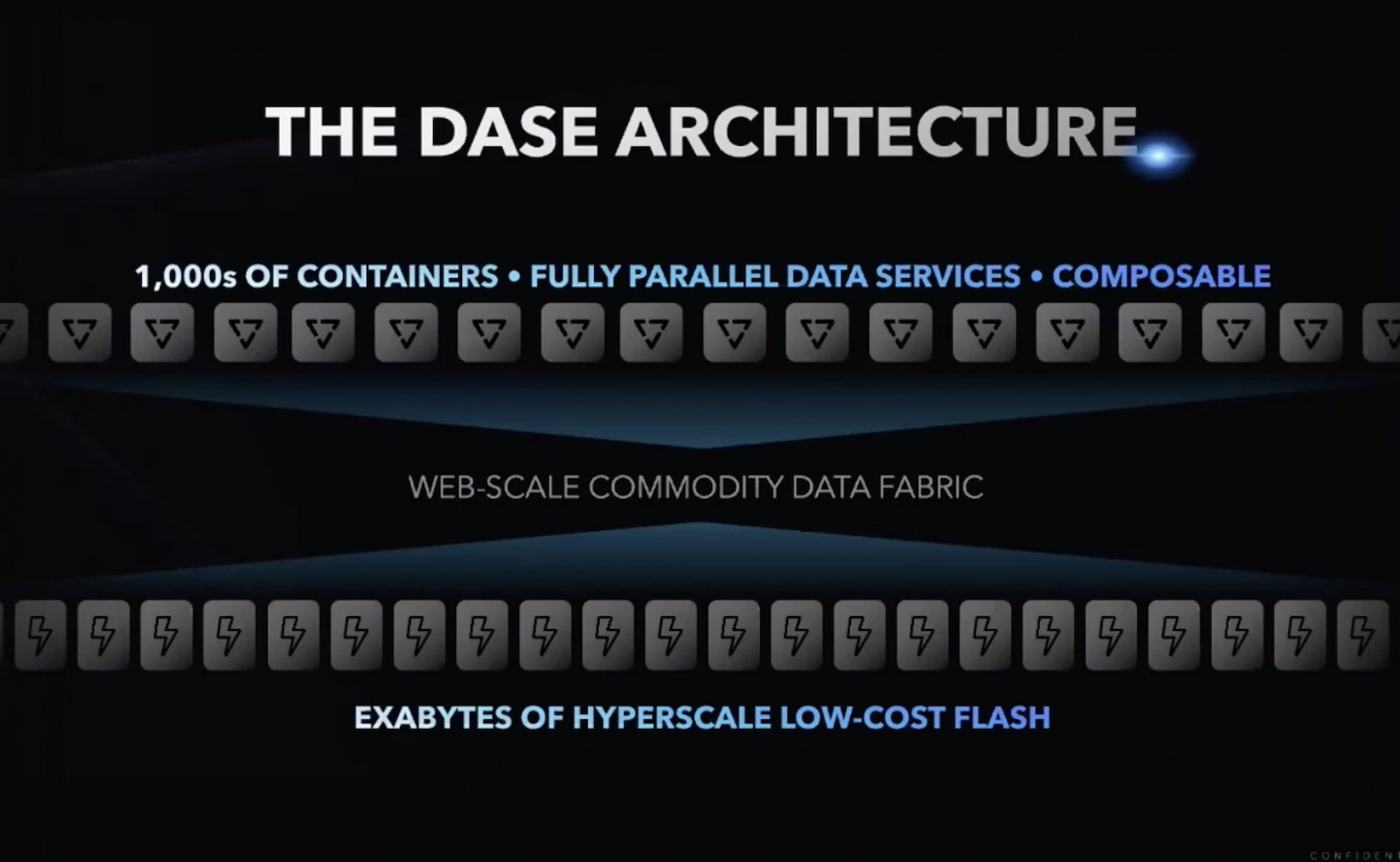 Aiming to build a new kind of architecture that is without the loopholes of legacy systems architecture but offers breakthrough resilience and economics, they designed what's called the Disaggregated and Shared Everything (DASE) architecture. The DASE architecture boasts of thousands of composable stateless servers sitting atop an array of NVMe enclosures delivering fully parallel data services to users. Leveraging the high-speed networking technology of NVMe-over-Fabrics, it enables virtualization of all devices for a more simplistic and effortless management of workloads.
VAST Data's Universal Storage Architecture
At the Storage Field Day event in March, Jeff Denworth, CMO and Co-Founder at VAST Data showcased Universal Storage, its DASE architecture and talked about the advantages it brings to customers. At the presentation below, Denworth also gave a business update of their end-of-year results which was announced in February 2022. The numbers were quite frankly, startling.
Turning the legacy architecture on its head, VAST Data designs a data architecture in Universal Storage that totally inverts the shared-nothing policy. Supporting independent scalability through disaggregation, VAST Data's Universal Storage is radically cost-saving and ultimately simple.
Universal Storage combines the power of NVMe-over-Fabrics and QLC flash into a highly efficient shared storage architecture and what's born out of that is a highly fault-tolerant, low-latency infrastructure that requires no volatile caching or power-fail protection, thanks to shared persistent memory.
With Universal Storage, VAST Data achieves the goals of linear scalability and quick IO response time while eliminating data barriers through unification of storage and pools into resource groups. Making data structure compatible to live in both high-capacity flash and storage class memory, VAST Data reinvents ways of data management.
At the core, VAST Data seeks to change flash economics with it's all-flash architecture making flash low-cost and therefore, more affordable. Packing its architecture with high-density flash, it seeks to bring flash storage within the reach of organizations, no matter the size of data they have.
Final Verdict
VAST Data's Universal Storage achieves a fine balance between high performance and high capacity. That topped that with independent scalability at exabyte level makes VAST Data's DASE, a Cluster architecture cut for modern applications. At the heart of it, cost economics remains a constant as promised. By mixing and matching the best-of-breed technologies, VAST Data has built a storage infrastructure that is star-rated in all three counts of simplicity, composability and affordability.
Be sure to check out VAST Data's other presentations from the recent Storage Field Day event to learn more about their Universal Storage system.