As workforce across organizations embark on a hybrid mode of work, consistent security and user experience become top priority for employers. Helping organizations provide a secure and stable connection to their remote users, Aruba EdgeConnect SD-WAN fabric completes the work-from-anywhere model with a highly performant and reliable network architecture. Aruba presented this at the Networking Field Day Experience at Aruba Atmosphere 22 event in Las Vegas.
Speed Bumps in Implementing a Hybrid Work Policy
In the fast-changing IT landscape, the hybrid work environment poses some very fundamental challenges for organizations. Security comes front and center in that. At the very basis, the remote work model requires consistent security and connectivity. The challenge is to build a network in which these two key elements come together seamlessly.
Along the way, there are other significant milestones to achieve to make the network ready for remote access. Things like automation and simplified management go a long way towards alleviating the traditional pain points of network management like cost, complexity and time. A lot of these problems can be resolved simply by modernizing the network, but users are often put off by the hassles of it. The other option is to use a unified software-defined WAN fabric that is the right size for varied use cases.
Aruba Securely Connecting Users to Applications Edge to Cloud
Aruba has come up with a solution that is designed to give users a direct and secure access to applications and data and the teams better visibility and control over the network. At the core, Aruba's goal with the EdgeConnect SD-WAN fabric is to simplify IT operations and deliver the highest quality user experience that is critical to business success. By securely connecting users to their applications irrespective of what addresses they are logged in from or what locations the applications or data are hosted in, Aruba EdgeConnect SD-WAN fabric gives users a consistent connection edge to cloud.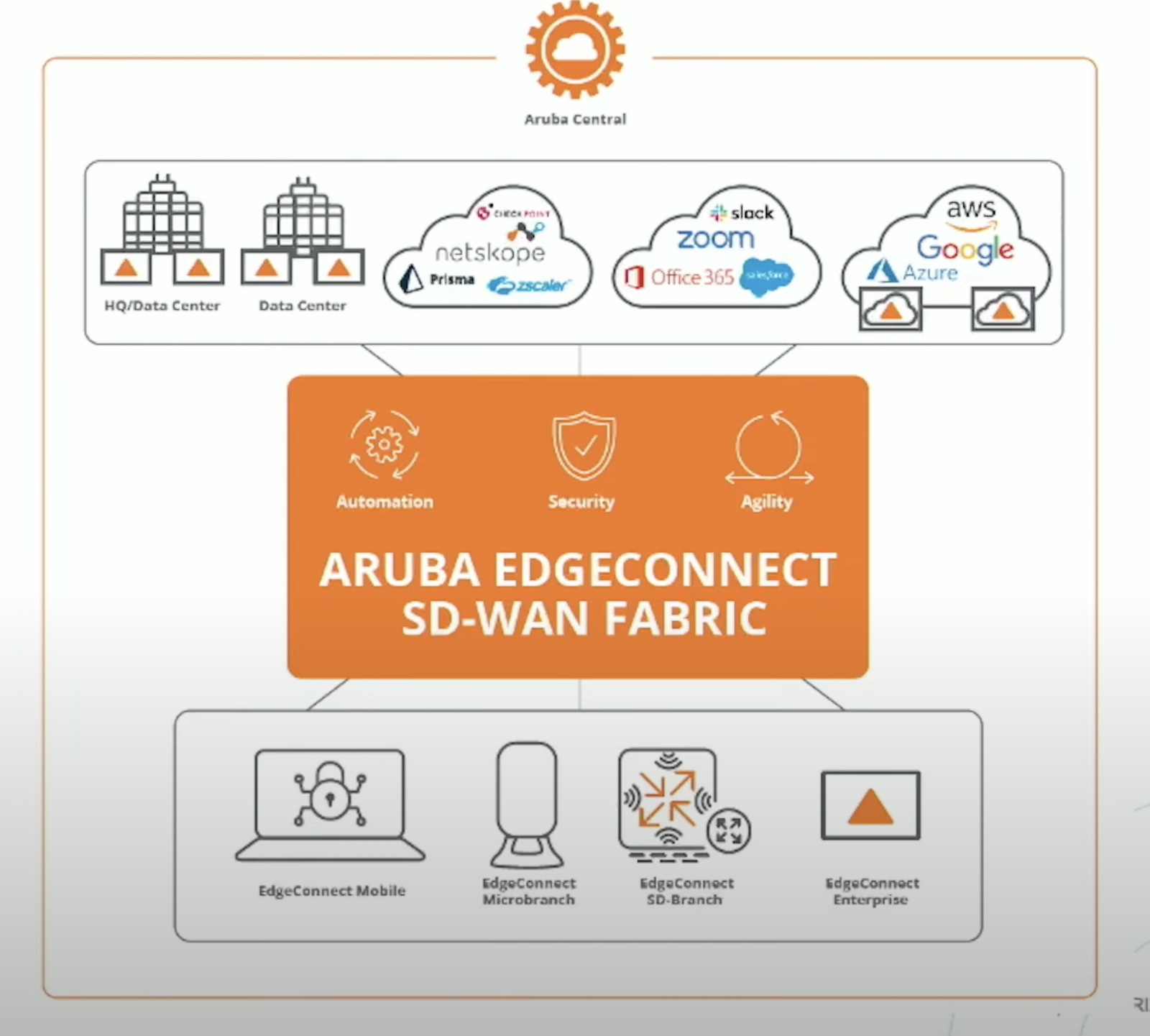 With this solution, Aruba aims to fulfill two key requirements of users in IT- a network that facilitates digital acceleration that is essential to support the hybrid work model and make network management simpler and easier with the use of automation.
Aruba EdgeConnect SD-WAN Fabric – Designed to Make Networks Ready for the Hybrid Work Model
Derek Granath, Sr. Director of SD-WAN Product and Technical Marketing at Aruba presented the EdgeConnect SD-WAN fabric at the Networking Field Day Experience at Aruba 22 event in Las Vegas in March. He gave an introduction of the Aruba EdgeConnect SD-WAN fabric briefly touching on the current challenges in IT surrounding supporting remote workforce and how their EdgeConnect SD-WAN fabric mitigates those and help build a secure and reliable network that everybody can connect to from anywhere.
Aruba EdgeConnect SD-WAN offers four deployment options to users, namely- EdgeConnect Enterprise, EdgeConnect SD-Branch, EdgeConnect Microbranch and EdgeConnect Mobile. The Aruba EdgeConnect Enterprise is a rebranding of the Silver Peak technology which Aruba acquired about a year and a half ago.
Enabling organizations to build a SASE framework with which to securely connect end users in edge locations and data, services and applications in the cloud, on-prem or SaaS, the Aruba EdgeConnect SD-WAN fabric covers enterprise, branch, office and remote locations thus enabling workers to access the network from anywhere with whatever devices they have and still be on Zero-Trust and SASE security.
The Aruba EdgeConnect SD-WAN fabric is controlled with Aruba Central, which is the centralized management and operations dashboard of the Aruba Edge Services Platform. Powered with AI, it helps cut down a lot of routine, time-intensive work while making management of overlay mesh networks easier and simpler.
One less obvious advantage of the Aruba EdgeConnect SD-WAN fabric is the agility and flexibility it ensures by making adoption and migration really easy.
Final Words
There is a lot of things worth noting with the Aruba EdgeConnect SD-WAN fabric. For one, it addresses issues of cost, complexity and time associated with maintaining a highly distributed network by automating integrations, policy enforcements, deployments, configurations and overall maintenance with the use of automation and Machine Learning. For another, it enables adding multiple layers of security in the network making access fully secure at the edge. While these make adapting to newer business models and technologies considerably easier, they also help deliver a consistent user experience to employees and customers alike.
If you are interested to learn more about the Aruba EdgeConnect SD-WAN fabric, check out the demos from their presentation from the Networking Field Day Experience at Aruba Atmosphere 22 event.