Data management across disparate storage silos is fraught with challenges that IT administrators tackle daily on their jobs. At the recent Storage Field Day event, Hammerspace presented a solution that makes data management and orchestration effortlessly easy across miscellaneous storage devices. It's the Hammerspace Global Data Environment.
Managing Data Across Numerous Storage Silos Is Work-Intensive
Working with disparate storage silos has its fair share of challenges. It presents a number of hurdles for the teams accessing data on an everyday basis, most of all, when trying to obtain a global data access.
Storage comes in all sizes and that results in organizations buying storage from many different vendors to best satisfy their needs. Putting aside the vendor lock-in problem for another day, the bigger problem here is global data access which is becoming harder and harder to obtain.
Disparate storage server technologies may bring to the users more choices in actionable storage, but they also culminate into a situation where there are too many data islands. That poses serious management challenges. The soaring CAPEX and OPEX situation only makes things worse.
The Key to Solving the Problems of Managing Storage Silos
In order to overcome these hurdles and balance utilization so that no storage is oversubscribed, nor underutilized, there needs to be a global data environment which enables managing these disparate storage devices and orchestrating data from one central location, and that's what Hammerspace aims to provide.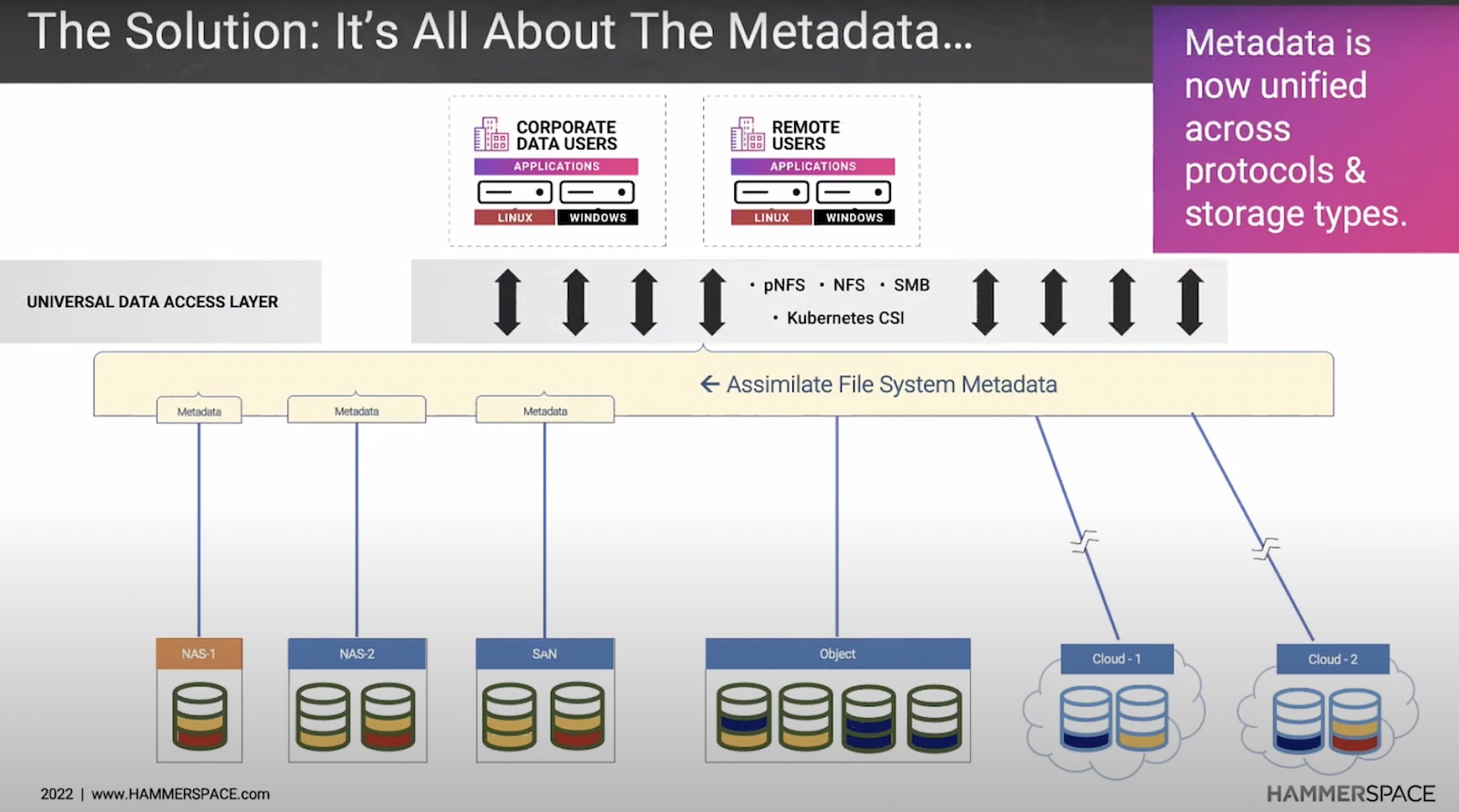 Hammerspace is a leading name in the global data environment space. In the November of 2021, Hammerspace announced the first-ever Global Data Environment that spans data center infrastructures, cloud and edge. This solution was designed with the aim to deliver a global control plane that serves as a direct ramp connecting users and applications to the data.
The Hammerspace Global Data Environment
At the Storage Field Day event in March, Floyd Christofferson, VP of Product Marketing, Hammerspace presented the Hammerspace Global Data Environment. During the presentation, he talked about global data environment going into details of its components and how it applies to data centers.
Through Hammerspace Global Data Environment, metadata is moved up on a separate layer which is unified across storage and sites. From this metadata control plane, users and applications can access metadata directly instead of having to find their way to the individual storage device where the data in question lives.
By making all data accessible to all users and applications, irrespective of the storage silos they're located in, Hammerspace Global Data Environment saves jumping shares and repointing applications, making overall management easy and quick.
Users can further save on their CAPEX and OPEX by stretching their storage to capacity by distributing data according to capacities without interrupting the access. With data management simplified through elimination of the need to manage every solution separately, administrators can finally get a clear top-down management view of the entire fabric.
Final Verdict
Sound data management is key to resource utilization and that in turn is critical to cost saving. A global environment where data is not only accessible, but also transparently manageable can unlock these opportunities and many more. Hammerspace Global Data Environment presents that formerly unknown ubiquitous plane that has capabilities to support seamless management and movement of data.
Be sure to check out Hammerspace's other presentations from the recent Storage Field Day event to know more about Global Data Environment.