AI use cases are proliferating as organizations are choosing to deploy AI in different areas of IT. In networking where AI is typically used to guard against potential threats, machine learning has already started to take baby steps towards enablement of automation. Although there is still a large number of companies that is yet to implement AI/ML, the start of AI in networking itself is a big step towards improved user experience.
At the recent Networking Field Day event, Juniper Networks presented Juniper Mist AI, an AI platform that predicts network problems, automates troubleshooting and delivers crystal clear visibility of the environment and flawless user-experience for all digital users.
Networking Is at a Transition Point
Networking is at the crossroads right now. While we have officially entered the era of zero-touch and software-defined network, there are still ways to go for it to be fully threat-aware and self-healing. Over the course of the past decade, we have witnessed the downsides and limitations of hardware-heavy networks and manually-driven connections. Clunky networks put an unnecessary amount of pressure on network staff by throwing new and challenging responsibilities at them every day.
Complex and distributed networks on the other hand produce copious amounts of data. While, this wealth of data trapped in the network can yield valuable information and can be harnessed to improve network performance, that much data is beyond what a normal-size team of network administrators can handle.
AIOps Adoption Can Change Things in a Significant Way
The good news is that all of these challenges can be resolved without going into too much trouble through AI implementation. By switching out traditional networking tools with AI solutions, a lot of the weight can be lifted off of the shoulders of the NetOps team who are constantly faced with novel challenges, all of which are in some ways connected to the digital experience of the end-user.
Adopting AI kills two birds with one stone – AI makes network management simpler and easier for one; for another, it makes the network user experience better by a long shot. Through AI, enterprises can train their networks to not only be smarter and more sophisticated, but also take care of their own problems.
Juniper Mist AI Platform
At May's Networking Field Day event in California, Juniper Networks showcased their AI-driven Enterprise solutions that are built to enable intelligent automation in networking operations. Bob Friday, CTO and Co-Founder of Mist Systems and the Chief AI Officer at Juniper Networks detailed some of the features and functions of Juniper Networks' AI solutions explaining how they accelerate the journey to an AI-enabled network.
The Juniper Mist AI platform is an open microservices cloud architecture that is powered by Mist AI. Fully programmable, it has a wide set of functionalities with new enhancements delivered weekly. At the heart of the Juniper Mist Cloud are an AI engine and data science techniques which are its secret sauce. Powered by these, the Mist AI platform performs large analytical tasks in short time and constantly churn out actionable insights to use for network operators. This does two things- accelerate root cause analysis saving time and cost and provide proactive recommendations to NetOps. Juniper Networks uses both supervised and unsupervised machine learning for this.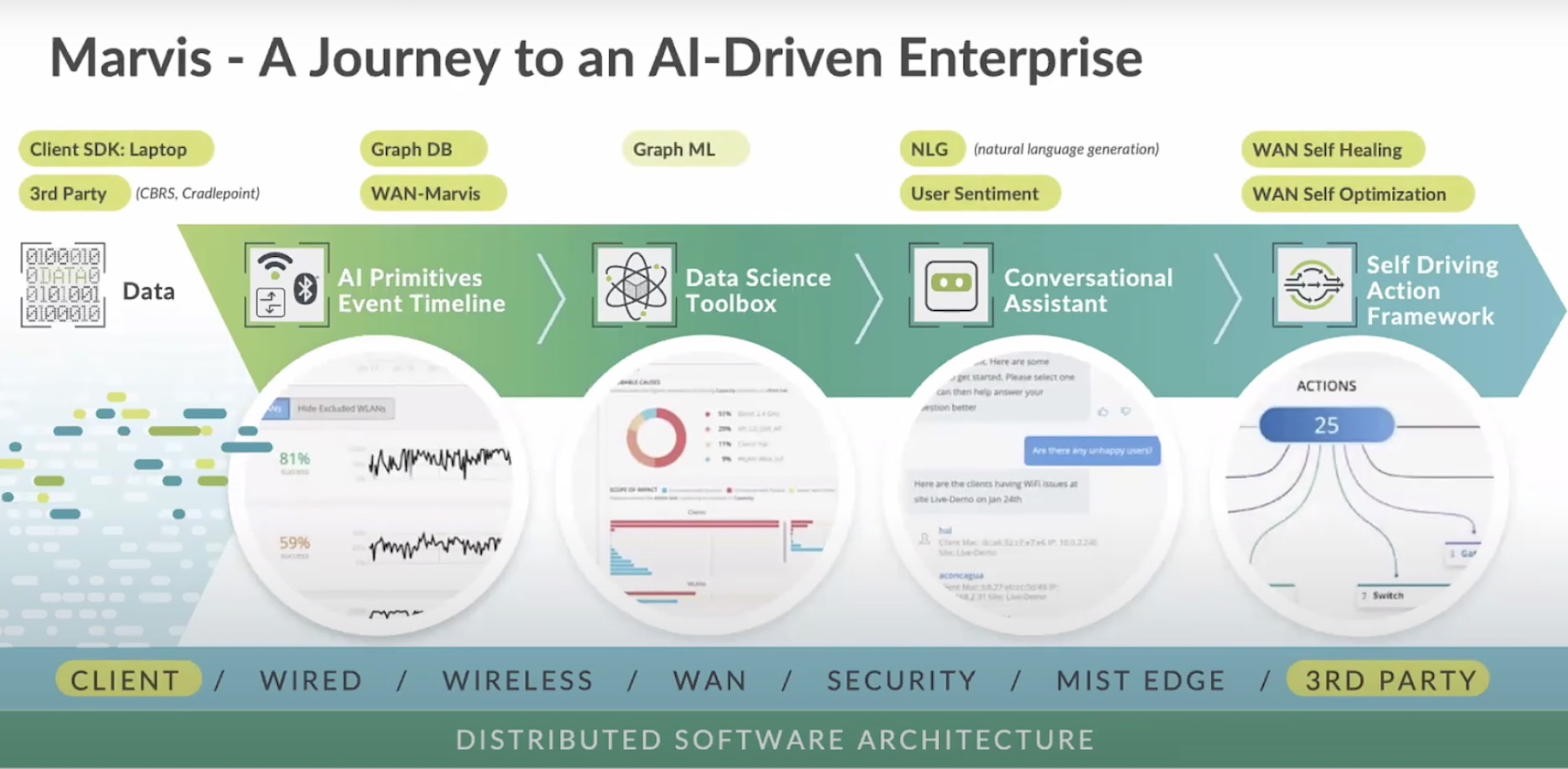 The platform is fully programmable, in that it has open APIs using which the platform can be integrated with a rich ecosystem of solutions and tasks can be fully automated where required. Through the access points, the platform ingests telemetry data every two seconds which it uses for machine learning and to correlate events for faster root cause identification.
One of the most interesting solutions on the Juniper Mist AI platform is Marvis- Juniper's Virtual Network Assistant (VNA). Juniper Networks calls it the "virtual network assistant for Self-Driving Network". Marvis is a conversational interface that is designed with Natural Language Processing (NLP) that interprets, contextualizes, and performs actions based on feedback from the users. Inspired by Juniper Networks' ambition to build a technology that can intelligently answer questions at par with network experts, Marvis uses the Mist AI engine to discover root causes and troubleshoot issues proactively when possible. Marvis helps improve the network experience by keeping operators informed about everything that is happening in the network all the time and recommending actions based on that.
Final Verdict
The Juniper Mist AI platform presents tremendous opportunity for enterprises to mitigate the top concerns of network executives with AI. It makes networking predictable, and more manageable by taking out the time-intensive serial tasks with proactive automation, thereby paving the path to superior-quality digital experience. Proactive monitoring and self-healing capabilities not only make the network smarter, but also operationally less cumbersome and costly.
To explore the Juniper Mist AI platform, check out the other presentations from the recent Networking Field Day event.