Every seminal technology is built on a string of cumulative advancements aimed at expanding the use of those before it. But each such technology casts profound implications on the IT operations side of things. Datacenter networking is one such area where a concentration of innovation has left a piling stack of overheads for operators to deal with.
At the recent Cloud Field Day event, Juniper Networks, a leading networking brand, showcased Juniper Apstra, an intent-based networking software solution, that paves the road to smarter networking.
Datacenter Networking Is Critical to Present and Future Innovations
"Datacenter networking is thriving and continues to be relevant. It is core and critical to everything we do," commented Mansour Karam, GVP of Products, and Founder of Apstra.
Historically, the datacenter has been the hub of game-changer technologies. But among those, there are a few that especially mark a turning point in its evolution. This dates back to 1990, the decade of dot-com bubble. The period coincided with a prolific uptake in Internet adoption. The promises of the Internet spurred an epic gold rush among businesses. Companies so far operating out of physical stores set up shops online. Websites began mushrooming all over the web. And this became the basis of one of the biggest events in tech – the emergence of datacenters.
Networking became the thing. Cisco's stocks that were at a standstill for years shot up, said Karam.
Around this timeframe, Juniper Networks was founded with the mission to support the traffic explosion that the industry was witnessing. In the beginning, applications were simple, and so were the networks. The standard three-tier access, distribution and core architecture handled the north-south traffic that entered and exited the network predictably.
The rise of public cloud changed that, giving way to east-west traffic. This new traffic flew between devices, from server to server.
"We had a transition from simpler services to more complex ones, more interesting offerings. It used to be that you ask the server for a request, and then you get a response. With these applications, they became more distributed. And so, for every request that you had, there was a lot more chatter between the servers."
To support the east-west traffic explosion within the datacenter, operators moved to the two-layer leaf-spine network architecture.
The launch of iPhone in 2007 occasioned a shift in consumer perspective. "Everybody realized that these things that you had to go somewhere for, or be in front of your computer, can be had on the phone."
The computing intensity grew manifolds in the subsequent years, as users started to rely more and more on tech for everyday things, be it hailing a cab or ordering food, renting a movie or banking.
A fact that is still less known is that "for everything you do, you're touching a datacenter, and a network somewhere. So these networks not only are growing massively in size, but they are also getting more complex."
This transformation peaked in the pandemic hurdling new challenges at datacenter operators.
AI came to deepen the growing dependency on technology. "The release of ChatGPT was yet another inflection point, yet another explosion of traffic," said Karam.
Within the next decade, AI is set to fully transform businesses, jobs and communications, but none of it would be possible without a network that can support its sky-high demands.
"AI is going to have a large value chain. There will be lots of opportunity for everyone, but one thing that is 100% clear is that, in the end, we're going to need infrastructure. The guaranteed benefactor of AI is not only the GPU, but also the network," he pointed out.
Automating Complex Operations with Juniper Apstra
At Juniper Networks, the message was clear – the network needs to be reinvented if this new breed of applications and technologies are to be supported. The same impetus that drove Juniper Networks on a journey to building self-driving networks, led to the founding of Apstra, an intent-based networking and analytics company, in 2014.
"The goal was to transform the network and network operations so that you no longer have to operate manually. We wanted the network to look and feel just like cloud," told Karam.
Juniper Networks acquired Apstra in December of 2020 as a big step towards fulfilling this vision. The end goal was simple – to design a networking solution that provides utmost reliability.
"We wanted the network operator to trust the software to run the network better than they would themselves," told Karam.
Juniper Networks focuses on large enterprises, cloud customers and lately, it has diverged into AI/ML, which cuts across both large enterprises and cloud because both are building these AI/ML datacenters, said Karam.
Apstra added more momentum to this roadmap. Juniper Apstra is a software solution whose core function is to automate and validate the design, deployment and operations of the datacenter network. Additionally, it acts as a single source of truth for all network-based analytics and insights.
One of its biggest highlights is that it is vendor-agnostic and works with virtually any network design and topology. So, no matter the network design or hardware used in a private datacenter, Asptra can automate the operations and optimize the performance.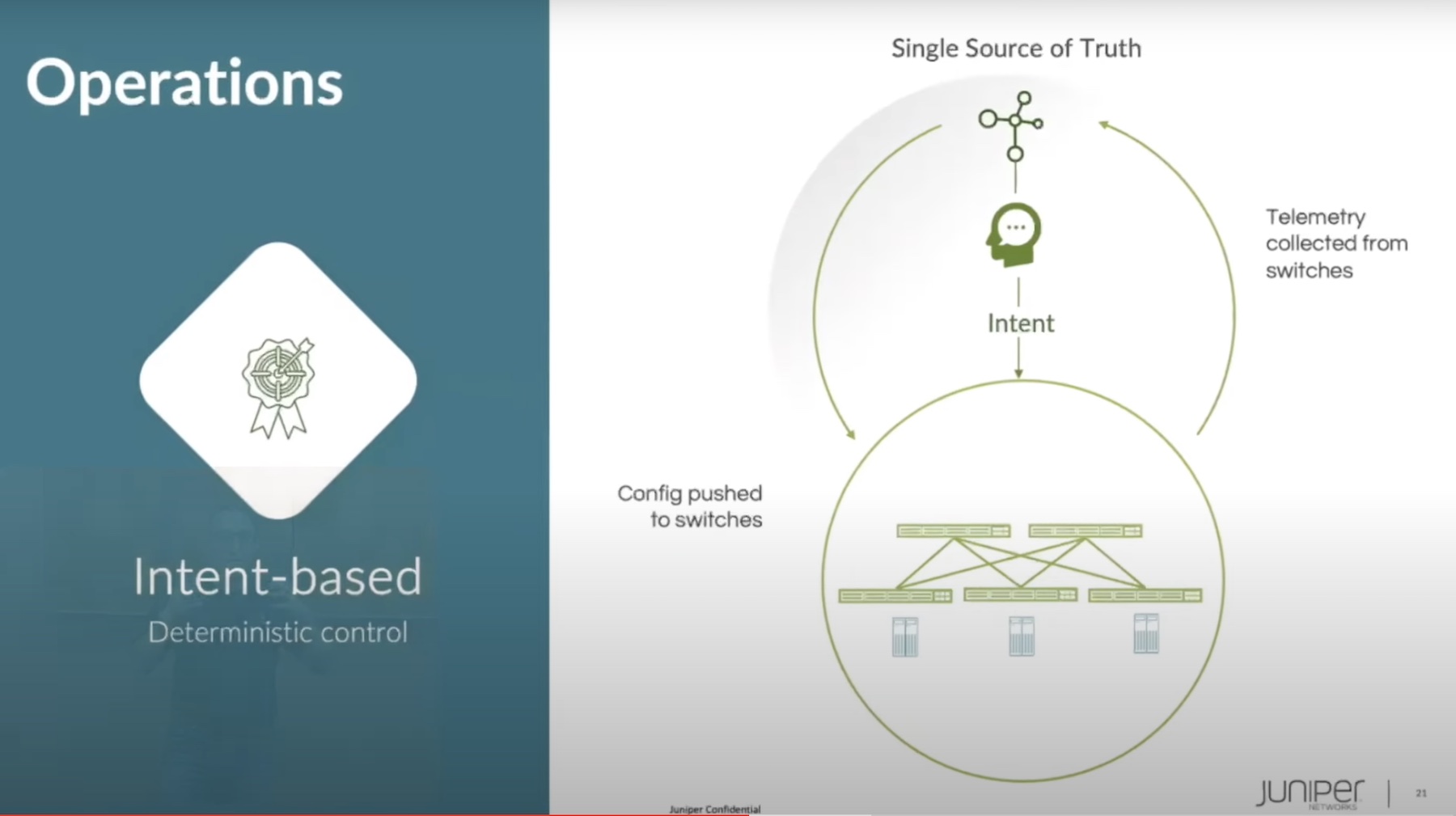 Apstra's big differentiator is that it is intent-based, meaning administrative tasks are orchestrated automatically using AI and analytics. This guarantees simpler operations, reduced time to repair, and maximum uptime.
"Essentially it's a software that runs in the datacenter network day in and day out with the speeds to meet the business requirement," said Karam.
One of its capabilities is deterministic configuration. "There is no room for probability when it comes to running a datacenter. The same way autopilot runs a plane when you tell it to go to 10,000 feet deterministically."
Apstra allows operators to configure connectivity in servers and network devices on the fly. Apstra's deterministic configuration ensures that the protocols are functioning properly, intents are in check, and outcomes are in tune.
Going intent-based can result in up to 90% reduction in operating expenses over time. But that's not all. "We're adding another piece to deliver more value than anyone, and help network operators operate their datacenter with the simplicity of cloud – AI."
Telemetry data is often known to cause nuisance if not backed by actionable analytics. Apstra sources telemetry from devices in the network and through third-party platforms, thanks to its broad integrations. Running that data on Juniper Networks' own AIOps layer, it provides deep intent-based analytics that unlocks network-wide visibility.
"By sending all of the traffic and having the whole historical perspective by applying AI, you can now deliver probabilistic insights."
Karam highlighted that the insights can also reduce troubleshooting time, and bring down the volume of tickets by up to 95%.
"By marrying intent-based approach which is deterministic, with the probabilistic AI/ML approach, we are essentially differentiating from everyone else and adding that much more value to our customers," he concluded.
Wrapping Up
Automation and AI are the new navigation systems that technocrats swear by. Enterprises that are intelligent to embrace them remain operationally agile while cranking out new innovations. As more businesses make headway in that direction, solutions like Juniper Apstra will become mainstays in datacenters. By pushing config downstream based on intent on auto-pilot, and unlocking AI-driven historical insights, it takes away a lot of the overheads that operators sweat over in exchange for operational agility and digital acceleration.
For more, check out Juniper Networks' deep-dive sessions and demos of Juniper Apstra' from the recent Cloud Field Day event.