What we have been witnessing in the past five years or so in IT is the rise of multi-cloud. Worldwide, there is an exponentially growing interest in the multi-cloud strategy which seems most fitting in today's cloud-first reality. For some the shift to multi-cloud is a conscious choice, for others' it's evolution, but no matter what stage of the digital journey an organization is in, right now they are all relying on more than one cloud services and are signed up with more than one vendor. At the Tech Field Day event in California which took place in April, MinIO presented the MinIO object storage, a cloud-native software-defined solution that is purpose-built for multi-cloud storage.
Multi-Cloud Is Becoming a Norm in Organizations
After actively using cloud for more than a decade now, it's time to acknowledge the truth- it is a multi-cloud strategy that optimizes the benefits of cloud. With a well-managed multi-cloud environment, an organization can strategically evade vendor lock-in and a legion of other cloud weaknesses. In a world where data lives everywhere, staying one-cloud is a redundant policy as you need to be in every cloud environment possible to be sure that your applications can be easily ported across all platforms.
Going multi-cloud is not just a way of distributing the points of failure and ensuring business continuity, it is also inherently advantageous in terms of SLAs and KPIs. But any additional degree of complexity should not be introduced lightly unless an organization has the means to tackle it and bring more benefits to the infrastructure.
MinIO Tailors Object Storage to Fit the Multi-Cloud Design
MinIO's object store helps further the multi-cloud strategy by making it simpler, cheaper and more flexible. MinIO for the uninitiated, is a multi-cloud object store from the makers of GlusterFS that delivers a consistent cloud operating model across all public cloud, private cloud, colocation and edge infrastructures. Born in the cloud era in 2014 and built from ground up in the past 5 years, MinIO is developed for robust enterprise-grade data infrastructures. The makers of MinIO since its founding year has single-mindedly focused on object storage alone with the aim of taking it to the top.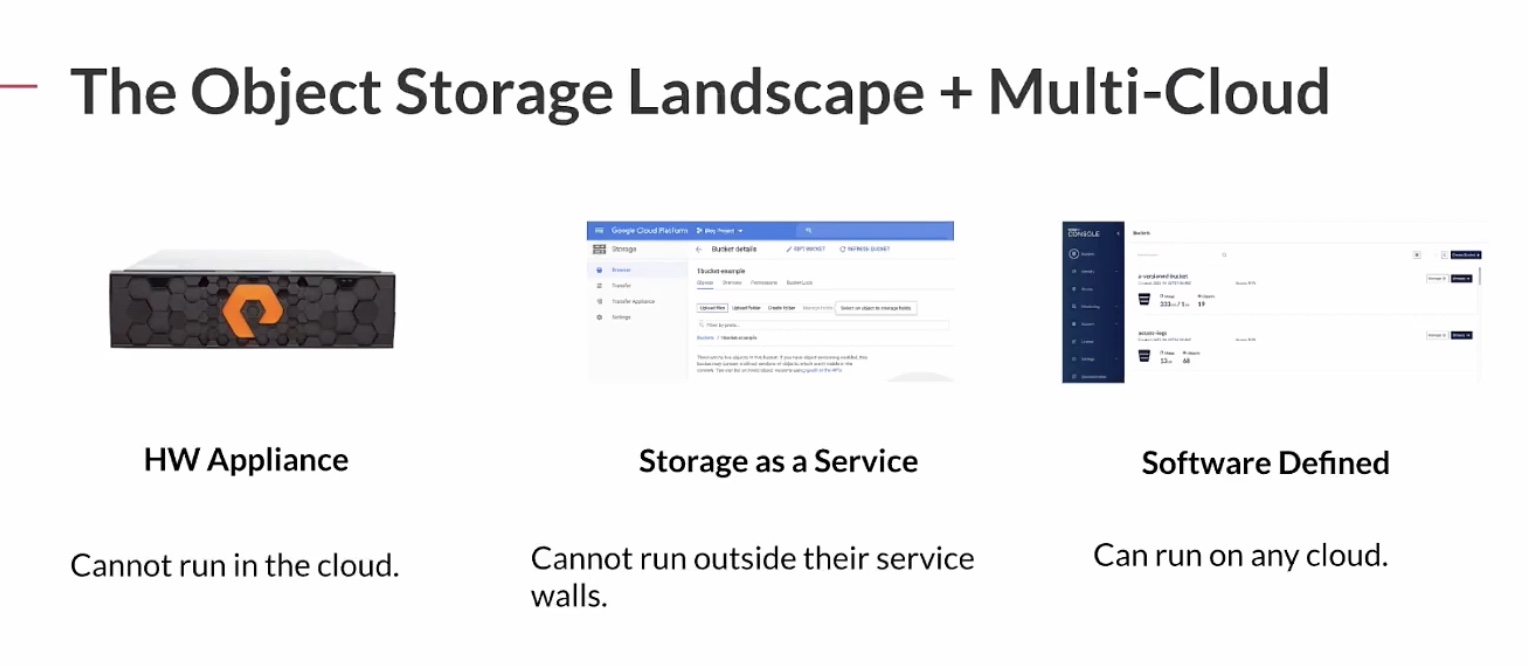 MinIO's greatest strengths are performance and scale. Where most providers are able to deliver only one of the two, MinIO has its eyes set on both, whereby it brings performance at scale. As a high-performing S3 compatible cloud storage software that is scalable at petabyte level, MinIO can run AI/ML workloads, web applications and databases at scale everywhere without requiring any code changes at all. The third foundational piece of MinIO which makes it a standout object store in the market is simplicity. MinIO is remarkably simple and free of the complexities inherent in the cloud operating model.
MinIO's Object Store for Cloud and Edge
At the Tech Field Day event in California which took place this April, Jonathan Symonds, CMO at MinIO Inc. presented MinIO object storage. While describing the background of the rise of multi-cloud in the recent years, he detailed MinIO's capabilities and explained why he thinks MinIO is "the world's fastest object store".
Available in three licenses, namely AGPL3 which is a free software, MinIO Standard and MinIO Enterprise, MinIO is deployable as a web server and preferably as an operator in K8s clusters. MinIO ensures high availability in production environments with Active/Active Replication, a setup that allows databases to operate independently while propagating changes in data so that applications remain highly available through outages and crashes.
For applications that require instant failover MinIO offers synchronous replication. For automatic replication within seconds, it supports the always-on near-synchronous replication that requires no scheduling or approval.
On MinIO data is secured through encryption. The data is encrypted on the disk where it's stored as well as on the go as it moves across the network. By employing state-of-the-art encryption algorithms, MinIO enforces object-level encryption that does not come with the steep overheads commonly associated with storage encryption.
Access into the data stores can be controlled and managed with MinIO IAM (Identity and Access Management), a management subsystem where user identities and policies can be created and enforced. Thus authentication and authorization can be fully controlled and updated for maximum security.
Final Verdict
Today a great number of organizations are multi-cloud by default. As this mainstream adoption of multi-cloud continues to grow, demand for cloud-native storage interfaces such as the likes of MinIO object storage will grow simultaneously. In such a background MinIO object storage hands out control and flexibility over data and applications making sure that multi-cloud users get the most value out of their cloud strategy and in doing so enjoy an optimal experience across different clouds.
For more on MinIO, be sure to check out their other presentations from the recent Tech Field Day event.