In a modern infrastructure, security is as complex as the network itself. Especially in public cloud, there are many deterrents that make security look like an afterthought than an embedded function. Fortinet presented Fortinet Security Fabric platform at February's Cloud Field Day event that tackles this problem to deliver break-through holistic security with an interesting approach.
The Disruptive Side of Innovation
The enterprise IT industry is in a state of transition where it is moving on from legacy to more advanced, software-defined infrastructures. Non-stop digital acceleration is at play. But as IT tools and technologies continue to evolve, new challenges also start to enter the scene. Making the old agree with the new is the biggest challenge of all. Security is a key one in that.
As cyberthreats continue to evolve, ecosystems become more and more complex with it. The attack surface too is significantly widened with the expansion of cloud and edge with attackers now having more attack vectors to choose from. With all that going on, securing an infrastructure from end to end is no small feat. With so many security inhibitors working from within and without, modern environments require a cohesive security system that is a trifecta of automation, efficiency and simplicity.
Fortinet's Mission as a Leading Cybersecurity Company
Fortinet is working towards overcoming these challenges posed by infrastructure sprawl, that stand in the way of security agility, to enable customers exact the best outcomes from their cloud deployments. In its fight against advanced persistent threat (APT), Fortinet targets the two biggest problems at the root of modern security, increased attack surface and skill gap across infrastructures.
The founder of the World Economic Forum Cyber Security Organization, Fortinet has a outcome-based approach to security. Gathering intelligence from devices, operating systems, embedded security, and such in the enterprise networks, and using it to detect and tackle threats present in the infrastructure, it presents unfragmented visibility and deep insights to the teams. Through automation, and integration of applications and infrastructures, it provides unified protection against a multitude of threat vectors.
Intelligent and Unified Security with Fortinet Security Fabric
At the Cloud Field Dy event in February, Fortinet presented its Security Fabric platform. Aidan Walden, Global Director of Public Cloud Architecture and Engineering at Fortinet discussed the current challenges in enterprise security, and with special focus on agile security, he explained how Fortinet helps overcome them with its Security Fabric platform.
Fortinet Security Fabric is a sum of many things. With a cybersecurity mesh architecture which basically replaces disparate security solutions with one broader and all-encompassing solution for the interest of better user management and lesser friction, Fortinet's platform enhances security effectiveness across all cloud infrastructures.
With the power of FortiOS, it enables self-healing security so that devices, data and assets are proactively monitored at all times. It crawls through the length and breadth of the attack surface, closely watching the edge devices to report unhealthy applications the instant they are detected.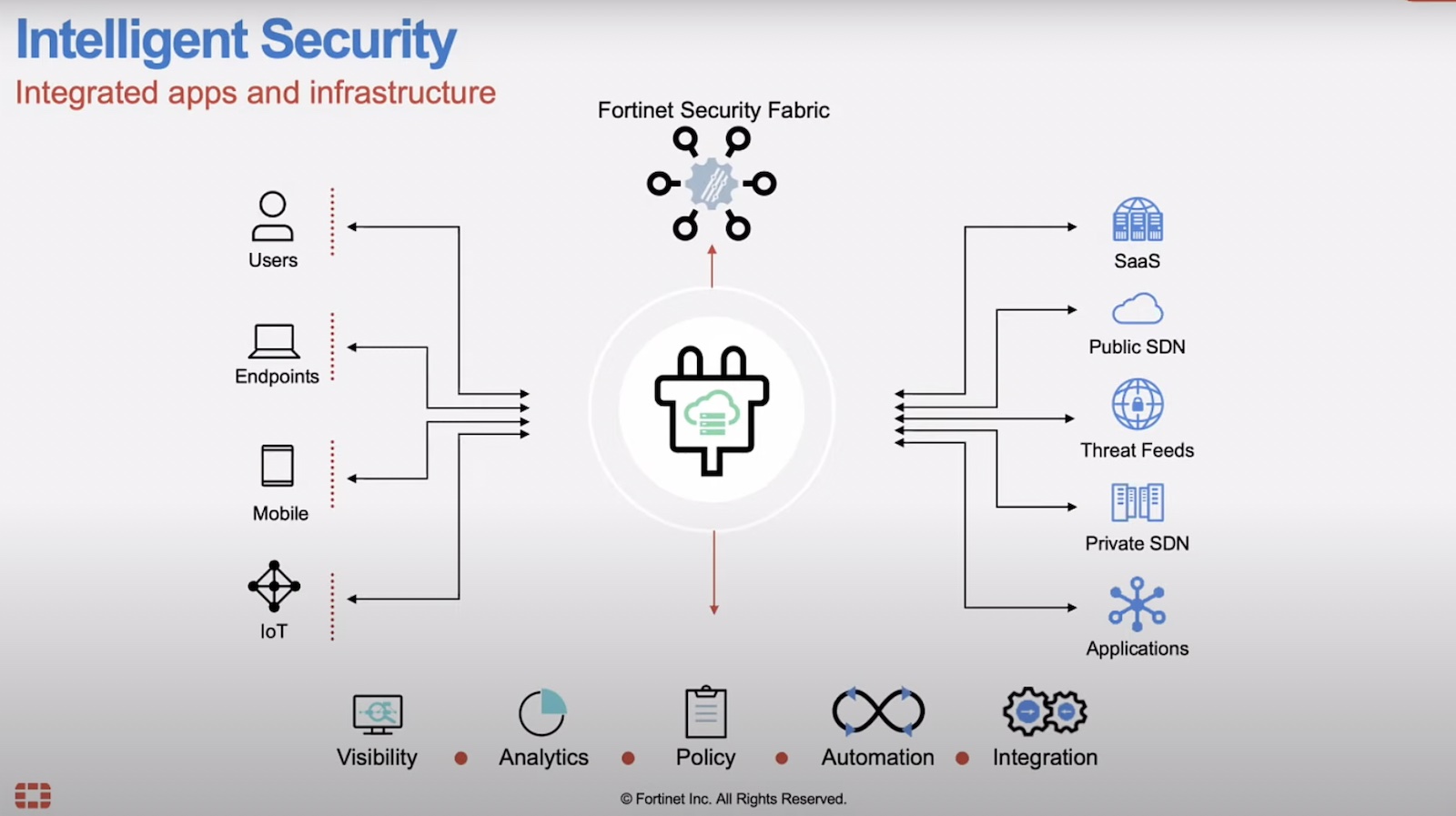 Through Security Fabric, Fortinet's goal is to deliver blanket security, one that covers all fronts and ends, integrating perfectly with all technologies, deployments and infrastructures. At the back end, it makes possible central managing of cloud security across infrastructures, thereby eliminating the skill shortage problem that businesses so often face using multi-vendor infrastructures.
Final Verdict
Fortinet Security Fabric takes an intelligent approach to holistic and cohesive cloud security. In a time when remote access of cloud resources is the norm, Security Fabric casts a safety net that spans the cloud to the edge. Through frictionless integration and automated response, it provides users with deep visibility of their environments while defending data, assets and devices in them from the worst kinds of cyberthreats.
For more information on Fortinet Security Fabric, check out their other presentations from the recent Cloud Field Day or visit their website at fortinet.com.