A common goal among businesses in the cloud is to leverage data that yields business value, but the cloud data management journey is not an easy one, and often mired with obstacles and near-misses. VMware presented vRealize Log Insight Cloud at the recent Tech Field Day event in Silicon Valley, a solution designed to centralize log management and deliver crystal clear log visibility for DevOps.
Data Governance Is One of Today's Top Challenges in the Cloud
Organizations are grappling with an overwhelming growth of data. This is a problem felt across organizations of all sizes whereby its becoming increasingly harder to translate such explosive amounts of data into actionable insights. This is compounded by some of the cost challenges around log data management. Regulatory compliance requires businesses to store data long term and that's one of the things contributing to the inflated cost of log storage.
When done right, log management in public cloud can be an incredible business strategy, but in scenarios where companies are unable to get it right, it has led to a myriad of problems including poor visibility, risks of cyber-attack, slow monitoring resulting in delayed troubleshooting of problems happening in real-time. But log management needn't be such a burden on organizations. There should be ways to do it efficiently and reap its real benefits.
Log Management at Speed and Scale with VMware
VMware requires no introduction in the enterprise tech space. The makers of vSphere, a server virtualization software that it is best known for has a solution for the complex log management situation. They calls it the vRealize Log Insight Cloud.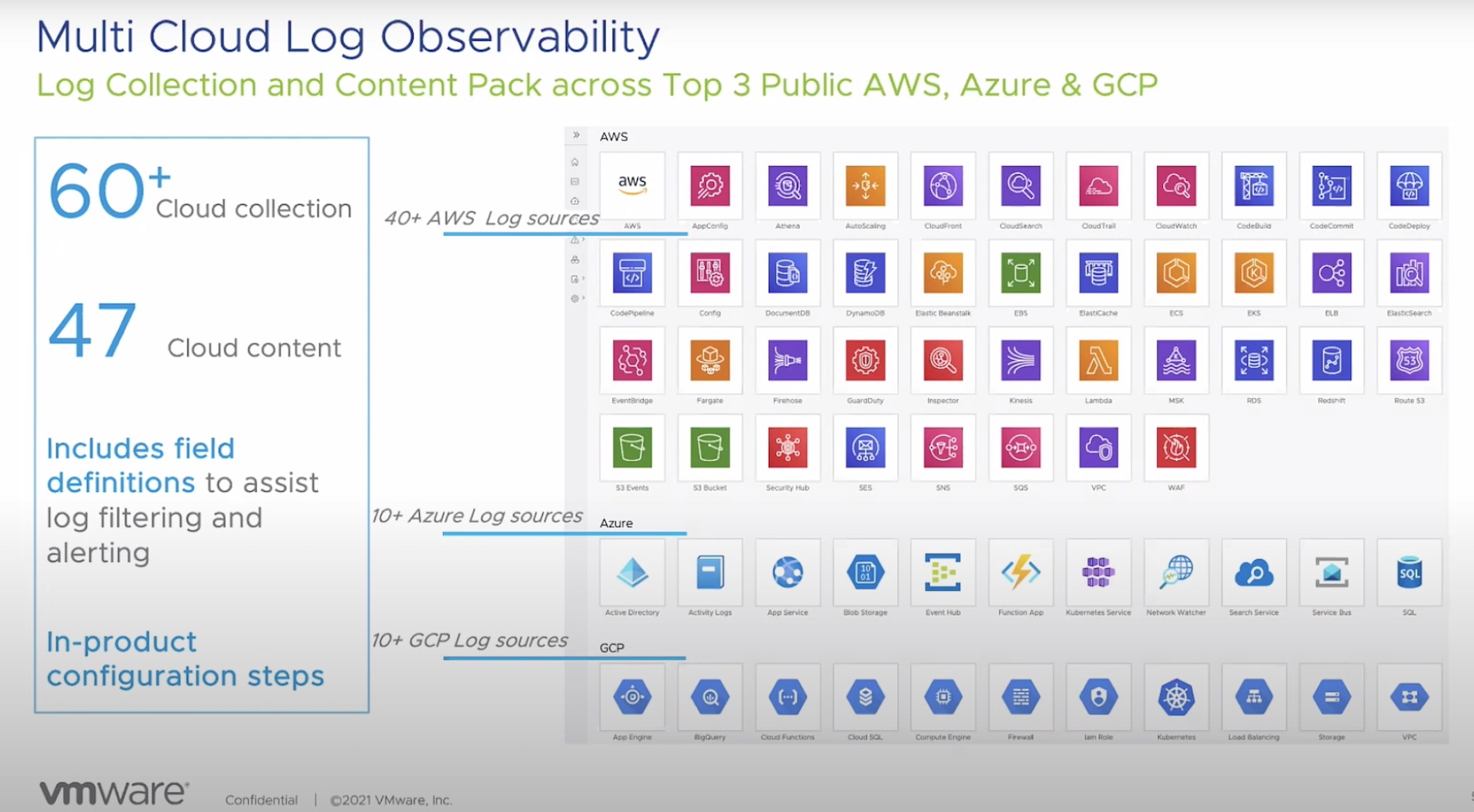 Developed to enable organizations that have their workloads distributed across many different cloud environments with quick and scalable insights and intelligence from log data instead of letting them be overwhelmed by raw unstructured data, the VMware vRealize Log Insight Cloud offers real-time visibility across all cloud platforms, no matter the type, vendor or even region, so that users are able to trace the root of a problem and rapidly troubleshoot as soon as it pops up.
VMware vRealize Log Insight Cloud
Varun Hariharan, Product Manager for vRealize Log Insight Cloud at VMware presented, vRealize Log Insight Cloud, their cloud data management solution at the Tech Field Day event in April. During the presentation, Hariharan talked about some of the current challenges faced with user log management and walked the audience through what vRealize Log Insight Cloud does to address them. He was later joined by his colleague David Pham, Senior Product Marketing Manager at VMware who gave a deep dive of the solution.
Plainly speaking, vRealize Log Insight Cloud is a centralized cloud data management platform where users can pool log sets choosing them from any source, be it VMware's own or other vendors', systematically index and analyze to get meaningful insights out of them. It has an intuitive UI that enables easy exploration and quick analysis of log data.
VMware makes it extra easy for users to import logs on vRealize Log Insight Cloud through a range of industry standard agents which it supports in addition to over 60 cloud vendors. With the help of a VM – Cloud Native Collector, it aggregates all of the logs before sending them over to the vRealize Log Insight Cloud.
Also available for on-prem, vRealize Log Insight Cloud is not limited to a certain kind of use case, but caters to a wide variety of them. Available in a freemium version for all VMware Cloud on AWS subscribers, it does not require configuration for those customers. For others running their applications on cloud native infrastructure like AWS, GCP and Microsoft Azure, a quick configuration is required but it takes no time at all and involves only a couple steps.
Final Verdict
The thing that makes VMware vRealize Log Insight Cloud a product of distinction is that it does not make users chase after insights. Instead, it brings valuable ready insights back to the customers. Another of it's greatest benefit is that it lets users pull data from anywhere and view it through a single lens. With built-in ML-based intelligence to group and organize logs, it delivers crystal clear multi-cloud observability across cloud native platforms. With it running round-the-clock health checks in the background, an even digital experience is assured.
Check out more presentations by VMware from the recent Tech Field Day event or log on to their website for more information on vRealize Log Insight Cloud.