Automation has been pivotal in unlocking new efficiency thresholds in what was formerly time-consuming tasks in networking. But furthering the bigger ambitions with automation is neither quick, nor easy. For that, there is Robotic Process Automation (RPA). At the recent Networking Field Day event in Silicon Valley, just a week after the public announcement and first demonstration, Gluware introduced the newest member of the Gluware Intelligent Network Automation suite- Network RPA.
Programmers Spend Way Too Much Time Coding
Network reliability and QoS balance on successful execution of the discrete tasks. But even with automation, this is often a heavy burden on the networking team because of the code-intensive nature of automation. Orchestration of these volume-heavy tasks requires steep coding skills and an insane amount of coding, enough to keep a large team busy for months on end.
RPA eases that burden by automating these manual activities in a no-code fashion. With RPA, automation of a set of tasks can be orchestrated with workflows. This means reduced staffing cost, but also quick wins on repetitive tasks.
Gluware Introduces Network RPA to Its Network Automation Suite
After a long time in development, Gluware's Network RPA is finally up for the grabs. For Gluware, the drive to build Network RPA was to be able to deliver no-code automation. Built with special focus on the orchestration challenges of automation, it fulfills the need to automate the automation. Sitting on top of the app suite, Gluware RPA enables operators to automate processes using workflows.
But that's not all. Gluware Network RPA also enables operators to automate processes that are outside the network infrastructure. Network RPA is Gluware's early steps towards AI/ML driven automation. "We are doing a lot of the things that we need to on the underlying side to handle the data and be able to then take machine learning algorithms on that data to assist operations engineers in their job," informed Michael Haugh, VP of Product Marketing at Gluware.
Overview of the Gluware Intelligent Network Automation platform
To give you a quick recap, Gluware Intelligent Network Automation platform comprises a suite of out-of-the-box applications that forms the foundational block of the platform. Just like the MS Office and Adobe applications, Gluware's pre-built applications can execute individual functions out-of-the-box and can work together to deliver process automation. The suite comprises a device manager, configuration and drift auditor, OS manager, Data Explorer, Dashboard and workflows.
But what happens when customization enters the scene? Pre-built apps can only do so much out-of-the-box. For networks heavy on customization, Gluware has built Gluware Lab on top of the core app suite. Released over a year ago, Gluware Lab is designed on what Gluware calls "DevOps for NetOps" approach. "There is some low coding, but you get to build custom features, introduce custom abstractions, do custom API integrations, and it's really a cornerstone of what we've delivered in our platform," says Haugh.
Their next frontier, no-code process automation, and the new network RPA ties up the loose end of customization.
Understanding Gluware's Network RPA
At the Networking Field Day event, Michael Haugh gave a demo of the no-code, drag-and-drop process automation capabilities of the new Gluware RPA.
Gluware runs both on and off-prem. It boasts of a multi-engine architecture that scales with compute. The function of Gluware Network RPA is to implement a CI/CD pipeline to NetOps. So users can not only build a workflow, but also perform all of the subsequent steps of testing, deploying, operating and monitoring the automation with zero coding.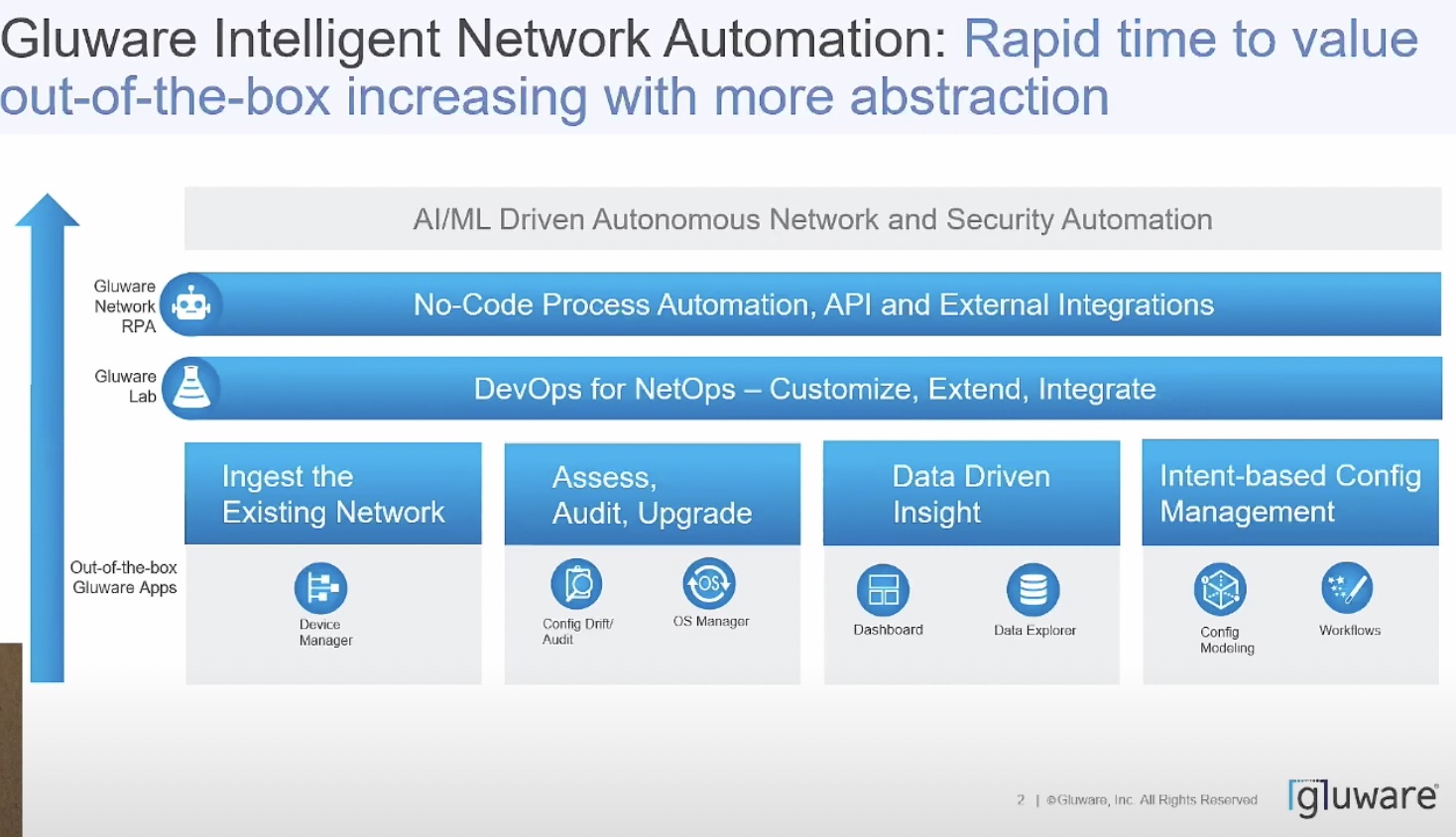 Gluware supports API integrations with a lot of vendors including Cisco, AWS and Azure. The Network RPA has three main pieces- the workflow library, the workflow editor and workflow activity. On the dashboard, under Network RPA is the workflow library. This library is populated with prebuilt workflows, but you can also build your own with just a few clicks. Name your workflow and choose its access level, and it will direct you to a drag-and-drop interface.
This is the Workflow editor where you can build out the processes end-to-end. You can assign tasks to the workflow with a simple drag and drop action. These could be Gluware's own or third-party tasks. You can layer a workflow however you like with events and logic. Multi-path logic allows users to trigger multiple automatic actions for specific network failures.
The workflows analyze inventory data that it ingests through API looking for vulnerabilities in low, medium and high categories. All critical issues are identified and flagged for operators. Gluware can start a Jira board for critical issues making it easier for operators to analyze and troubleshoot.
Wrapping Up
Network RPA advances Gluware's goal of "hyperautomation" by automating repetitive, high-volume, code-intensive activities saving operators thousands of working hours and organizations, operational costs. With it, short-duration tasks that take anywhere between 1 and 15 minutes to execute can be done in seconds, no coding required. However, its key asset is not that it makes automation low-cost, but that its incredibly easy to build, and that closes the skill gap in programming. The cherry on top is that it is fast to apply too.
For more on Gluware's Network RPA, be sure to check out the other presentations by Gluware from the recent Networking Field Day event.