Projections say that a ransomware attack could be happening as frequently as every 11 seconds. That is a number not to be taken lightly. With more sophisticated attacks finding targets in organizations of all sizes with seemingly decent security systems, it's time to turn to sophisticated solutions to meet the enemy head-on. We at Gestalt IT had the opportunity of sitting down with JG Heithcock, General Manager of Retrospect and talk about this and how the latest Retrospect 18.5 from the house of StorCentric, a former presenter at Field Day secures backups.
The Rising Threat of Ransomware
In the recent years, ransomware extortion has trended upward at an alarming rate. In the wake of this rising global threat, many enterprises have upped their defenses and maximized their security in their own ways. Penetration testing, disaster recovery testing, backup practices, it takes quite a few things to get ready to face such attacks
While ransomware readiness is a full set of routine exercises than any one method put in action, most businesses today focus on the 3-2-1 backup strategy. This has proven to be extremely useful in insulating data from malicious actors trying to break into the system.
Retrospect: A Fast and Flexible Backup Solution with Top-Notch Security
It is based on this 3-2-1 backup rule that Retrospect Backup is designed. Retrospect offers ransomware protection by creating immutable backups in the cloud, data centers, NAS and endpoints. With a gamut of backup options, Retrospect is a cloud-native, multi-platform solution. It can be deployed directly in the cloud and used for SQL server backup and Linux, Windows and Mac endpoints.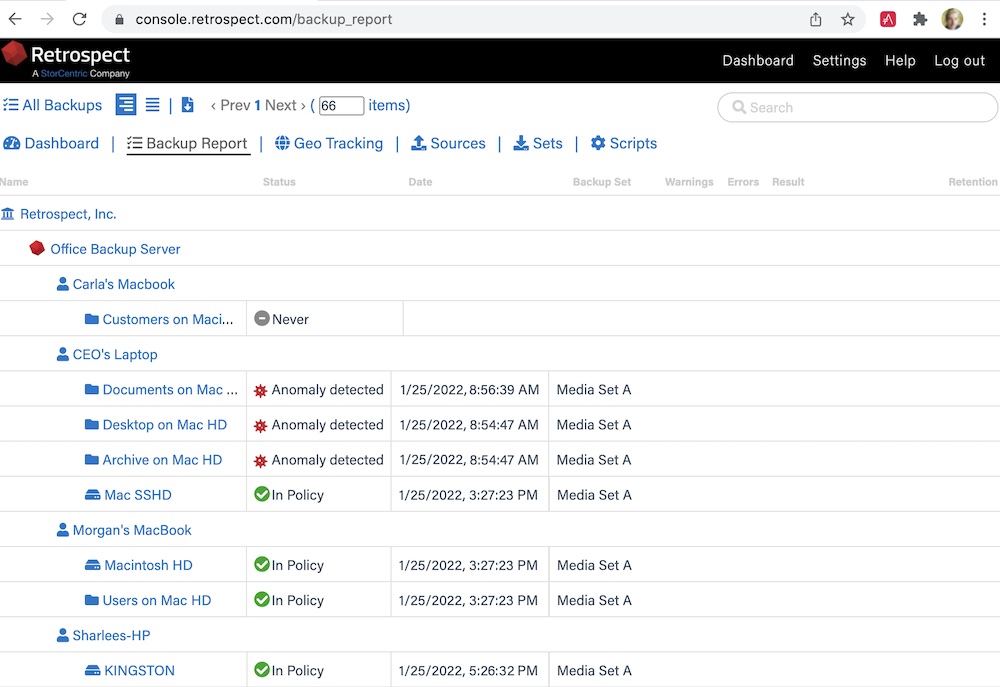 Retrospect comes with a user-friendly management console and simplified workflows through which anomaly detection is made and reported simultaneously. Ransomware protection happens in multiple ways in Retrospect- through creation of multiple copies of the data and immutable backups, but also object lock.
The new Retrospect 18.5 upgrade is here now. Announced Feb 15th, the v18.5 retains all of the previous sets of features while bringing more into focus data immutability, anomaly detection and Azure support.
Retrospect 18.5: A Closer Look at the Capabilities
The new iteration of Retrospect performs anomaly detection at an advanced level. With the newly added features, users can now focus on specific data sets among others. With the use of user-defined filters and customizable thresholds, they can now tailor the features to suit their environments.
The Retrospect Management Console too got an upgrade in this new version. The new console integration enables users to take a sweeping look at all anomalies existing across the system through a single lens.
In the new version, Retrospect expands its Azure support. With the improved Azure Blob Integration, it lets users set separate immutable retention policies for different datasets inside Azure containers. Bucket creation on Azure is another feature that gives IT practitioners a break from the painful process of creating buckets with cloud service providers, in this case Azure.
The Unity 7.0 now comes with an S3 layer which means users can now have the S3 service atop their Unity box with just a turn-on feature. In addition to these, Retrospect also updated it's SQL and LT09 support in this upgrade.
18.5 is a free upgrade for all users of Retrospect Backup 18. A trial version of it is available at retrospect.com.
In Conclusion
The Retrospect 18.5 has landed in a very opportune time when most businesses are looking for new and surefire ways to protect their data against ransomware threats. From its features, it is obvious that the v18.5 is a more optimized and secure edition of the older solution. So, if you liked Retrospect 18, you will in all probability love the version 18.5. There is a free trial version available at retrospect.com for anybody who wants to give it a try.
To check out all the new capabilities of the Retrospect 18.5, visit retrospect.com. For more exclusives like this one, keep reading here at gestaltit.com.