When companies started to lean towards a hybrid cloud strategy with the turn of the century, it offered a glimpse of the general direction in which things were headed. Now two decades later, we are in a multi-cloud paradigm which may just be the beginning of companies' data protection woes.
Polls show that 75% enterprises have a multi-cloud strategy. There are currently over 17000 SaaS vendors in the US, and on an average, a mid-market company uses no less than 217 of those SaaS services each. Notably, an overwhelming majority of these vendors do not offer any kind of data protection or recovery services to the customers, leaving vast swathes of data – and classified information scooped up in it – at high risk.
A Worry for Companies in the Multi-Cloud
Amid sprawling data estate and rampant ransomware attacks, this is a problem of much bigger magnitude. Stats show that more than half of the world's companies have been attacked through SaaS, and 52% of the times, the attackers were successful.
"This creates a massive erosion of trust and a problem in the marketplace. If you think about offense, defense, our offensive capabilities are getting cheaper by the second. In fact, if you're a cybercriminal, you can go on the dark web and get white glove service and custom terrorist equipment to go and hack, and execute ransomware attacks. But for an average customer, the defense piece is getting so much more expensive because it's such a complex environment," noted Simon Taylor, CEO and Founder of HYCU, a company known for its data protection service platform for multi-cloud and SaaS applications, at the recent Cloud Field Day event in Boston.
With more grounds to cover and surfaces to harden, data protection is an exacting drill. Even with all the solutions available in the market, it's a struggle for organizations to get underway with data protection efforts because of the sheer scale of multi-cloud.
"Up until 5 years, the bulk of the company data was still sitting on premises and in public cloud, and there was a set of tools available to take care of that. But today, we have so much SaaS, and that is a problem because, we all believe in the universal myth that all of our data with SaaS vendors is protected. In 95% of the case, SaaS vendors do not backup or recover customer data, or provide granular recovery," he stated.
Protecting data in a nondescript environment was a matter of installing the right set of solutions in a couple different places. But in the modern multi-cloud landscape, data protection is slow, messy and takes years of experimenting. The problem is larger than just a dizzying number of applications or the eye-watering amount of complexity.
The way HYCU sees it, this is a two-fold challenge – "We build data protection one source at a time." Building backup for 17000 different infrastructures would take an infinite amount of toil, and equivalent amount of time.
Mr. Taylor was convinced that this problem will eventually gut every business. As he dug deeper, he saw a data protection market that is old and stale, and sorely in need of modernization.
"We're now living in a truly multi-cloud world. Nobody's going to have a homogeneous environment, and if they do, they won't have one for very long," realized Mr. Taylor.
Data resides in silos in each of the multi-cloud addresses, and that number is growing every day. Providing continuous, equivalent and ubiquitous data protection to all of these environments requires building thousands of integrations.
The most vexing issue is figuring out how to build these integrations, and create an equivalent level of protection and support for data on premises, in public cloud and SaaS.
Democratizing Data Protection
Founded in 2018, HYCU is short for Hybrid Cloud Uptime. "The reason why we named the company HYCU was because we wanted to design a modern data protection business that was essentially going to take all the data in a language, and boil it down into one small, elegant package, much like a Japanese haiku," informed Mr. Taylor.
HYCU already has a solid footing in the federal space, a feat that takes companies several years. With an NPS score of over 90, HYCU boasts of a terrific data protection support and customer success team.
"We bake into all of our road map, the items that come out of our NPS score assessments, and our NPS score assesses every single HYCU customer," declared Mr. Taylor.
Easy, Low-Code Integration
HYCU has a data protection-as-a-service platform named HYCU Protégé, for multi-cloud companies to actively support and manage independent backup and recovery services on a single plane.
But SaaS companies lack the expertise to build integration to HYCU in-house, and not having a bottomless fund, nor infinite time on hand to build them for the vendors, HYCU decided to take the opportunity to rework on their code.
Instead of taking a stab at building thousands of integrations, HYCU overturned the problem by building a platform using which SaaS vendors can integrate with HYCU without almost any coding.
The HYCU engineering team created a highly extensible code, and the low-code development platform of R-Cloud was born.
R-Cloud affords SaaS companies the ability to add a backup and recovery service in just days. The platform brings native, purpose-built and granular backup and recovery as a service to any infrastructure.
Mr. Taylor highlighted two features among others that make R-Cloud a first-of-its-kind solution. First, it offers penetrative visibility into the entire data estate and its protected status. Thanks to a simple integration with Okta's identity platform, R-Cloud can auto-discover all data in the environment, and visualize it through a native graph, thus helping combat the problem of shadow IT.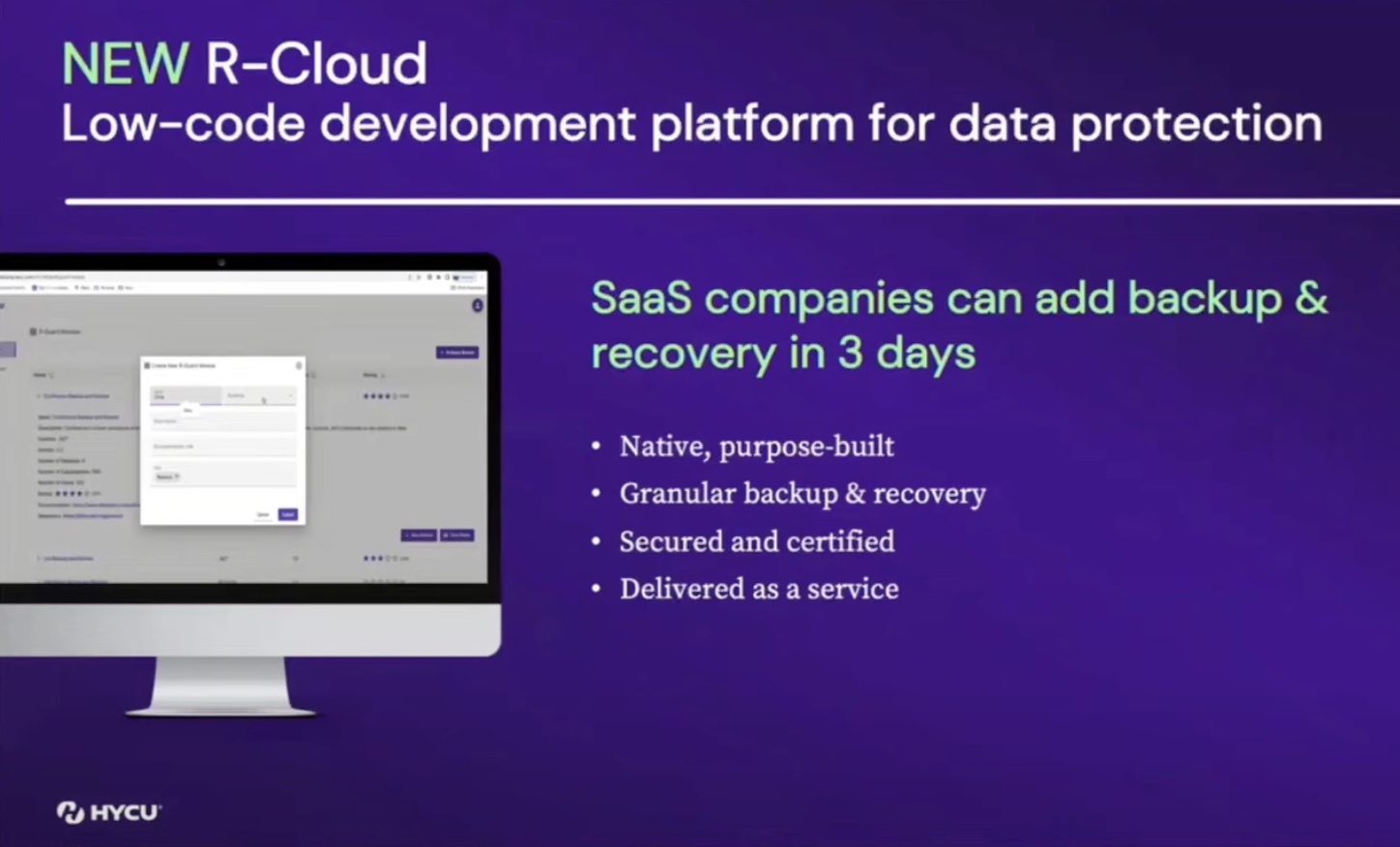 "We then analyze data gravity, the value of that data, and tell you whether or not it is protected. We call that R-Graph," said Mr. Taylor.
After users have defined their RPO, RTO and data retention, and set policies both pre-configured and DIY, R-Cloud probes into the services to ensure that it is in sync with all company policies.
"Essentially what it's going to do is say if you have data protection turned on, is it in compliance with company policies, is there something else you need to fix," he explained.
Beyond visualization, R-Cloud provides resiliency by allowing users to pull up integrations for a service from the R-Cloud marketplace. "When a developer uses the local development platform to build an integration to HYCU, they can very easily put that into our marketplace, and it becomes easily accessible for our customers."
Lastly, in order to be able to audit the environment and tell if everything is in compliance, R-Cloud has a resiliency measuring feature called R-Score. R-Score is "the world's first scoring technology which allows you to assess and quantify your ability to recover from ransomware attack."
Wrapping Up
SaaS companies have been dreaming of a solution like HYCU R-Cloud for years that would bring new smarts to the anachronistic field of data protection. By extending pervasive data protection to everywhere in the distributed environment, it lets 17000 SaaS vendors offer data protection as a native service with little to no coding, and in the process save data from potential jeopardy. Now SaaS users can granularly enable data protection, review their protection status, and analyze their posture using an automation framework that is simple, reliable and works equally in all environments.
For more information, check out HYCU's presentations from the recent Cloud Field Day event on Tech Field Day website.